MyHeritage Review
Advertiser Disclosure
This website features affiliate links. For purchases made via these links, we earn commissions that allow us to keep producing helpful content. To find out more
click here
.
Close
MyHeritage is an ancestry DNA testing company born out of a passion for family history and entrepreneurship. It was founded back in 2003 in Bnei Atarot, Israel, by its current CEO Gilad Japhet and has since established offices in California and Utah. The company constantly expands its portfolio and geographic coverage in an effort to meet the needs of its many customers.
MyHeritage is definitely the fastest-growing enterprise on the market that combines genetic breakthroughs with genealogical data. Currently, its database contains over 3.9 billion profiles, around 12.4 billion historical records, and more than 45 million family trees. With approximately 72 million users spread across 196 countries and 42 languages, it is one of the best companies of its kind on market. Keep reading our MyHeritage review to find out more about this unique company and its service.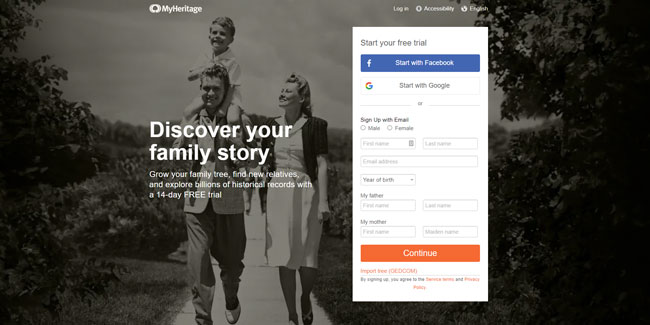 How MyHeritage Works
Here are the steps included in ordering and performing your DNA test with MyHeritage:
Registration – If you don't have a personal MyHeritage account, you can create one on its website. If you do, you can disregard this section. You'll have to provide your personal information and payment method in order to proceed. MyHeritage accepts Visa, MasterCard, Amex, Discover, and Diners Club. After registration, the company will send you a DNA testing kit.
Kit activation – Once your kit arrives, you'll need to activate it through your personal account.
Sample collection – My Heritage has opted for buccal swabs instead of saliva or blood, which makes the procedure much faster and completely painless.
Sending the sample back – Once you've collected your DNA sample, you can mail it back to MyHeritage for processing.

 

Inspecting the results – The final report is usually generated within 3-4 weeks. When it's done, you'll receive an email notification to explore your results on the MyHeritage site.

 

Here's what the company's DNA test kit contains: 
2 vials

 

2 swab sticks

 

1 Ziploc plastic bag featuring a cotton pad

 

Instruction booklet

 

1 padded envelope
As a relatively new DNA company, MyHeritage encourages people to upload their previous DNA testing results from other companies, including Family Tree DNA, whose DNA test it used to sell before implementing its proprietary DNA test in 2016, as well as AncestryDNA and 23andMe. MyHeritage continues to work closely with Family Tree DNA and uses its DNA laboratory for DNA processing, which means these two renowned companies test the same genetic markers and provide the same level of test accuracy.
Why Choose MyHeritage
As one of the best DNA testing providers on the market, MyHeritage offers an unprecedented number of attractive features,  including:
Family Tree DNA laboratory, which guarantees cutting-edge processing technology and accurate results

 

CLIA-certified laboratory

 

Skillful team

 

Ancestry + Health DNA testing
SearchConnect feature, enabling MyHeritage users to find people looking for the same relatives and ancestors
Record Detective, which takes a single historical record and automatically extends the paper trail, facilitating matches between documents in different languages
Global Name Translation, which translates names from historical records from one language into another
Record matching, which automatically matches historical records and people
SuperSearch engine, allowing you to explore billions of historical records
Instant Discoveries, which is a unique technology for adding additional branches to your family tree
Smart Matching, which matches people from your personal family tree with individuals from other family trees
Family Tree Builder
Theory of Family Relativity
Various subscription options
MyHeritage mobile app
Partnership with Billion Graves
The only DNA and family history company with 24/7 customer support
138 full-time customer support employees
Test
Before we proceed, we need to mention that MyHeritage offers only autosomal DNA testing. Tests exploring chromosome pairs 1-22 are used for identifying your potential relatives within the database and matching you with them.
MyHeritage DNA test costs 79$ and consists of 3 steps: 
DNA extraction – Since our DNA is "hidden" within the nuclei of our cells, the testing procedure starts by extracting DNA molecules from the cells provided in your sample. This is done on a deep well plate, which contains 96 samples. The samples are injected with a substance that eats away at any potential contaminants, leaving the sample perfectly clean and ready for extraction. Lastly, the extraction robot is put to work, separating your DNA from the other materials found in the sample. You DNA is stored within two vials; one is left in a robotic freezer for potential later use while the other continues to the next step.
Microarray process – This step "translates" your biological information into raw data. You DNA is copied multiple time in order to supply enough material for analysis. This process is called amplification, producing millions of copies of your DNA. Your digital data is then placed onto the Illumina chip, which binds it in a process named hybridization. Your DNA leaves "stains" on the chip, allowing the laser to read different fragments. Finally, the iScan chip scanner will read the chip and produce an image of your DNA strain.

 

Raw data production – Once your DNA data has been obtained, it is loaded onto a highly secured server and analyzed by data scientists and automated algorithms. This produces your raw DNA data and associates it with the unique number of your kit. The algorithm will calculate the estimate of your ethnicity by "connecting" different pieces of your DNA signature with corresponding regions of the world. Simultaneously, your DNA will be matched with all other users who uploaded their raw data or took MyHeritage DNA test.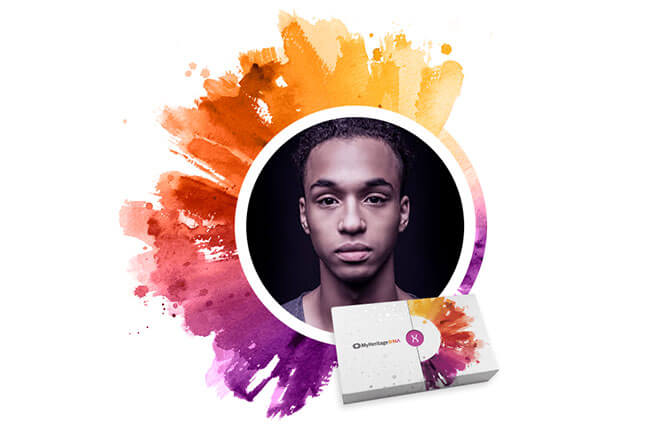 Apart from its renowned ancestry screening paired with genealogical data, MyHeritage also provides its customers with a health-related DNA test that yields 27 personalized health reports. The test is based on rigorous research and is currently the only at-home option that offers polygenic reports for breast cancer, heart disease, and type 2 diabetes. Note that these results are only available for users of European descent. If you add health testing to your ancestry kit, the total price of the test is $199 (with frequent discounts).
Note that MyHeritage is a subscription-based site where you unlock enhanced features by upgrading your subscription plan. The current offer includes: 
Data subscription (129$ per year) – This plan allows you full access to Record Matches and SuperSearch. Additionally, you can save your historical records right onto the profile pages of people in your family tree or extract records to your family tree.
MyHeritage Premium subscription (6.58$ per month, billed annually) – This option offers up to 2,500 individuals in your family tree, priority support, Family Tree Builder Premium, enhanced Smart Matching, and access to MyHeritage family sites and collections of members.

 

MyHeritage PremiumPlus subscription (10.75$ per month, billed annually) – This plan offers an unlimited number of people in your family tree, priority email support, Family Tree Builder Premium, enhance Smart Matching, Tree Consistency Checker, MyHeritage collection, and full access to Instant Discoveries, which allows you to add photos and additional branches in one click.
Non-paying members have a limit of 250 people in their family tree and 500 MB of storage space. They also have access to Family Tree Builder and SuperSearch and can contact their DNA matches even if they uploaded their results from other companies.
Understanding The Results
You'll get two types of results with MyHeritage DNA test: 
Ethnicity estimate – This section will provide a comprehensive overview of your unique DNA composition. You will discover the historical origination point of your genetic ancestry and the number of ethnicities taking part in your DNA. Your ancestral ethnicity will be expressed in percentages for each region relevant to your DNA. You'll also be able to view life events of your ancestors on the ethnicity map. These include things like birth, marriages, and death. For an enhanced view of your ancestral history, you can also inspect the PedigreeMap, which is free for all users.

 

DNA matches – The algorithm will compare your autosomal DNA test results to family trees in order to identify matches with a family relationship. For every potential match, you'll see three genetic parameters; shared DNA will indicate the percentages of overlaps with other individuals who took the test. You'll be able to see the length of the shared DNA expressed in centiMorgans (cM); shared segments will show how many pieces of your DNA corresponds to that of a potential genetic relative; the largest segment is the one enabling MyHeritage to identify the overall likelihood of a genetic relationship. The larger the shared DNA segment, the higher the possibility of a DNA match.

 
Following major improvements and updates to MyHeritage DNA Matching in January 2018, its users started receiving up to 10 times more genetic matches than before. MyHeritage applied two major updates to the match list in order to secure better and easier navigation. Users can now increase the number of matches displayed on each page and jump directly to a specific page. Distant relationship estimates for DNA matches with very little shared DNA are also fixed. Specifically, distant matches are now displayed as "3rd cousin – distant cousin" instead of "3rd cousin – 5th cousin."

MyHeritage also offers a very useful tool called "Chromosome Browser," which allows you to manually compare your DNA signature with those of your genetic matches and find shared DNA segments. The company improved the tool to allow for a simultaneous comparison of your DNA with up to 7 DNA matches instead of just one. In other words, Ono-to-One Chromosome Browser has been upgraded to One-to-Many Browser.
At the end of March 2018, Chromosome Browser also received three new updates that made it much easier to use while providing additional information about your DNA Matches. These new additions allow you to:
Easily reference your comparison sets at all times – Once you select your Chromosome Browser comparison set (DNA Matches you want to compare your DNA with), the DNA Match cards will remain docked on the top of the page as you scroll down.
Review/contact your DNA Matches directly from the Chromosome Browser – When you hover over any DNA Match card on the main page of the Chromosome Browser, three dots will appear in the top-right corner of the card. Once you click on them, you'll see a drop-down menu that allows you to go to the DNA Match Review page and contact that particular match and the manager of the DNA Match kit.
Use indication for triangulated segments from the DNA Match Review page – MyHeritage added an indicator for shared DNA Matches that possess triangulated DNA segments with you and the match you're currently reviewing. To put it simply, triangulated DNA segments are shared between you and one or more DNA Matches. They are, therefore, most likely inherited from a common ancestor.
In February 2019, MyHeritage introduced its Theory of Family Relativity feature that allows users to learn more about their genetic relationships and ancestors by crafting reliable theories about different paths between established genetic relatives. The software takes into account all historical records, family trees, and individual genetic signatures in the MyHeritage database.
When it comes to the health-related portion of the results, MyHeritage offers the following reports:
11 monogenic risk reports – Age-related macular degeneration, Alpha-1 antitrypsin deficiency, Celiac disease, Crohn's disease, G6PD deficiency, hereditary BRCA cancers, hereditary hemochromatosis, hereditary thrombophilia, late-onset Alzheimer's disease, late-onset Parkinson's disease, and MUTYH-associated colorectal cancer.
3 polygenic risk reports – Female breast cancer, heart disease, and type 2 diabetes.
 13 carries status reports – Cystic fibrosis, familial dysautonomia, Fanconi anemia, Gaucher disease, GRACILE syndrome, limb-girdle muscular dystrophy (type 2D), mucolipidosis type IV (ML4), Nieman-Pick disease (types A and B), nonsyndromic hearing loss (connexin 26), rhizomelic chondrodysplasia punctata (type 1), sickle cell anemia, Tay-Sachs disease, and Usher syndrome (type 2).
Privacy And Security
MyHeritage collects the following personal information: 
Name, contact info, and payment details

 

Your family info (names, gender, relationships, places and dates of events, photos, video files, documents, email addresses, and so on) 

 

DNA samples, results, and reports

 

Your opinions and comments

 

Your use of the MyHeritage website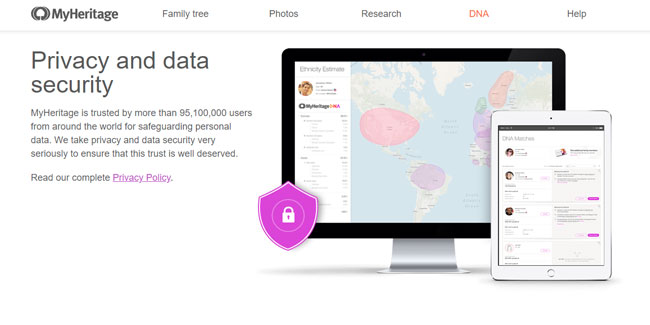 The company uses your information to:
Provide DNA testing services

 

Verify your identity

 

Communicate with you

 

Improve the service of the website

 

Perform research

 
MyHeritage disclosure policy forbids it from sharing your personal information with any third party except in the following cases: 
Limited circumstances like legal processes, court orders, and similar factors

 

Acquisition of MyHeritage

 

Outsourcing tasks to thi

rd

 parties

 

Sharing data with your DNA matches 

 
You can modify or delete your personal information from the site anytime you want. MyHeritage services are not recommended for minors. 
Shipping And Handling
When you place your order, your personal MyHeritage DNA testing kit will be shipped within 1 business day. The exact delivery time depends on your location and postal service. It usually takes between 4 and 7 work days for deliveries within the US and 8-12 work days for international shipping. You can also choose the express option for an additional fee.
The moment MyHeritage ships your DNA kit, you'll receive a direct email notification with all the details that'll allow you to track your shipment. You can track the status of your kit from the moment MyHeritage receives your order up until your raw data is produced. To do so, simply mouse over the DNA tab on the Home Page, click Manage DNA Kits, click on the three dots on the right part of the screen, and select Track kit.
Note that MyHeritage DNA testing kit doesn't come with a pre-paid mailer, which means you'll have to pay the postage expenses to mail your DNA sample back to the lab. The postage price depends on the chosen shipping type and your local postal rates. The weight of the provided envelope with the two container vials is 10 grams. Note that shipping DNA specimens from Brazil has different requirements explained in the manual provided with the kit.
Bottom Line
Although MyHeritage primarily focuses on genealogical research, the company has made revolutionary strides in ancestry DNA testing and surpassed some of the top players on the market.
With the implementation of DNA testing, MyHeritage has completed the circle, becoming one of the best companies to help you uncover the secrets of your genetic and historical origins. We hope our insight into the company's service helped you make the best choice for demystifying the past of your family tree.