Interdisciplinary ancestry exploration
MyHeritage Review - UPDATED Nov 2017
MyHeritage is a DNA testing company launched in 2003 in Bnei Atarot, Israel, by its current CEO Gilad Japhet, who is an entrepreneur and family historian. Apart from their headquarters, the company also has offices in California and Utah.  
They are definitely one of the biggest enterprises that combine genetic breakthroughs with genealogical data. Currently, their database contains over 2.6 million profiles, around 8 billion historical records, and more than 40 million family trees. With approximately 91 million users spread across 196 countries, they are one of the best companies of its kind on market. Keep reading our MyHeritage review to find out more.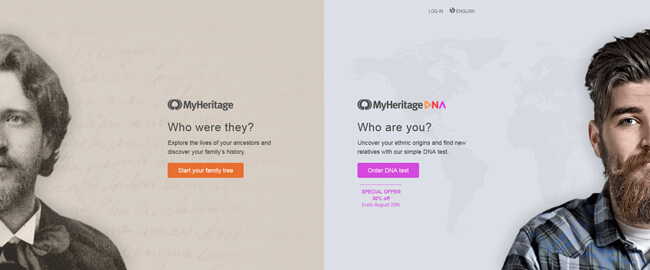 How MyHeritage Works
The procedure, which is rather simple, includes the following steps: 
Registration – If you don't have a personal MyHeritage account, you can create one on their website. If you do, you can disregard this section. You'll have to provide your personal information and payment method in order to proceed. MyHeritage accepts Visa, MasterCard, Amex, Discover, and Diners Club. After registration, they will send you a DNA testing kit.
Kit activation – Once your kit arrives, you'll need to activate it through your personal account.
Sample collection – My Heritage opts for buccal swabs instead of saliva or blood. The procedure is completely painless and takes just a couple of minutes.
Sending the sample back – Once you've collected your DNA sample, you can mail it back to MyHeritage for processing.

 

Inspecting the results – The final report is usually generated within 3-4 weeks. When it is done, you'll receive an email notification. You can then explore your results on the MyHeritage site.

 

MyHeritage DNA test kit contains: 
2 vials

 

2 swab sticks

 

1 Ziploc plastic bag featuring a cotton pad

 

Instruction booklet

 

1 padded envelope
Note that MyHeritage allows for raw data download and encourages people to upload their previous results from Family Tree DNA, 23andMe, and AncestryDNA. MyHeritage also uses Family Tree DNA laboratory for their DNA processing, which means they test the same genetic markers and provide the same level of test accuracy. The similarities stop there, however, as the two companies match your results to their proprietary databases. Having said that, MyHeritage doesn't really have a big DNA database, which is why they started encouraging people who tested with other companies to upload their results. 
MyHeritage features a proprietary DNA test from September last year. Until then, they sold Family Tree DNA test. Their database currently consists of people who've tested with them since September 2016, which is definitely not a substantial number. The 91 million users mentioned at the beginning of this MyHeritage review is probably a number counted from their foundation.  
Why Choose MyHeritage
MyHeritage does offer a huge number of attractive features and we'll enumerate the most prominent ones: 
Family Tree DNA laboratory, which guarantees cutting-edge processing technology and accurate results

 

CLIA-certified laboratory

 

Skillful team

 

SearchConnect feature enables MyHeritage users to find people looking for the same relatives and ancestors

 

Record Detective takes a single historical record and automatically extends the paper trail, facilitating matches between documents in different languages

 

Global Name Translation translates names from historical records from one language into another

 

Record matching automatically matches historical records and people

 

SuperSearch engine allows you to explore billions of historical records

 

Instant Discoveries is a unique technology for adding additional branches to your family tree

 

Smart Matching, which matches people from your personal family tree with individuals from other family trees 

 

Family Tree Builder 

 

Various subscription options

 

MyHeritage mobile app

 

Partnership with Billion Graves

 

Vigilant user support 

 
Test
Before we proceed, we need to mention that MyHeritage offers only autosomal DNA testing. This means that only your chromosomes 1-22 are processed, without the so-called "gender chromosomes." So, you won't be able to obtain more specific results regarding your direct paternal or maternal ancestral lineage. An autosomal test is an excellent tool for identifying your potential relatives within the database, but it can't provide exhaustive information about your direct family lines.  
MyHeritage DNA test costs 99$ and consists of 3 steps: 
DNA extraction – Since our DNA is "hidden" within the nucleuses of our cells, the testing procedure starts by extracting DNA molecules from the cells provided in your sample. This is done on a deep well plate, which contains 96 samples. The samples are injected with a substance that eats away at any potential contaminants, leaving the sample perfectly clean and ready for extraction. Lastly, the extraction robot is put to work, separating your DNA from the other materials found in the sample. You DNA is stored within two vials; one is left in a robotic freezer for potential later use while the other continues to the next step.
Microarray process – This step "translates" your biological information into raw data. You DNA is copied multiple time in order to supply enough material for analysis. This process is called amplification, producing millions of copies of your DNA. Your digital data is then placed onto the Illumina chip, which binds it in a process named hybridization. Your DNA leaves "stains" on the chip, allowing the laser to read different fragments. Finally, the iScan chip scanner will read the chip and produce an image of your DNA strain.

 

Raw data production – Once your DNA data has been obtained, it is loaded onto a highly secured server and analyzed by data scientists and automated algorithms. This produces your raw DNA data and associates it with the unique number of your kit. The algorithm will calculate the estimate of your ethnicity by "connecting" different pieces of your DNA signature with corresponding regions of the world. Simultaneously, your DNA will be matched with all other users who uploaded their raw data or took MyHeritage DNA test.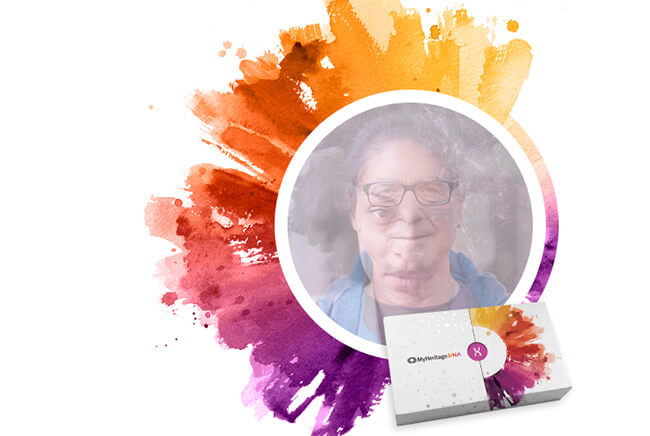 Note that MyHeritage is a subscription-based site where you unlock enhanced features by upgrading your subscription plan. The current offer includes: 
Data subscription (13.27$ per year) – This plan allows you full access to Record Matches and SuperSearch. Additionally, you can save your historical records right onto the profile pages of people in your family tree or extract records to your family tree.
MyHeritage Premium subscription – This option offers up to 2,500 individuals in your family tree, priority support, Family Tree Builder Premium, enhanced Smart Matching, and access to MyHeritage family sites and collections of members.

 

MyHeritage PremiumPlus subscription – This plan offers an unlimited number of people in your family tree, priority email support, Family Tree Builder Premium, enhance Smart Matching, Tree Consistency Checker, MyHeritage collection, and full access to Instant Discoveries, which allows you to add photos and additional branches in one click.
Non-paying members have a limit of 250 people in their family tree and 500 MB of storage space. They also have access to Family Tree Builder and SuperSearch.   
Understanding The Results
You'll get two types of results from MyHeritage DNA test: 
Ethnicity estimate – This section will provide a comprehensive overview of your unique DNA composition. You will discover the historical origination point of your genetic ancestry and the number of ethnicities taking part in your DNA. Your ancestral ethnicity will be expressed in percentages for each region relevant for your DNA. You'll also be able to view life events of your ancestors on the ethnicity map. These include things like birth, marriages, and death. For an enhanced view of your ancestral history, you can also inspect the PedigreeMap, which is free for all users.

 

DNA matches – The algorithm will compare your autosomal DNA test results to family trees in order to identify matches with a family relationship. For every potential match, you'll see three genetic parameters; shared DNA will indicate the percentages of overlaps with other individuals who took the test. You'll be able to see the length of the shared DNA expressed in centiMorgans (cM); shared segments will show how many pieces of your DNA corresponds to that of a potential genetic relative; the largest segment is the one enabling MyHeritage to identify the overall likelihood of a genetic relationship. The larger the shared DNA segment, the higher the possibility of a DNA match.

 
Privacy And Security
MyHeritage collects the following personal information: 
Name, contact info, and payment details

 

Your family info (names, gender, relationships, places and dates of events, photos, video files, documents, email addresses, and so on) 

 

DNA samples, results, and reports

 

Your opinions and comments

 

Your use of the MyHeritage website

 
They use your information to: 
Provide DNA testing services

 

Verify your identity

 

Communicate with you

 

Improve the service of the website

 

Perform research

 
MyHeritage disclosure policy forbids them from sharing your personal information with any third parties except in the following cases: 
Limited circumstances like legal processes, court orders, and similar factors

 

Acquisition of MyHeritage

 

Outsourcing tasks to thi

rd

 parties

 

Sharing data with your DNA matches 

 
You can modify or delete your personal information from the site anytime you want. MyHeritage services are not recommended for minors. 
Bottom Line
To conclude this MyHeritage review, while offering quality DNA testing services, this genealogy-focused company still has a long way to go before being able to challenge some of the major players on the market.  
Their subscription-based business approach works for the genealogy part, but having different DNA test results based on your subscription plan simply doesn't work. All in all, MyHeritage is a great genealogy explorer, but we found it wanting in the newly-incorporated DNA testing department.