AncestryDNA and MyHeritage provide high-quality ancestry DNA testing complemented with ample genealogical research. Both companies will give you a precise estimate of your ethnic makeup based on your genetic profile and give you an opportunity to connect to your unknown genetic relatives. On top of that, you'll have access to billions of scanned photos, old documents, written stories, and other genealogical sources.
Our MyHeritage vs. AncestryDNA comparison will allow you to contrast the two companies across the most important segments of their services. We'll elaborate on the scope of their ancestry DNA tests, compare the average turnaround times, gauge the provided security levels, and give our opinion on their price-to-value ratios, as well as the overall experience with both companies.
Side by Side Comparison
Test(s)
Sample Collection Type
Genetic Markers Checked
Geographic Regions Covered
Ancestral Makeup Report
Paternal Lineage
Maternal Lineage
Neanderthal Percentage
Native American DNA
Jewish DNA Coverage
Cousin Matching
Database Size
Family Tree Integration
Chromosome Browser
Health Report
Average Result Time
Research Participation
Raw Data Download
Technology
Shipping
MyHeritage DNA Test
Cheek Swab
690,000
Unknown
YES
NO
NO
NO
NO
NO
YES
New, Still Growing
YES
NO
NO
3-4 Weeks
NO
YES
Illumina
Unknown
AncestryDNA Test
Saliva
700,000+
26 Worldwide Regions
YES
YES
YES
NO
YES
YES
YES
4,000,000
YES
NO
NO
6-8 Weeks
YES
YES
Illumina OmniExpress
35 Countries
Ratings
Our comparison protocol for ancestry DNA analyses includes a wide variety of factors that ultimately differentiate top-quality companies from the rest of the market. Our initial inquiry focuses on potential interdisciplinary capacity. Genetics are often mixed with genealogy and anthropology in order to provide a more precise depiction of the past. The quantum of genetic markers investigated and compared is our next concern. The more single nucleotide polymorphisms checked throughout your entire genome, the more accurate the final report. We then explore the scope of the tests offered. Does the company provide only autosomal DNA testing or do they also include X and Y-chromosome sequencing? Potential exploration of Neanderthal, Native American, and Jewish origins is also a factor. Furthermore, we also check if the company provides a report on genetic health hazards. The size of the database, potential cousin matching, and the ability to form your personal family tree is the proverbial icing on the cake. Lastly, we're interested in average turnaround times and participation in significant scientific projects.
Winner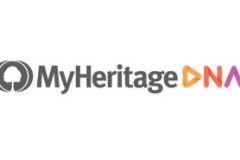 Scope Of DNA Tests
MyHeritage provides a direct-to-customer ancestry DNA test with an at-home testing kit based on cheek swabs. The processing part of the test examines 690,000 genetic markers across your autosomal chromosome pairs. This means that MyHeritage doesn't check your gender chromosomes and can't provide you with stand-alone results regarding your direct paternal or maternal lineages. The company also offers more than 8.96 billion historical records and over 40 million family trees. The regions covered by the test and the size of the database are currently unknown. 
AncestryDNA, on the other hand, opted for a saliva-based at-home testing kit. The test checks 700,000+ genetic markers and explores all 23 pairs of your chromosomes. Your final report will include ethnic estimate based on 26 worldwide regions and you'll be able to search for genetic matches across 4,000,000+ profiles in the company's database.    
Test Processing Times
MyHeritage's final report is usually generated within 3-4 weeks.  
AncestryDNA test results will arrive 6-8 weeks after your DNA sample reaches its processing facility.  
Privacy & Security
MyHeritage will never disclose your personal information except in some cases determined by law. The company will collect your identification and family info, your DNA samples and results, and your usage of the website. 
AncestryDNA has a very strict privacy policy and declares you the administrator of your personal test and profile. You'll be able to customize the public visibility of your test and even transfer your administrator rights if you so choose. The point is, no one will be able to see or access your personal info without your explicit permission.      
Value For Money
The price of MyHeritage ancestry test is 99$, but you can also get a free report by transferring your raw DNA data from other companies, which is a great financial benefit. You can start off with a free plan and work your way toward the Premium (9.17$ per month) and Premium Plus (10.95$ per month) subscriptions. Access to the genealogical database is charged 13.27$ per month. In other words, MyHeritage offers excellent value for the money invested. 
AncestryDNA doesn't feature subscription plans and all you'll ever have to pay is 99$ for the main test. However, its father company Ancestry.com LLC is the biggest genealogical database on the planet, featuring numerous brands you can use to uncover all the secrets of your past. To put it simply, Ancestry offers the most detailed ancestral reports and information for the price.      
Overall Experience
MyHeritage was envisioned as a genealogical database, but it outgrew its original frame and implemented a genetic component into its business model. Its genetic processing rivals and even surpasses most of the competitors in terms of speed, accuracy, and scope.
AncestryDNA needs no special introductions. It is an integral part of the world's largest genealogical conglomerate and features high-quality ancestry DNA testing. Here, we can see just how far MyHeritage has progressed over the last couple of years when it can stand on equal ground with giants like AncestryDNA.