MyHeritage, one of the top providers of genealogical sources and direct-to-customer DNA testing, has just revealed its latest innovation in the field of genetic genealogy – the Theory of Family Relativity.
This groundbreaking technology allows all individuals interested in their family history to utilize almost 10 billion historical records and family tree profiles to shine more light on their DNA connections. In other words, MyHeritage has combined paper trails/family trees with biological testing to create a perfectly seamless aggregation for the first time ever.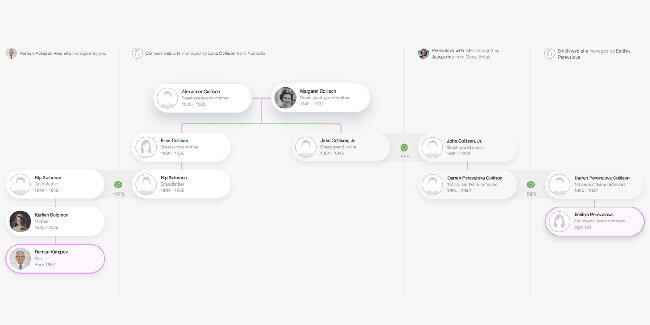 The Theory of Family Relativity employs a big data graph that connects billions of different data points stemming from thousands of MyHeritage databases in real time. Every single node on the graph represents one person while every edge depicts a blood relationship described in a historical record or a family tree. The edges can also represent matches between 2-3 profiles or historical records that are likely to concern the same person. MyHeritage staff has developed proprietary matching technologies that allow the big data graph to compute millions of paths between blood relatives instantly.
Before the Theory of Family Relativity was introduced, users who purchased one of the commercially available at-home DNA testing options were faced with a puzzling list containing thousands of unknown relatives. None of the personal reports offered many clues regarding the exact DNA connections. Now, MyHeritage provides its users with viable theories that allow them to explain their biological connections using family trees and historical records. Apart from providing us with additional insight into our past, this technology also separates fact from fiction in our genealogical sources and utilizes biological mediums to tell us which records and trees appear to be correct.
Apart from millions of family trees in databases owned by MyHeritage, the technology also uses the World Family Tree on Geni (replicated daily to MyHeritage) as well the single family tree on FamilySearch.
Gilad Japhet, Founder and CEO of MyHeritage, stated: "Our new technology is a game changer in its scope and power and is a tribute to our passion for developing the best genetic genealogy tools for our users. Using genealogy to explain DNA Matches, and using DNA to validate genealogy matches, combines the best of both worlds. We expect this technology to help people make new discoveries in their family history. With every day that goes by, this technology grows even more powerful as more tree profiles, historical records, and DNA kits are added to our global database."
This latest feature is available completely free of charge to all Premium, PremiumPlus, and Complete subscribers on the official website. If you want to upload your raw DNA data from a different testing service without purchasing any of the available subscriptions, you can pay a one-time fee of $29 per DNA kit to unlock the Theory of Family Relativity alongside its numerous features and advantages.