The Theory of Family Relativity has proven to be quite the game-changer in the field of genetic genealogy, allowing MyHeritage users to delve deeper into their personal reports and receive much more information regarding their family relationships and ancestors. The original version was released in February 2019 and we have now received the much-anticipated update with a lot of new content.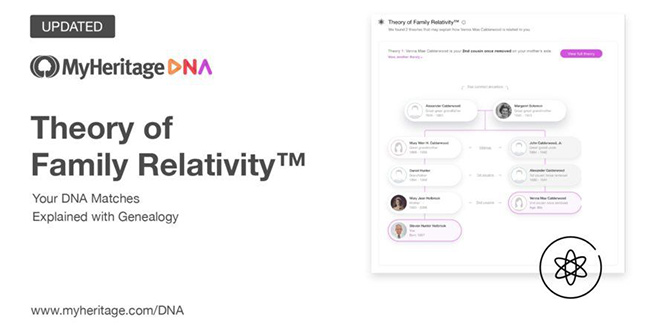 The Theory of Family Relativity scans billions of historical records and family tree profiles to craft reliable theories on how all DNA matches in the company's database may relate to each other. Since the original launch, the number of family trees available to MyHeritage has reached 45 million, the existing ones have grown, and the company has added more historical records to SuperSearch.
Here are some of the most prominent facts regarding the new update:
The number of theories has grown from 6,384,888 to 14,260,864.
The number of genetic matches with related theories has reached 9,964,321 (previously, 4,474,617).
Theories often show multiple paths to the same conclusion, with supporting evidence to back them up. The number of different paths has grown from 51,887,021 to 115, 106, 944.
The number of MyHeritage customer with at least one theory has reached 46.7%.
All the customers who purchased the test or uploaded their raw data from a different service will benefit from this update and start receiving new theories. This includes users who already received their theories and customers whose results did not yield any after the initial launch.
If the company finds new theories for you, you will see an appropriate banner at the very top of your DNA Matches page. Simply click "View Theories" and both your old and your new results will be waiting for you.
The Theory of Family Relativity is a premium MyHeritage feature that requires one of the available site subscription options (Premium, PremiumPlus or Complete). If you uploaded your raw data and do not wish to buy a subscription, you can access this feature by paying a one-time fee of $29 per kit.
Finally, MyHeritage has also implemented a new email notification system that will keep users up-to-date as new theories are discovered. The company will send these emails periodically, starting on July 18, 2019.