MyHeritage, one of the leading global providers of genetic testing and genealogical sources, has just announced the release of AutoClusters, a brand-new feature that will automatically cluster and visualize your shared DNA matches.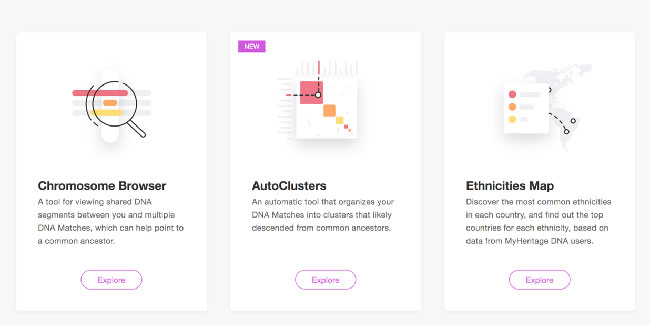 One of the main reasons people purchase DNA testing kits is to check any given company's database for genetic matches and potentially connect with unknown relatives. However, the final reports provided by major companies never describe the exact relationship path between the matching individuals. Sometimes they cite the most likely connection (3rd cousin, for example), but this is far from enough for any serious research. AutoClusters will solve this problem by grouping DNA matches from the same branch coming from a shared ancestor. Once the individual family trees are reviewed, users will be able to piece together an entire branch.
The new feature was developed in collaboration with Evert-Jan Blom of GeneticAffairs.com and is entirely based on his technology with some enhancements added by MyHeritage. These improvements were crucial in clustering endogamous populations (Ashkenazi Jews and Acadians, for example). In layman's terms, the AutoClustering tech will simply organize your list of DNA matches into clusters of individuals who are likely to share a common ancestor with you. All of the clusters will be color-coded for extra convenience and presented in both visual chart and list formats.
Gilad Japhet, Founder and CEO of MyHeritage, stated: "MyHeritage strives to be at the forefront of genetic genealogy and offer its users the best tools. When automatic clustering was introduced several months ago, we were impressed by the usefulness of this cutting edge technology and its ability to provide insights on DNA Matches. We set it as our goal to be the first major DNA service to offer it, and are happy to fulfill this promise today."
AutoClusters is a premium feature that will require an active MyHeritage subscription. If you have already processed your DNA with another company, you can pay a one-time fee of $29 per kit to upload your raw DNA data and use all the features offered by MyHeritage, including AutoClusters.