MyHeritage is just brimming with upgrades and new features in 2018. Apart from recently introducing 3 new valuable genealogical sources into its database, upping the total count of records to 8.8 billion, the company has also launched DNA quest and improved its Chromosome Browser tool in the past few weeks.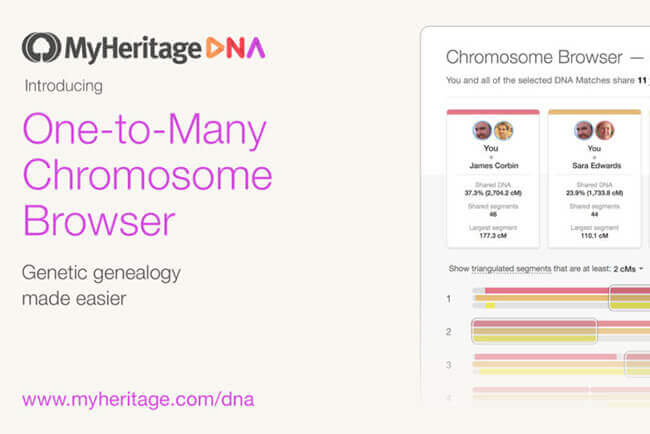 DNA Quest
DNA Quest is a new pro bono initiative launched by MyHeritage to help adoptees reunite with their birth families through DNA testing. As part of the initiative, the company is giving away 15,000 MyHeritage DNA testing kits (worth more than 1 million $) absolutely free of charge and with free shipping. The company hopes to set an example in the corporate world and open doors for many more acts of philanthropy. 
MyHeritage has in place an advisory board made of top experts in adoption and genetic genealogy that support the project on a voluntary basis. This alliance guarantees optimal professional support for all the participants. Some of the names on the advisory board include Blaine Bettinger, genetic genealogist, Richard Hill, DNA testing advisor, Richard Weiss of DNA Adoption, Katharine Tanya, founder of Adopted.com, Suzanne Friel-Williams, vice president of the American Adoption Congress, and others. 
Participation is open to all those who seek to find their biological family members or anyone with a family member who was placed for adoption. Individuals who apply first and those who cannot afford genetic testing will be given preference. The first phase is open only to US residents, but future phases may include other countries. 
You can apply for your free MyHeritage testing kit at dnaquest.org until April 30, 2018. The selection process should be concluded by the end of May. Results are expected around July 2018. If you already performed a DNA test with another company, MyHeritage invites you to upload your DNA data and participate in the initiative for free. 
One-To-Many Chromosome Browser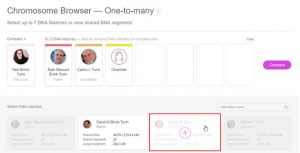 Chromosome Browser is a tool that allows for a graphic mapping of a person's chromosomes. In essence, the tool is used to better visualize shared segments of DNA that people with shared DNA have in common. These shared segments are a very probable indication that your match and you both inherited genetic material from one or more ancestors you have in common. By studying the mentioned segments, it's possible to determine the relationship between the two individuals who have taken the MyHeritage DNA test. 
The first version of Chromosome Browser was launched in January 2018 as a one-to-one browsing tool, showing only 22 chromosomes. The omitted sex chromosome, also known as the X chromosome, will also be added later in 2018. 
The latest upgrade offers an improved version of Chromosome Browser with more functionality. You will still able to access the simple one-to-one Chromosome Browser, but the official website now offers an improved one-to-many browser as well. 
The one-to-many browser will allow you to compare your DNA segment with up to 7 DNA matches at the same time. You'll also be able to compare the shared segment between all 7 DNA matches simultaneously.