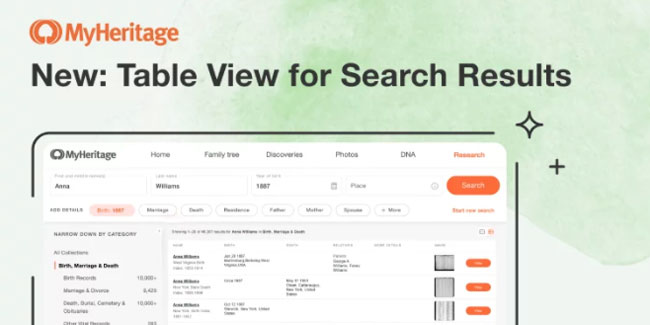 If you want to know more about your family history and YourHeritage, MyHeritage is probably the best choice. For more than 19 years, they've been at the forefront of DNA research and much, much more. First of all, did you know they offer completely free image restoration? Yes, you can upload your black and white or faded photos and restore their quality to fit modern standards. The results are simply amazing but that's not the reason why we wanted to talk about MyHeritage today. Secondly, check out our comprehensive MyHeritage review here.
As you probably know, they have a database of historical records consisting of 16.4 billion data points! You can search this entire database with a click of a button. You just need to enter your personal details and you're set. Search includes Collection Catalog, Birth, Marriage, Death, and Census records. Moreover, you can go through Family Trees, Newspapers, and Immigration records. And if you really want to be thorough, you can also hire a researcher directly on the MyHeritage website.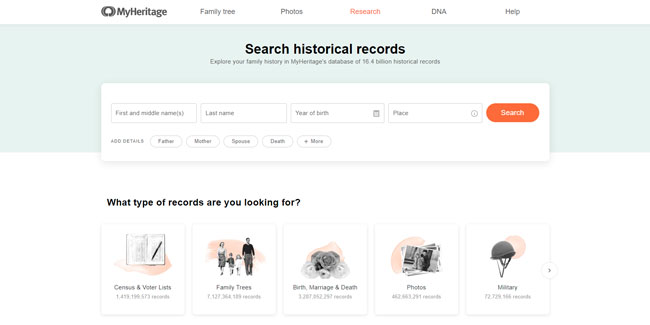 All this generates a lot of data and tech guys over at MyHeritage have been working hard to provide you with the best user experience. So, this is why as of January 27th, 2022 you can select Table View as your new default way to browse these records. However, if you want to use the old Card View, you can still do that by selecting it from the menu. Remember, both the Historical Record Search and Image Restoration are completely free.
If you really want to know more about your heritage, you can order the standard MyHeritage DNA test. You will be joining more than 99 million users worldwide and become a part of a growing community. And all of this will cost you less than what you would spend on your next visit to the grocery store or Amazon. Especially since Top 10 DNA Tests has a special coupon for all of our visitors. You will get $30 off and pay just $59 for your MyHeritage DNA kit!