Wisdom Panel Review
Advertiser Disclosure
This website features affiliate links. For purchases made via these links, we earn commissions that allow us to keep producing helpful content. To find out more
click here
.
Close
Mars Veterinary was founded in 2005, after its Breed Determination Patent was licensed by the Fred Hutchinson Cancer Research Center.
Mars, Incorporated doesn't need any special introduction. According to Forbes, it is the 6th largest private company in the US, netting around 33 billion dollars in annual sales. Apart from its famous chocolate program, it incorporates a pet care division as well, holding brands like Whiskas, Pedigree, Royal Canin, and many more.
As for Wisdom Panel, in 2015/16, the Wisdom Panel 4.0 test was launched, alongside the brief attempts to incorporate feline genetic testing into the portfolio. This Wisdom Panel review will focus the company's mission to provide unique insights into your pets as individuals.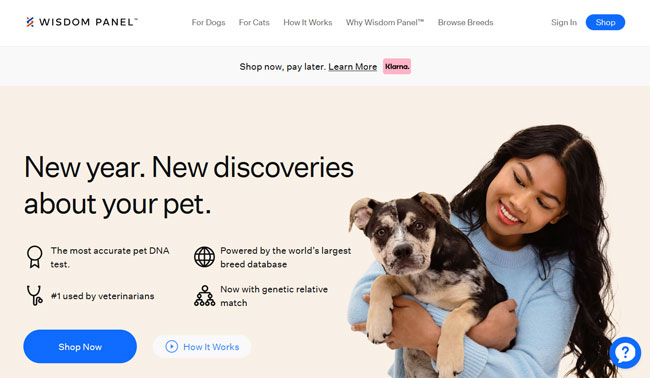 How Wisdom Panel Works
With Wisdom Panel, performing a DNA test is quite simple, featuring the following steps:
Order the test of your choice online through its website.
Collect a cheek swab of your pet. If the swabs are damaged during transport, the company will send you a replacement free of charge.
Activate your kit online and write down the activation code on the provided ID sticker.
Mail the DNA test kit back to the company in a pre-paid envelope/box.
Depending on the test, it'll take around 3 weeks for the results to arrive.
Note that you should perform a cheek swab at least 2 hours after your pet has eaten to avoid the possibility of specimen contamination. There are no such risks with water, though.

There are 2 swabs in each kit and they take 5 minutes to dry after the sample collection. Once they are dry, put them in the protective sleeves to avoid potential contamination. The company states that swabbing a deceased dog will most likely provide unusable DNA samples and recommends contacting its support staff in this situation.
Why Choose Wisdom Panel
Wisdom Panel has many advantages, which make it one of the best companies of its kind on the market. Apart from being under the corporate umbrella of Mars, which translates to an almost unlimited budget, Wisdom Panel features a wide range of other attractive features.
So, let's take a look at what makes Wisdom Panel stand out:
A decade of experience
Modern testing technology
Constantly updated products
Professional and knowledgeable team of geneticists and scientists
Over 250 dog breeds checked, which covers 99% of the 180 breeds recognized by the AKC
More than 15,000 samples in its ever-growing database
Multiple corporations in the field, including Washington State University, Genoscoper Laboratories Finland, Geneseek, Waltham, Morris Animal Foundation, Orthopedic Foundation for Animals, and others
Patented testing technology
Over 1 million tests performed
Constant research contributions
Reasonable pricing
Free shipping
Customer satisfaction guarantee
Extensive refund policy
Professional customer service
Mars Veterinary acts as a hub for enhancing relationships between pets and their owners, breeders, veterinarians, and shelters around the world. It also provides ample information to facilitate optimal pet care and ensure their well-being.
Tests
Wisdom Panel offers 2 different tests at the moment, including:
Wisdom Panel 4.0
Optimal Panel Health
It is noteworthy that Optimal Selection tests are not breed-detection products. Also, keep in mind that they are only available to the residents of the United States.
Wisdom Panel 4.0
The latest version of the Wisdom Panel test it offers information to plan your dog's training, nutrition, and certain aspects of healthcare. The price of the test is 84.99$.
The results are usually available within 2-3 weeks and the test can only be purchased through the Wisdom Panel website.
The report provides you with:
Purebred ancestors identification, down to great-grandparent level (3 generations)
Weight profile prediction
Information on possible physical traits
MDR1 genetic mutation testing
Results for exercise-induced collapse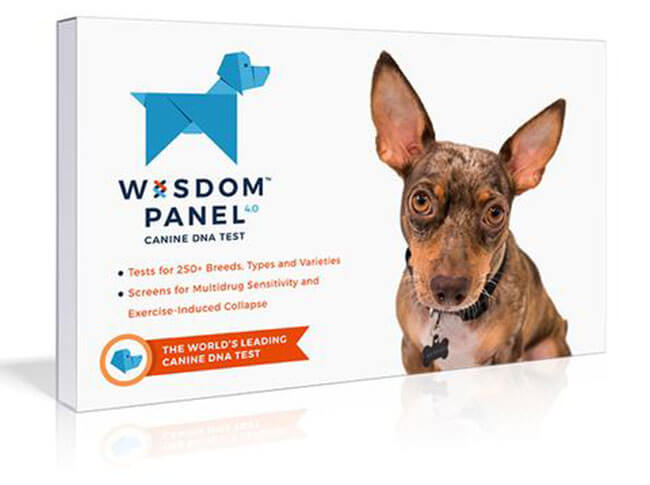 The test can be performed on purebred, mixed breed, and designer dogs. Over 250 breeds are covered by the test, as we already mentioned in this Wisdom Panel review.
The procedure itself is the same for all 3 types of dogs and you can choose the specific one during your registration process. Results differ, however. Designer and purebred results provide a Principal Component Analysis Chart, which compares your dog with specimens of the same breed in the database. Purebred results will also feature an additional Homozygosity Profile.
An important caveat is that Wisdom Panel 4.0 accurately represents the ancestry of dogs recognized by the AKC registry list. This means that dogs with foreign ancestry (outside of mainland US, Canada, the UK, Germany, and Australia) aren't depicted properly in the company's database. This is a severe limitation.
To give you a better perspective, you can inspect sample reports on the site, featuring mixed-breed, purebred, and designer iterations.
Wisdom Panel Health
This is a test intended for private owners, dog breeders, shelters, and veterinarians. It offers everything Wisdom Panel 4.0 does plus a comprehensive health profile of your pet.
The price of the test is 149.99, From a breeder's perspective, it provides many advantages over traditional techniques like pedigree analysis, for example. It's a comprehensive breeder's tool for developing a sustainable and proactive breeding program.
The results are usually available within 2-3 weeks.
The results include:
Breed-tailored genetic disease report, covering more than 150 known conditions
Breed detection for more than 250 breeds
Reports for more than 20 traits like morphology, coat color/types, and more
Genetic diversity, the population of the breed and related groups
Predicted weight profile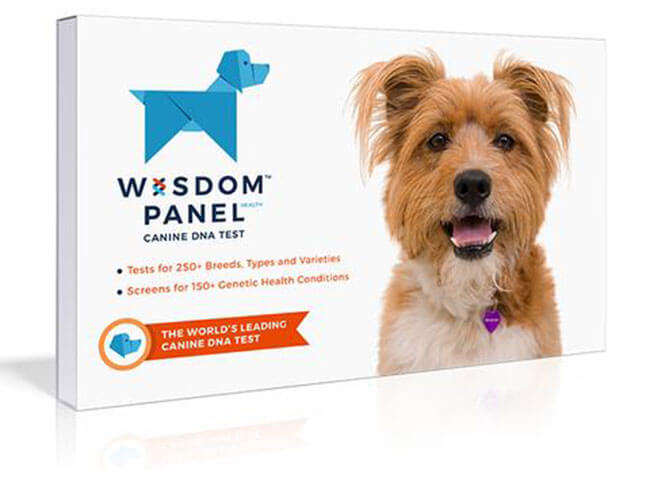 The main purpose of this test is determining the genetic health index (GHI) of your dog. The GHI represents a relative health level of your dog's genetic makeup, compared to previously tested dogs in the database. This is done by inspecting over 1,800 genetic markers in your dog's genome. The average GHI value is 100.
The results of this test are not transferable to your breed registry since Wisdom Panel Health is not envisioned as a DNA profiling test. It checks different DNA markers than profiling tests, so the results are neither equivalent nor compatible. Although it's not specifically designed for DNA profiling, it does identify every tested dog as a recognizable and unique individual.
Testing puppies is also possible since their DNA signature doesn't change over time. However, testing them while they're still nursing is not recommended.
As we already pointed out, Wisdom Panel Health is basically Wisdom Panel 4.0 + disease detection, so it's also designed to test purebred, mixed breed, and designer dogs.
The test is usually performed through cheek swabs, but if this method is unavailable for some reason (deceased stud), semen samples can also be used. The minimal amount of semen required is 50 microliters, but 100 microliters is the recommended dosage.
Apart from the mentioned tests, the DNA testing provider also offers Wisdom Panels 2.0 and 3.0, alongside its Veterinary Test. These tests are not available on the site, but you can purchase them through retail pet stores and e-commerce retailers.
Research
Mars Veterinary started its research history with the aforementioned Canine Genomics project in 1999 and has continued to do so until present times.
Every dog tested is a new bundle of information to further improve our understanding of the species, provided the owner gives approval, of course. Mars Veterinary has ample technology and manpower to conduct cutting-edge research in the field and it has been doing it for almost 2 decades.
Privacy And Security
Mars Veterinary has a very strict policy when it comes to sharing information of any kind. It will not share data about its test subjects or your personal information with anybody, unless given your explicit consent.
Sharing data about genetic profiles in its database is essential for several research projects currently being conducted, however, so you may consider the option of sharing your information for the purposes of advancing science.
Shipping And Handling
The company doesn't provide any information on what shipping options are available, so it's best to contact its support staff to see if it delivers to your area.
Bottom Line
Wisdom Panel is a line of highly technical and sophisticated dog DNA tests developed by the genetic business unit of Mars Petcare. Its current name is Wisdom Health, but it was known as Mars Veterinary until September 2017.
Canine genotyping required for these tests is performed using the state-of-the-art Illumina Infinium chip specifically designed for Wisdom Health. The DNA of your pet(s) is processed and analyzed by GeneSeek laboratories, which is the largest and most respected genomics testing facility in the world.
In other words, the company offers the most detailed and intricate DNA testing solutions for your canine family members. You'll be able to uncover their genetic origins with great accuracy and get a considerable head start if their DNA holds mutations that can cause genetic diseases and conditions.
The company can definitely work on the overall "upgradeability" of its test results, but it's still one of the most efficient and modern dog DNA testing providers on the market. It offers the most advanced tests at very reasonable prices and covers the needs of both owners and breeders, as well as shelters and veterinarians.