Basepaws Review
Advertiser Disclosure
This website features affiliate links. For purchases made via these links, we earn commissions that allow us to keep producing helpful content. To find out more
click here
.
Close
Basepaws is a pet genetics company founded in 2016 in Redondo Beach, California. Apart from developing the first ever consumer DNA test for felines, Basepaws is also famous for being a part of Singularity University's 2016 Launchpad Incubator and winning the Japan TechPlanter SF Award.  
The ultimate goal of Basepaws is to create the largest biobank of pet genetic data using its proprietary budget-friendly sequencing technology. The biobank will serve to develop optimal animal models for preclinical testing in drug development for pets and humans.  
If you want to know how Basepaws plans to achieve its end goal and what it can do for your furry friend(s) along the way, read our comprehensive Basepaws review and learn all there is about the company and its services.   

How Basepaws Works
Basepaws offers direct-to-customer feline DNA testing. This procedure entails the following steps: 
Placing an order – You can do this directly on the official website. To place an order, you have to provide the company with your payment details (the company accepts Visa, MasterCard, Amex, and PayPal), your first and last name, address, city, ZIP/postal code, state, and phone number. You also have to specify whether you are ordering the test for a hairless cat.
Collecting the sample – Once your personal Basepaws CatKit arrives at your address, all you have to do is collect your pet's DNA sample. Your cat's DNA will be extracted from hair follicles or buccal cells if you own a hairless feline. Note than hairs do not contain any DNA, just the follicles. Basepaws is highly committed to non-invasive sample collection, so the company will never request any blood samples for its testing.
Sending the samples back – After collecting your cat's DNA sample, you need to send it back to the company's lab in Los Angeles for testing.
Receiving the results – Basepaws has just recently started performing its DNA test, so the average turnaround time is between 2 and 6 months, which is rather long. The company intends to cut this time to 4 weeks in the future. Your results will be available online and you will also receive future updates free of charge 
Every Basepaws CatKit contains: 
Detailed instructions 

 

Hair-collection adhesive strips (or buccal swabs)

 

Return postage

 

Return envelope 

 

Why Choose Basepaws
Basepaws is one of the few companies on the market that focus on feline DNA sequencing. Apart from that, it also features a lot of additional benefits that might incline you to give it a shot. Some of these advantages include:
Top-of-the-line facilities and laboratory
Experienced team
Error-free tests
Simple testing procedure
Interesting results with many more features to come
Discover your cat's potential wild relatives
Free updates to your results
Available worldwide
Free shipping in the US
Reasonable price
Research aimed at exploring the connection between certain genes and genetic diseases
Tests
Basepaws Breed + Health Cat DNA Test (129.00$) analyzes the DNA sample of your pet and provides you with vital information regarding its breed, heritage, and potential abnormalities in a few important genes. It checks for 43 genetic conditions represented by 65 health markers and 25 traits (including blood type and resistance to FIV) represented by 50 markers. Plus you can share this report with your local veterinarian very easily.
Unfortunately for cat lovers, feline DNA is not as thoroughly studied as, let's say, canine or even mouse DNA. The company is dedicated to bridging this knowledge gap – and having a large DNA database is the first step in that direction. By testing your cat with Basepaws, you are not only learning more about your pet but also helping the progress of feline genetics as a scientific branch.  
Unlike its competitors, Basepaws actually sequences cat DNA, which includes DNA we currently know nothing about. Sequencing the entire genome (all DNA) of your cat is not exactly budget-friendly (this option costs $1,700), so Basepaws sequences only 27 million nucleotides.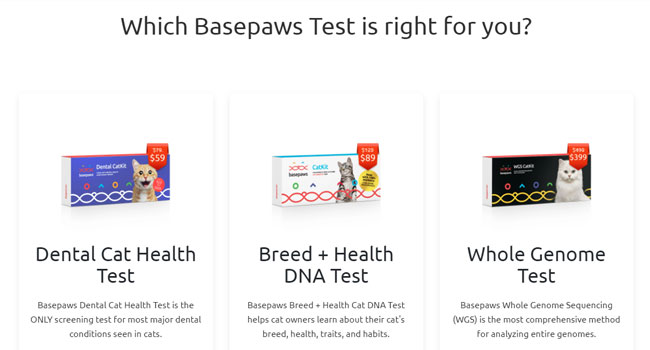 You are probably wondering why you would sequence and explore those parts of your cat's DNA science knows nothing about. Basepaws intends to advance the field and identify the functions of every single gene in feline DNA. Every test comes with unlimited (and free) future updates, so your report will follow the latest scientific breakthroughs during the entire lifespan of your cat.  
Basepaws can also sequence the genes in your cat's DNA without genetic packaging for 499$. The company also performs tests on specific cellular tissues for methylation or gene expression to help cats with cancer or other diseases and conditions. This service starts at 400$.
Finally, you can also order Basepaws Dental Cat Health Test ($79), the only screening test for most major dental conditions. The detailed report you will get lists Periodontal disease, Tooth resorption and Bad breath (Halitosis) scores. It also provides you with a lot of recommendations when it comes to home and clinical care. 
Understanding The Results
In short, Basepaws feline test will tell you how closely your cat is related to select cat breeds and wild cats. The report will also include maternal/paternal tracing and indicate potential inbreeding. 
Breed Index
The current Alpha Report covers 23 popular cat breeds with many more to come. The blue markers on your result portal indicate the degree of likelihood for every breed. The markers can be wider or narrower, which simply shows the current state of Basepaws' database for that specific breed, that is, how many DNA samples the company currently has for comparison.   
Wild Cat Index
The Basepaws Alpha Report features comparisons of your cat's DNA to 16 different breeds of wild cats (tiger, puma, snow leopard, and others), which are listed in order of best match.  
If your cat shows high genetic similarities with snow leopards, it is probably caused by random inheritance since snow leopards cannot breed with housecats. On the other hand, if it shares a lot of genetic material with servals, it is quite possible that your cat has an actual wild serval somewhere in its family tree.
Basepaws has big plans for result instances that will go online in the future (in 2018/19), including Health Report (genetic health risks, carrier status for HCM and PKD, and potential genetic diseases), traits (personality predictions, physical traits, catnip-addict likelihood, and fun facts), wellness (diet recommendations and other assessments), and several bonus features (raw DNA data, report for your vet, and others).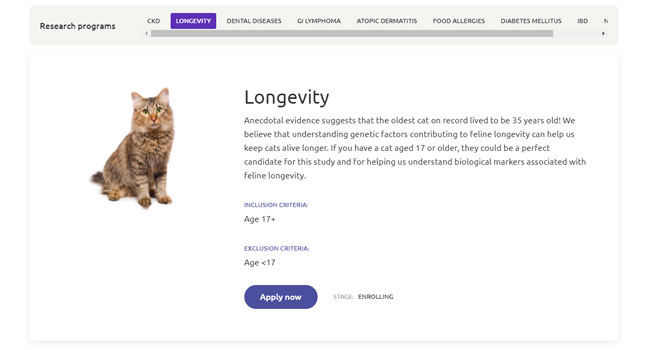 Research
Basepaws is currently conducting its own study trying to identify the genetic basis of specific diseases and traits. The company is handing out free DNA testing kits to all owners of unique cats that meet the study criteria.  
In order to qualify for participation, you have to submit records of listed diseases. The list of diseases is changed rather frequently and you can even make your own suggestions regarding the future course of research.  
The current list of diseases and traits of interest includes asthma, acromegaly, diabetes, hyperthyroidism, hypertrophic cardiomyopathy, polycystic bowel disease (IBD), Porto-systemic liver shunt, and polycystic kidney disease. 
Privacy And Security
We already outlined all the personal information required by the company during registration in the previous sections of our Basepaws review. The collected info is used to:
Personalize your Basepaws experience
Improve the website

 

Improve the service

 

Administer a promotion, contest, survey and other site features

 

Process your transactions quickly

 

Ask for reviews and ratings

 

Follow up after correspondence (phone, email or live chat inquiries)

 
Basepaws uses cookies and doesn't scan for malware or other vulnerabilities. We definitely hope Basepaws starts performing PCI compliant scans in the future since they are not optional. The official Privacy Policy states: "We do collect credit card information but did not know PCI compliant scans are now required." This is a huge red flag regarding the security of your credit card information.
Furthermore, Basepaws' Privacy Policy states this: "We do not sell, trade, or otherwise transfer to outside parties your Personally Identifiable Information unless we provide users with advance notice." What does this mean exactly? That it is ok to share information that can identify you as an individual as long as the company lets you know in advance?  
Bottom line, Basepaws really needs to work on its privacy and security policy in order to make sure its customers can safely purchase and use its services.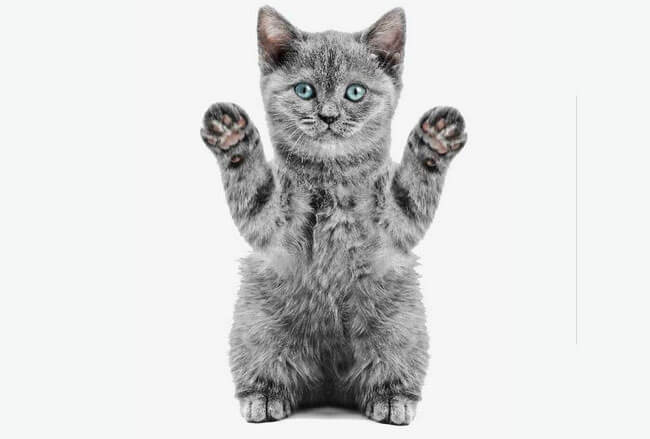 Shipping And Handling
Basepaws offers free shipping and prepaid return envelopes for US orders. International shipping has a flat fee of 15$. Note that the company doesn't cover return shipping costs for international orders.
Bottom Line
Basepaws is definitely an ambitious company with its heart in the right place. The team is tackling a pretty neglected area of genetics and trying to connect the dots of feline DNA and explore this great unknown field one gene at a time. 
The company offers services that should be more than interesting for any cat lover and will further expand its final report in the future. Honestly, we want to see Basepaws succeed, which is why we recommended that it improves its privacy policy and security measures. The state of its privacy and security policy right now is enough to sink a much older and better-known company than Basepaws.