myDNA Review
Actionable Health and Weight DNA Results

Advertiser Disclosure
This website features affiliate links. For purchases made via these links, we earn commissions that allow us to keep producing helpful content. To find out more
click here
.
Close
In this myDNA review, we will go over all the important data points you need to understand before unlocking secrets hidden in your DNA. This Australian DNA testing company was founded back in 2007 which means they've been on the market for a long time. This is always a good sign as it proves the viability of not just their testing but also their research. Moreover, the founder of the company is Associate Professor Leslie Sheffield, who was the first qualified clinical geneticist in Australia. He spearheaded the clinical genetics teams at the Royal Women's and Children's Hospitals. And these are the hospitals that introduced the world-first Down's syndrome screening for pregnant women.
He wanted to bring that level of ingenuity and health information to everyday citizens, designing Personalized Medications tests. Soon after this, MyDNA started expanding and investing. To date, they have invested $15 million in their research and they have their own $2m NATA accredited DNA analysis laboratory in Australia. They've also recently acquired another huge laboratory in the United States to help with the growing demand emerging from this side of the globe. As they say, the numbers don't lie and these numbers are pretty impressive. myDNA cares a great deal about the privacy of its customers, keeping all your results, recommendations and other data points completely private and in your possession.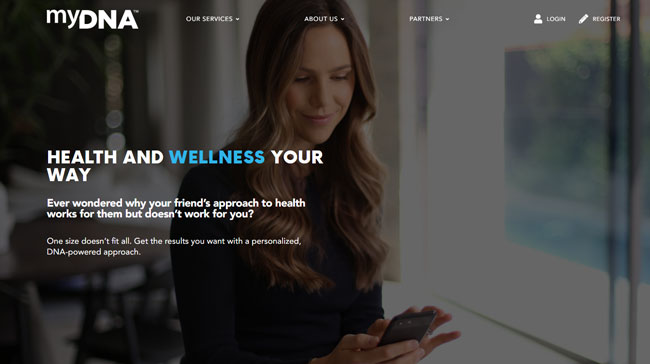 How myDNA Works?
The process is very simple. After buying the kit online you will get it delivered to your door. All you have to do now is swab your cheek and send it back. Just to be perfectly clear, it takes about a minute to complete this process, 30 seconds for your left cheek and another 30 seconds for your right cheek. The next step is to register your profile online. This is how you will get all those actionable results and recommendations. In order to access those results and to keep your data safe, you will have to install the myDNA app on your phone. As we already mentioned in this myDNA review, privacy is one of the things this company really cares about.
So, what type of results can you expect from this health DNA test? Well, there are more than 30 different areas of your health and wellness that will be analyzed. And for all 30 you will receive advice from myDNA team of expert clinical staff. At this point, we also must mention their Premium program. We will discuss it at length in one of our next sections but for now, you should know that if you decide to go for it, you will receive even more data. And that's not all.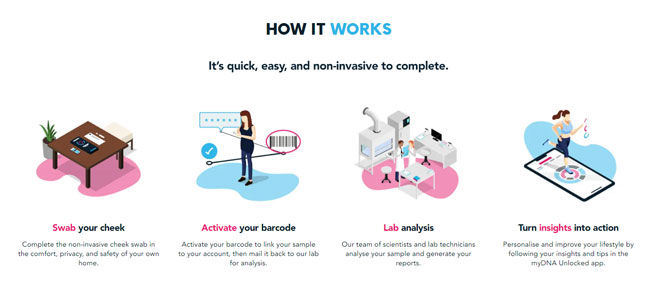 You will get access to meal and workout plans that are specifically tailored to your DNA. And remember, you can access all of this data via the myDNA app. So, there's no need to leave the comfort of your home or wait anywhere to find out how you can improve your health and wellbeing.
Why Choose MyDNA?
The main reason why you should consider buying myDNA test is that the information it provides is very easily converted into results. You will get actionable intel that can help you get rid of issues you already have but more importantly prevent any future problems. This is something that people don't talk about very often. The reason for that is pretty obvious as we don't talk about things that didn't happen. However, if you narrowly escape a car crash that's something you're going to be talking about. And this is exactly how you should approach this test.
In the next section, we will talk more about what kind of insights you will get but we want to mention just a few right now. Weight Management, Heart Health, Bone Health, and Sleep Patterns are incredibly important to your well-being. And this myDNA test can help you be all you can be, to put it bluntly. They've been in business for a long time and their record speaks for itself with thousands and thousands of satisfied and, more importantly, healthy customers.
On top of all of this, the price of the myDNA test is just $99. When you get your results it will feel like you're living in some futuristic society that actually cares about its health. Only it's up to you to make the first step.
myDNA Test
Personalized Health DNA test offers 30+ DNA insights covering fat burning, training styles, injury prevention, caffeine & sleep, B vitamins, heart health, weight regain, bone health, and more. You will also get food swaps, exercise suggestions, personalized recommendations, and motivational content to help you achieve the best results. At this point we would like to first list some of the major categories and then focus on just one to show you exactly what will you be getting for your money. So, here they are:
Fitness
Nutrition
Skin
Caffeine Metabolism
B Vitamins
Sleep
Heart Health
Bone Health
Iron
It's important to remember that all of the following data applies to all other categories. This means you will be getting the same level of details when it comes to your skin, sleep patterns, or heart health. For example, DNA fitness insights look at the following genes: ACTN3, AGT, AMPD1, PPARG, and COL1A1. It provides important and personalized insights about Power vs Endurance,
Injury Prevention, Stamina, and Recovery. When it comes to nutrition you will learn more about your Appetite & Weight, Fat Storage, Fat Burning, Body Mass Index, and Weight Regain.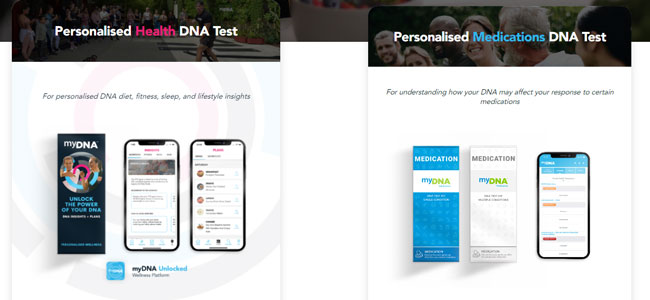 Personalized Medications DNA Test comes in two variants: single and multi-category. It is a much more comprehensive and detailed test that can be forwarded to your doctor in order to identify how your DNA may affect the way you respond to many commonly prescribed medications. And this is not all. myDNA Mental Health (Single Category) Test Kit can help inform medical professionals about the treatment of depression, anxiety, ADHD, and other psychiatric conditions. There are a number of features we left out as these tests are a true treasure trove of information.
myDNA Privacy And Security
The first thing you should know when it comes to myDNA tests privacy and security is that your data will be stored on encrypted servers. Furthermore, it won't be linked directly to your identity meaning that no one can use this data for any nefarious purposes. When it comes to the physical part of this equation, your kit will be stored in a secure vault at -84°C to prevent it from spoiling. It's there just in case you want to order further testing but you can request myDNA to completely destroy it.
It goes without saying that your data won't be shared with third parties or any other companies. It is, after all, your data and this is something myDNA takes great pride in. Apart from destroying your physical sample, you can also order myDNA to delete all your data stored on their servers, your app, and anywhere else. It will be like you never took any DNA tests at all. You can also choose with whom you share your data. Doctors, spouses, children, or any other individual must first get your approval before they can access any data.
How Much Does myDNA Costs?
There are three myDNA tests you can purchase and one premium subscription option you can choose. Personalized Health DNA Test costs $99 and you don't need any kind of membership in order to access the test results. The test, however, comes with a one-month free Premium subscription option just to give you a taste of what it offers. After that month is up, you can just go on without any additional payments or you can continue with the subscription.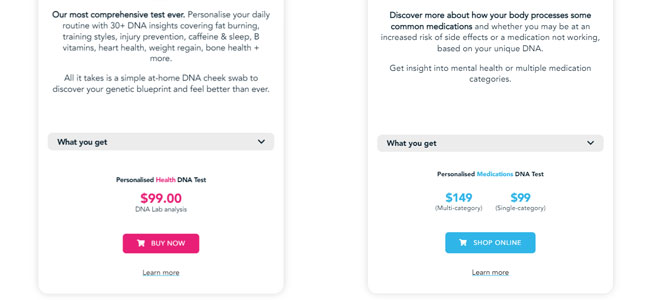 One month of the myDNA Premium subscription costs $14.95 or $7.95 per month if you choose the 3-month option ($23.85). Exactly the same options when it comes to the Premium subscription are available for the Personalized Medications DNA Test. The multi-category test costs $149 and single category test costs $99. myDNA currently operates in 15 countries worldwide and provides DNA testing to 6 countries: Australia, the United States, Canada, New Zealand, the United Kingdom, and Indonesia.
Bottom Line
It's time to wrap this myDNA review offering you an overview of this company and more importantly, their DNA testing. This is a very respectable and big company offering unique tests and actionable insights. It can help you with a variety of chronic issues and even help you overcome mental health problems. The most important thing is that you can share the results of all of these tests with your doctor and receive possibly life-saving advice or a change of medications. This is truly one of the most advanced DNA tests currently available on the market. And it's really affordable.
For example, let's say you want to buy the most expensive products myDNA has in store and pay for their Premium membership for an entire year. The test would cost you $250 and the membership $95.40 for a whole year. This means that for just $350 you will have access to important data points hiding inside your DNA. You will also receive expert advice when it comes to your health, wellbeing, fitness and weight management. And the myDNA app provides you with a meal and workout plan specifically tailored for your needs.
Finally, we want to stress the importance of their Personalized Medications DNA Test. It tells you how your body reacts and processes medications. This, in turn, can help your doctor prescribe you better medications and save you from a lot of trouble.