AncestryDNA Review
Advertiser Disclosure
This website features affiliate links. For purchases made via these links, we earn commissions that allow us to keep producing helpful content. To find out more
click here
.
Close
This AncestryDNA review will serve as a well-rounded introductory course for the brand pertaining to the largest genealogy company in the whole world. We're talking about Ancestry.com LLC, a private Internet company located in Lehi, Utah. The said enterprise was founded in 1983 and has since launched numerous brands and products. Apart from AncestryDNA, it incorporates Ancestry, AncestryHealth, Archives.com, AncestryProGenealogists, Find a Grave, Family Tree Maker, Rootsweb, Newspapers.com, and Fold3.
From June 2014 onwards, it has provided access to 20+ billion historical records with 2+ million paying subscribers. The users have generated over 700 million names in family trees, with 200 million scanned documents, written stories, and photographs.
Under its subsidiaries, it operates foreign websites, services, and region-specific records in their own languages. These include Canada, Australia, China, the UK, New Zealand, Brazil, Japan, and others. In this AncestryDNA review, we will focus on Ancestry's most famous service, so keep reading to discover more about AncestryDNA. 
How AncestryDNA Works
With AncestryDNA, performing a DNA test is pretty effortless and straightforward. The whole procedure includes just 5 simple steps:
Online order – This is done directly through the AncestryDNA website.
Sample collection – After you place your order, the test kit should arrive in a couple of business days. Once you have it, just fill the saliva collection tube. Filling the top line of the tube with saliva might prove challenging. It's completely natural if it takes you a couple of minutes to do it. There's no need to worry about your sample not arriving at the lab in an optimal condition, as the tube cap features a chemical solution for keeping your sample fresh and bacteria-free.
Returning the test kit – Once your sample is ready, simply mail the kit back to the company using the return mailer. Keep in mind that mailing the kit back doesn't incur any extra charges.
Activating the kit – You will do this with 15 alternating numbers and letters found on the collection tube. This is necessary to connect your sample to your account.
Explore the results – This is done directly on the website. Once your results are ready, which can take between 6-8 weeks, you will receive an email notification to inspect your report.
The test kit contains:
Full instructions on handling the kit
1 sample-collection tube
1 sealable bag
Pre-paid return mailer.
Why Choose AncestryDNA
AncestryDNA is a natural expansion of Ancestry.com to incorporate genetic testing. With AncestryDNA, we can "travel" up to 50,000 years in the past, which is something we would never be able to do using only genealogical sources.
Having said that, here are some of the main reasons to perform your genetic and genealogical research with AncestryDNA:
Part of a conglomerate dedicated to reaching the ultimate levels of genetic science
It features a high-quality DNA test
The test is not segmented; you are offered all the utilities in a single testing solution, meaning there are no additional expenses
700,000+ genetic markers checked, which is beyond impressive and results in high accuracy and test reliability
350 geographical regions covered, which is significantly more than any other ancestry DNA test on the market includes
Insights into your potential Native American ancestry
Purchasing the test grants you access to one of the biggest databases with countless family trees and documents uploaded by users. The AncestryDNA database has over 7 million people
Good security and safety of your personal information – only you choose what you want to share and with whom
Substantial number of research projects you can be a part of, contributing to the advancement of genetic studies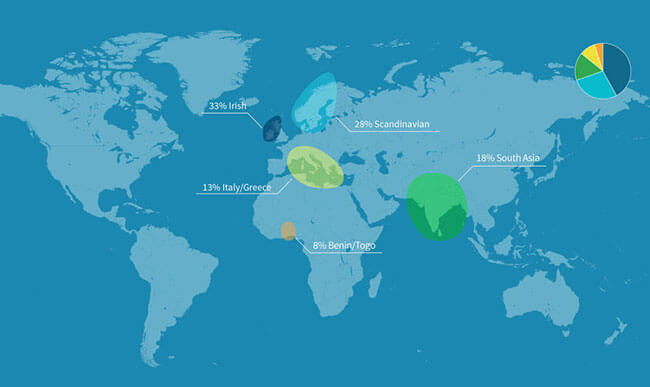 Tests
Ancestry's primary test is simply called AncestryDNA and it is sold at a price of 99$. This test examines your entire genome, which means it addresses both autosomal and sex chromosomes.
Every human being has 23 pairs of chromosomes. In every pair, one comes from our mother, the second from our father. The first 22 pairs are called autosomal chromosomes and they are used for determining our entire family ancestry. The 23rd pair decides the gender of the person (thus sex chromosomes). Y stands for male, X for female.
Y-chromosome helps determine the direct paternal lineage whereas X-chromosomes or "mitochondrial DNA" reveals direct maternal ancestry. Mitochondrial DNA passes down from mothers to children unchanged, so it can point to direct maternal relatives.
The quality and precision of the test depend on the number of markers checked within our DNA. The more markers, the better. AncestryDNA test surveys 700,000+ locations in your DNA. To put things into perspective, solo Y or mt tests check 25, 37, 65 markers within chromosomes.
Another key difference is the fact that both men and women can take the AncestryDNA test. The same locations in their genomes are inspected and they both carry relevant DNA.
Apart from its ancestry screening solution, the company features a health-related test called AncestryHealth. Another service called AncestryHealth Plus will be introduced in early 2020. Unlike AncestryHealth (Core), which is a one-time purchase, the Plus version will incur membership fees.
AncestryHealth Core provides insights into potential cancer risk (breast & ovarian + Lynch syndrome), carrier status (cystic fibrosis, sickle cell anemia, and Tay-Sachs disease), and conditions associated with hearth and blood (hereditary thrombophilia, hereditary hemochromatosis, cardiomyopathy, and familial hypercholesterolemia).
AncestryHealth Core also features wellness reports, including the effects of DNA on levels of vitamin C/D/E/B12 and omega 3. It determines the genetic likelihood of developing lactose intolerance and explores the effects of caffeine consumption as well. Lastly, the test provides some valuable tips on how to stay healthy by adopting healthier habits, from the foods you eat to your exercise regimen.
Understanding The Results
The accuracy of the results is held at the level of 98%. If any of the results fails to meet the required standard, the company will call for a new sample collection.
The test results include:
DNA matches – Your DNA is measured against one of the most unique and comprehensive DNA collections in the world. Every potential match will be followed by a "confidence percentage." It ranges from 0-100%, so you should focus on the higher percentages for closer relatives. You can then add the newly found relatives to your family tree, located on your AncestryDNA page.
Ethnicity map – This is an easy and interactive way for you to visualize/interact with the results of your DNA test. The colors on the map correspond to the colors found on the pie chart of your ethnicity results. Ethnicity maps might show a completely different picture than you hoped for, but this happens on a regular basis.
DNA circles – It provides a way for DNA matches to come together around at least one common ancestor with shared DNA.
"Map and Locations" map – This is an option Ancestry Magazine subscribers have. If both you and your DNA matches have family trees linked to your DNA results, you will have access to this feature. It'll show pins in different colors, indicating the birth locations of all the direct-line ancestors in your family tree within 10 generations or less.
Raw DNA download – You can download your raw results and use them on genealogy research sites or with other DNA testing companies.
The company no longer offers stand-alone Y or mt test results, so there is no way of separately viewing your ethnicity from your mother's/father's side of the family.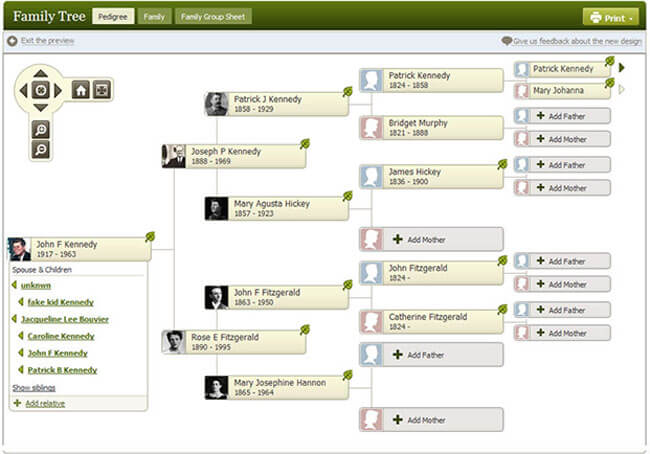 Research
AncestryDNA aims to advance research in the fields of human genealogy, genetics, health, and anthropology. It offers its customers the opportunity to support these research attempts by participating in the Ancestry Human Diversity Project.
Your data will be bundled with millions of results in order to:
Help make important advances in understanding human history and migrations;
Improve and learn more about human health;
Explore the connections between human traits and genetics;
Improve or develop new diagnostic tools or therapies for treating diseases and other conditions.
You can find more info on the projects in the "informed consent" section of the site, where you can also authorize AncestryDNA to use your data. You can always review, change or even withdraw your consent, no questions asked.
The research may be conducted by academic institutions, scientists from AncestryDNA, non-profit/for-profit businesses or government institutions.
Privacy And Security
With AncestryDNA, DNA samples are processed in a secure third-party lab in the US. All the steps from handling your sample to providing you with your results fall under the company's Privacy Statement and Terms and Conditions.
Once you purchase and activate your test, you will become its administrator. You'll be able to choose who can see your test results. If you want to use the invite option, you will have to share your info with your target audience. For example, if you want to send an invite to your ethnicity matches, you'll have to share details on your ethnicity.
You can also share access to your account by granting people editor or guest titles. They will be able to inspect your DNA results and even modify your info to an extent.
You can also transfer your administrator rights to another person, but you'll then lose those rights and be listed as an editor. The main point is that only you decide who sees your personal information. You can share nothing or everything with whoever you choose, it's all up to you.
Shipping And Handling
The Ancestry blog states that the AncestryDNA test is now available in 35 different countries. Unfortunately, the company doesn't provide too much information on shipping and handling, except for stating that prices may vary depending on location. We did a bit of research and found that you can order your test kit through Amazon Prime and get free shipping. Unfortunately, not all countries have access to Amazon Prime. Shipping cost and other expenses should be clearly stated on the website and the excuse of providing semi-worldwide shipping is simply not good enough. This is one of the aspects of AncestryDNA's service that we feel needs the most improvement.
Bottom Line
Our AncestryDNA review painted AncestryDNA as a superb choice for all your ancestry-researching purposes. It does have its misgivings, but they all pale in comparison to the high quality of service provided.
What we like the most about this company is its proactive approach. You'll never see AncestryDNA standing still, not for a moment. There's always new data to be uploaded and users to be matched, new projects to take part in, and new scientific grounds to break. That is what makes AncestryDNA one of the best choices for your ancestral explorations.