Helix Review
All DNA Tests In One Place

Advertiser Disclosure
This website features affiliate links. For purchases made via these links, we earn commissions that allow us to keep producing helpful content. To find out more
click here
.
Close
Helix is a company dedicated to making DNA testing accessible for everyone. The company's team and scientific advisory board firmly believe that every person, after unlocking their genetic data, can make more informed decisions regarding their health, nutrition, fitness, and other aspects of their lives. 
Helix strives to empower every individual to improve their life through DNA. Your biological information can move you toward a different lifestyle if properly explored. If you're interested in learning more about the company and its never-ending mission of helping all of humanity lead better lives, read this Helix review and uncover all the secrets locked in your DNA. 
How Helix Works
Helix's sequencing protocol includes the following steps: 
Ordering a product – The entire process begins by you visiting the Helix Store on the official website and ordering your first product. Helix offers a wide variety of different testing options, including ancestry, family, fitness, health, nutrition, and entertainment.
Receiving your personal test kit – After receiving your order, Helix will send you its DNA testing kit designed to collect and store your DNA sample and protect it on its way to the lab. Don't forget to register your kit on the official website so the company can connect it to your DNA results.
Collecting your DNA sample – Helix uses saliva to extract and sequence your DNA. The test kit comes with a small saliva container with a funnel on top for easier collection. You'll also get a comprehensive set of instructions, but if you're still unclear on how to proceed, you can find a detailed step-by-step manual on the website. Just make sure not to eat or drink anything for at least half an hour before sample collection.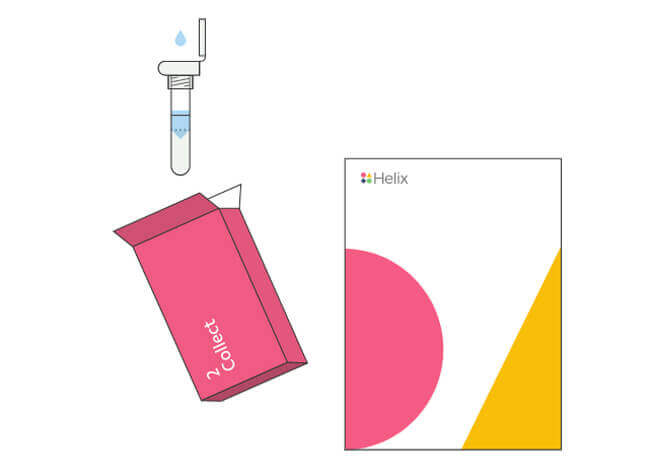 Sending the sample back – With your DNA sample secured within the provided container, you can send it back to the lab for further processing. Helix DNA test kit comes with a prepaid box, so you won't have to worry about any additional charges.
Getting the results – Once Helix experts sequence your DNA, you'll unlock a whole marketplace of different products personalized to you by your own DNA signature. Depending on the product you've ordered, Helix will share a small portion of the received data with its partners so they can generate the requested insights. Once your results are ready, you'll receive a direct email notification.
Discovering again and again – DNA sequencing is just the first step toward exploring everything Helix has to offer. If, for example, you ordered a fitness-related DNA test, now you can explore your ancestry by using the results received during the initial sequencing. Also, Helix is a platform designed to follow new scientific breakthroughs, so your results will be regularly updated in the years to come.
Why Choose Helix
Here are some of the most convincing reasons why you should opt for Helix:
Reputable investors (Illumina, KPCB, DFJ, Sutter Hill Ventures, Mayo Clinic, Warburg Pincus…)

 
CLIA and CAP-accredited genomics laboratory

 
Excellent team of scientists, PhDs, and genetic counselors

 
Every product is reviewed by experts

 
Multitude of different products

 
Around 22,000 genes checked during sequencing

 
Possibility of purchasing your raw DNA data
Tests
Helix features numerous partners and offers all the testing solutions from their portfolios in its online store. To facilitate navigation, all the tests are separated into corresponding categories. So, let's take a look at what each category includes.
Ancestry
Helix offers the following options for ancestry exploration: 
Geno 2.0 by National Geographic (99.95$) – National Geographic's ancestry test will help you discover numerous details about your ancestral makeup and the migration patterns of your ancient ancestors.

 

Neanderthal by Insitome (109.99$) – The test is designed to tell you which unique traits you inherited from your Neanderthal ancestors. These include things like skin color, muscle growth, and cognitive ability.
Regional Ancestry by Insitome (109.99$) – This test will explore your ancestral origins and place your DNA within a specific regional ancestry cluster.
Metabolism by Insitome (109.99$) – With this test, you can discover whether you're genetically predisposed to be a farmer or a hunter. The test will explore and explain the traits you have today, from lactose intolerance to fat synthesis.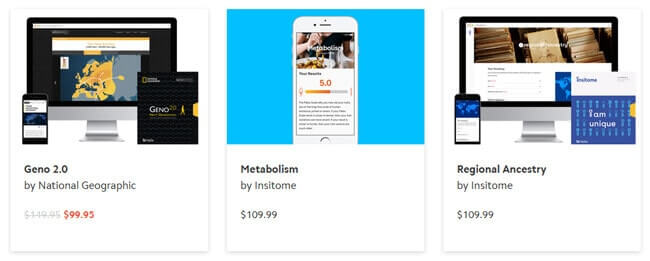 Family
The family testing tree contains two options: 
CarrierCheck by SEMA4 (279.00$) – This test is designed to predict how your DNA signature may affect your future children and family. The test screens for 67 inherited conditions.
Breast Milk DHA+ by EverlyWell (169.00$) – With this testing option, you can learn how much DHA your breast milk contains and whether your genetic makeup affects the amount of DHA received by your baby.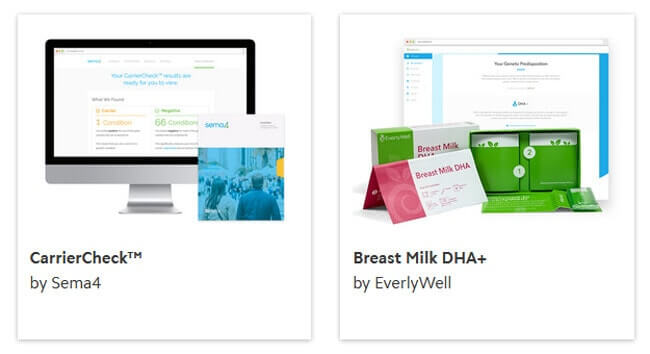 Fitness
Here are some of the testing options in this category: 
Fitness Diet Pro by DNAFit (299.99$) – You can get a perfect insight into your genetic response to nutrition and fitness. The results will help you create personalized workout and nutrition plans to fit your genetics.
Muscle Builder by DNAFit (199.99$) – The test was designed to help you create a personalized training program based on your genetics.
Fat Burner by DNAFit (199.99$) – After determining your genetic response to exercise, this test will provide you with a 12-week DNA-guided training program designed for optimal fat loss.
EnduranceDNA by Carmichael Training Systems (179.99$) – The results of this test will help you train more effectively, prevent injury, and improve your overall nutrition. It provides endurance athletes with precise genetic insights and actionable recommendations.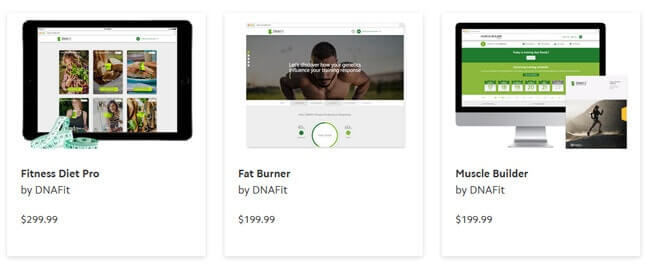 Health
The health-related testing branch offers the following solutions: 
Inherited Diabetes Test by Admera Health (229.99$) – The test is designed to accurately detect and diagnose a rare inherited form of diabetes. The final results will allow your physician to treat your diabetes more effectively.
Inherited Cholesterol Test by Admera Health (204.99$) – This test can enable you to learn whether you are genetically predisposed to developing familial hypercholesterolemia (FH) and avoid premature cardiovascular disease.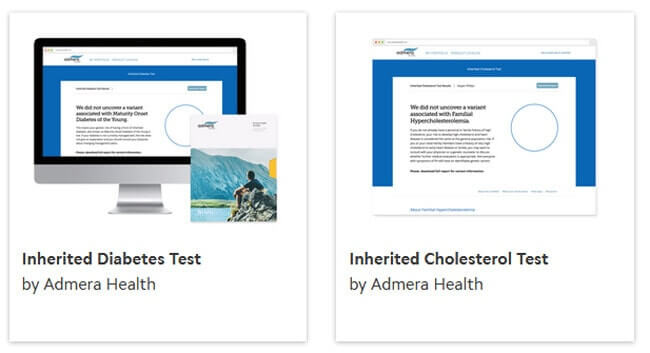 Nutrition
Here are some of the most interesting options in this category: 
Food Sensitivity+ by EverlyWell (329.00$) – You can discover all about your body's sensitivity to certain foods and how your genetics may impact your ability to digest certain nutrients.
EmbodyDNA by Lose It! (69.99$) – You can learn how to align your food and exercise habits with your genetic traits.
GoalGetter by InsideTracker (340.00$) –  With this test, you can identify goals that fit your genes and follow a personalized action plan that provides you with nutrition recommendations based on your genetics.
Metabolism+ by EverlyWell (229.00$) – This test can help you keep your hormone levels in check and learn how your genetics influence your metabolism, weight, and energy.

Entertainment
With the aim of showing that DNA testing can also be fun, Helix offers several options in this category, including DNAPassport by Human Code (49.99$), ACGTote by Dot One (144.99$), Wine Explorer by Vinome (109.99$), SlumberType by Exploragen (94.99$), and many others.
Privacy And Security
Helix collects the following information: 
Account and personal demographic info – This includes your account information (name, date of birth, email address, sex, phone number, payment info, and the password you create) and self-reported information (age, personal and family medical history, behavioral information, physical features…).
Genetic information – This refers to your biological sample.

 
Computer, device, and browsing information – Helix collects data such as your IP address, operating system, and device or browser type, as well as your interaction with the official website.
The company will use any sensitive data only with your explicit consent and some information (that can't identify you) to provide and improve its services. It'll never share, lease or sell your info to unauthorized third parties. 
Shipping And Handling
Helix currently ships only within the US (Alaska and Hawaii included), but it's working on expanding its reach to other parts of the world as well. Once you've placed your order on the official website, it'll take between 3 and 5 business days for your test kit to arrive, but it may take up to 10 depending on your location. Helix also provides standard shipping to P.O. boxes, but expedited shipping is reserved for regular addresses. You'll see all the available shipping options during checkout from the Helix Store. 
Once your DNA kit leaves the warehouse, you'll receive an email confirmation with a tracking link included. When you send your DNA sample back, you'll also receive an email confirmation once it arrives at the lab.
Bottom Line
We see Helix as a veritable testing hub that brings a multitude of renowned DNA testing companies together and joins their offers into an impressive testing portfolio. After performing a single sequencing operation, you are exposed to an overwhelming amount of different testing solutions for just a fraction of the regular cost. 
The company features an impressive list of investors and experts in the fields relevant for its business. Every single test is reviewed by professionals to make sure it meets a pretty rigorous set of criteria. The processing facilities have all the necessary certifications and are used by many smaller companies as well. 
Bottom line, as seen in the previous sections of this Helix review, this is a one-of-a-kind DNA testing company and we can't recommend it enough. A single DNA sequencing effort performed pretty much from your home will open up new vistas of your genetic composition and allow you to really get to know yourself from within.