EasyDNA Review
Advertiser Disclosure
This website features affiliate links. For purchases made via these links, we earn commissions that allow us to keep producing helpful content. To find out more
click here
.
Close
EasyDNA is a genetic and DNA testing company founded in 2006 and operating on an international scale. Its network involves over 25 offices around the world, from USA and China to Angola and Zimbabwe. Our EasyDNA review will examine whether the company lives up to its motto of providing fast, accurate, and accredited DNA testing, the easy way.
If you are interested in learning more about EasyDNA's offer for dog DNA testing, you can read our comprehensive EasyDNA Animal review, which provides all the relevant information you need to decide whether this is the right company for your furry friend.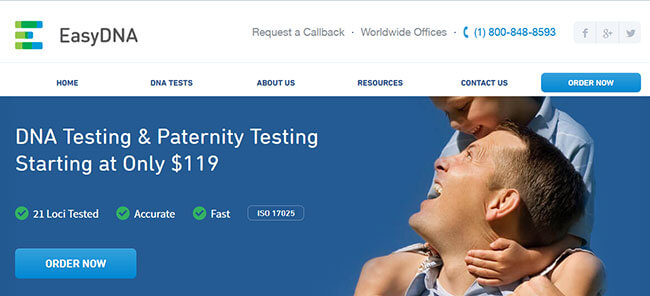 How EasyDNA Works
Like with most DNA testing companies, performing a DNA test with EasyDNA includes the following steps:
Placing your order online, through the EasyDNA website.
Providing a DNA sample, following the instructions.
Mailing the specimen back in the provided envelope.
Inspecting the results, which will come with various waiting periods, depending on the test in question. E-mail results are free whereas written reports come with a surcharge for packing and postal fees.
The sample collection kit uses buccal or oral swabs, so providing your sample is completely painless and risk-free, regardless of age.
Once you receive your DNA testing kit, the procedural rundown goes as follows:
The kit contains oral swabs for three people. They are distributed in three envelopes of different colors. 
For each person taking the test, you'll have to fill out a submission form, authorizing EasyDNA to analyze the samples.
Collect your DNA sample by rubbing the buccal swab over your inner cheek and under the tongue.
Wet swabs should be left for an hour to dry. Be sure to store them in the envelopes only after they're completely dry.
Once it's all sealed within the respective envelopes, add a postage stamp and send the samples back to the lab.
Note that the presence of food in your mouth will contaminate the DNA sample, rendering it unusable. If you're drying your swabs in a glass, make sure the cotton side is facing up and do not mix different people's swabs together. Also, do not touch the cotton part of the swab in order to check whether it's still wet. EasyDNA also allows for a homemade DNA testing kit and provides detailed instructions on how to make one.
Why Choose EasyDNA
The company executed over 300.000 various DNA tests in its lifespan, always focusing on optimal service and user experience. The teams are comprised of highly skilled DNA scientists, complemented by friendly and professional customer service staff. Whatever doubts you might have about the process, you can always contact the support staff via e-mail, phone or live chat.
EasyDNA features an ISO 17025 accreditation status, which guarantees the golden standard for:
Technical abilities, qualifications, and experience of the staff
Testing equipment maintenance
Testing environment
Handling, recording, and tracking samples
Equipment calibration and testing quality assurance
Problem identification and effective solutions
The system used by the company is called "PowerPlex 16" and it guarantees 99.9999% accuracy for the relationship and paternity tests. The exclusion rate for negative results is 100%. PowerPlex 16 is a cutting-edge multiplex STR system for DNA typing, used in paternity testing, human identity testing, forensic DNA examinations, and other tests.
EasyDNA was awarded the WhatClinic's Customer Service Award two years in a row, 2013 and 2014. This goes to show just how committed the company is to providing the best client experience possible. The company also tries its best to give back to the people through charity work, whenever given the opportunity.
Here's a complete list of benefits this company provides:
State-of-the-art technology used in executing the tests
Own laboratory with ISO 17025 accreditation status
Professional and highly skilled staff
High variety of different DNA tests
Extraordinary test accuracy
Possibility of creating your own kit
Offices in over 25 countries
Worldwide shipping
Numerous payment options
Awards for efficient customer service
Rich knowledge base with numerous multimedia instructions and clarifications
Affordable prices
Express turnaround time available
Partnership with numerous clinics and similar relevant institutions around the world
With all of the upsides mentioned, EasyDNA definitely looks like one of the top choices in the field.
One of the downsides frequently mentioned is the fact that testing kits don't come with a pre-paid mailer. You'll have to stamp the envelopes yourself, which incurs additional expenses.
Tests
The range of tests offered by EasyDNA is truly staggering, with over 40 different iterations. Most of the tests are designed for humans, but animal DNA testing is covered as well. EasyDNA relationship tests check 21 genetic markers to ensure the promised precision.
Paternity tests
Paternity tests are used for establishing a biological relationship between the child and alleged father. As we mentioned already in this EasyDNA review, inclusion probability is 99% and 100% for exclusion.

This testing branch contains:
Home paternity test – It's the basic version of the test, aiming to satisfy your potential doubts, but it has no legal validity. The price is 119$ for one father and child tested. Turnaround time is 3-5 days. The mother can also provide her DNA sample, which makes the process shorter and easier. Her participation is not required, though, and most paternity tests are done without the mother's specimen.
Legal paternity test – Legal DNA testing differs greatly from at-home versions. The most important thing is to maintain the chain of custody over DNA samples. Every moment before arriving at the lab has to be accounted for. Any gaps in the chain of custody will make your results legally void. The EasyDNA legal paternity test costs 299$, which seems like an amazing price at first. Once you realize it does not provide free third-party samplers, the price evens out with the rest of the market. Talking of samplers, those are just people certified for collecting DNA samples, like nurses and doctors. Companies usually offer this service free of charge through their partnerships with healthcare institutions. EasyDNA does not, so you can expect extra fees for sample collection. Having a DNA test result admissible in court is paramount in custody battles, paternity claims, child support, inheritance disputes, and immigration cases.
Immigration DNA test – If you need to confirm a biological relationship between certain relatives and yourself for immigration purposes and USA Citizenship, an immigration DNA test is the perfect way to do it. EasyDNA immigration testing services start at 499$ and cover the legal DNA testing kit and even courier fees for international return in case relatives are situated in different countries. Paternity and maternity tests are the most commonly used ones, but options for analyzing siblings, uncles/aunts, and grandparent also exist.
Prenatal paternity test – This is a non-invasive variant, conducted using the baby's DNA located in the mother's blood. The test can be performed 11 weeks into the pregnancy and it doesn't pose any danger to the baby or mother. The cost of the test is 1196$, but EasyDNA offers the possibility of paying this amount in two halves. The results are usually ready in 7-10 business days. An additional sample can also be processed for a small extra fee. Prenatal testing also includes a Baby gender test, available 9 weeks into the pregnancy, with a price tag of 199$, and a Down's Syndrome prenatal test costing 549$, available 10 weeks into the pregnancy.
Discreet test – This is the paternity test offering card blanche for the ultimate underhanded endeavors. That's why EasyDNA doesn't execute the test without the explicit consent of the sample "donor." The point is avoiding situations where people did paternity DNA tests without even realizing it. This test falls under the forensic branch and it can use various DNA sources to establish paternity. Alternative samples include hairs, blood, bones, used Kleenexes, etc. Basically, if using a buccal swab is not an option for some reason, this is an alternative way to a successful paternity DNA testing. Different types of samples incur different prices and success ratios. Blood on Filter paper and semen tests cost 80$ and they have a 90% success rate. Testing blood stains on fabric, nail clippings/fingernails, ear swab, umbilical cord, and semen stains on fabric also costs 80$, but the success rate is 60-90%. Non-embalmed tissue testing (organs, muscles) also has a success rate of 60-90%, but it costs 160$. Testing hair with roots, razor, chewing gum, cigarette butts, condoms, mucus, drinking glass, toothbrush, feminine pad/tampon, envelope flaps, and drinking straws costs 160$, but it has an even lower success rate, below 60%. The prices for testing exhumed bones, teeth, and non-buried bones are determined in each particular case and the success rate is unknown.
Relationship tests
Relationship tests are also used for determining biological relationships between individuals. EasyDNA checks 23 genetic markers for the ultimate precision.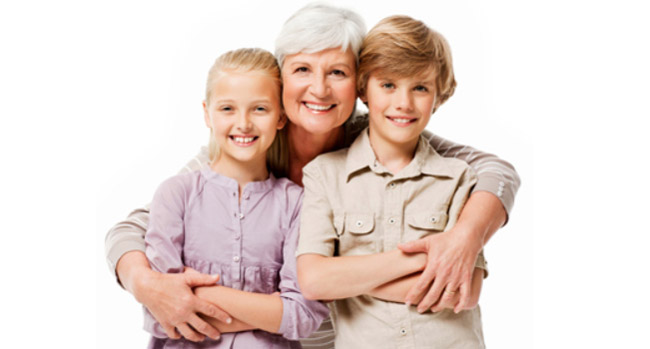 They include the following separate tests:
Siblings DNA test – At a price of 299$, it determines whether two individuals share one or both biological parents. If potential siblings are males, they can do a Y-chromosome test to determine whether they share a father. If they are both females, however, doing an X chromosome test is a necessity if they have the same father. The mother's participation in this testing is required. All female siblings can also perform a mitochondrial DNA test in order to uncover their maternal lineage.
Twins DNA test – It costs 119$ and determines whether twins are fraternal or identical.
Grandparentage test – It costs 299$ and is used by potential grandparents wanting to confirm a biological relationship with their grandchild.
Uncle/aunt test – The price is also 299$ and the test determines genetic relationships between uncles/aunts and their nieces/nephews. It's also called the "avuncular" test.
Genetic reconstruction test – It's used when the child's potential father is not available for testing. Its main purpose is to determine whether the child shares DNA with supposed blood relatives on the father's side of the family. The price tag is 433$.
Maternity test – The test costs 119$ and is used as proof of maternity, a biological connection between a mother and her child.
Mitochondrial DNA Test – This test costs 349$ and is a perfect tool to determine whether you share a specific maternal line with other individuals.
Y Chromosome Test – This test is used to establish whether two or more individuals share a biological father or other paternal relatives. The price of the test is 299$.
X Chromosome Test – The price of this test is 399$ and it checks 10 genetic markers to confirm or exclude siblingship based on a shared father.
Apart from the tests depicted here, there are also ancestry DNA tests, skin care and genetic predisposition tests, animal testing services, and tests designed for discovering infidelities.
Privacy And Security
The information you share while purchasing the EasyDNA test kit is encrypted via 128-bit SSL software during the transmission. The encryption certificate is on display on the Order page. EasyDNA does not keep any information about your credit card, which also prevents the company from processing any additional payments. If some extra expenses arise, you will have to go through the ordering process again.
The company doesn't share your information or test results with third parties and immediately destroys your sample once the results are in. For a small additional fee, it can archive your specimens for up to 6 months.
Shipping And Handling
Once you've placed your order, it will be dispatched within 24 hours. Your DNA testing kit should arrive within 2 business days, depending on your location. Note that the chosen delivery option may affect the total price of the test. Standard and express deliveries are available.
EasyDNA can also ship testing kits to different addresses or even countries, depending on the location of all interested parties. Viable payment options include credit cards, PayPal, direct bank transfer, and money order/bank draft.
Bottom Line
EasyDNA is a professional and well-rounded company, with offices at every corner of the world. It also has country-specific websites, where you can get proper information tailored for your region.
To sum up its offer, EasyDNA covers every possible DNA inquiry, paired with extraordinary customer service to make everything run as smoothly as possible. It is important to keep in mind that our EasyDNA review simply couldn't fit all the benefits that come with performing your DNA test with this company.
The only downside of the service is that it doesn't provide pre-paid mailers, which seems to have really struck a chord with its customers, as all the negative reviews we read mention this detail.