CRI Genetics Review
Advertiser Disclosure
This website features affiliate links. For purchases made via these links, we earn commissions that allow us to keep producing helpful content. To find out more
click here
.
Close
CRI Genetics is the Genetics Department of the Cellular Research Institute led by Alexei Fedorov, Ph.D., a former apprentice of the Nobel Prize winner Walter Gilbert. He has turned 35 years of professional experience studying DNA into a patented DNA analysis algorithm that uses the latest breakthroughs in genetic science to unlock complex information in our genome and present it in a way that is useful, interesting, and easy to understand. Continue reading this honest CRI Genetics review to learn how the company can help you discover the very origin of your DNA strand and adjust your daily routines to complement your personal genetic health predispositions.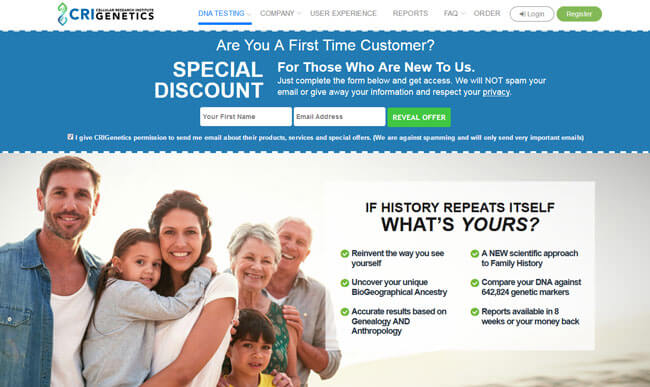 How CRI Genetics Works
CRI Genetics is a direct-to-customer DNA testing company, which means it provides its users with discreet and convenient at-home testing solutions. The procedure includes the following steps: 
Placing an order – After choosing one out of two testing options, you can place your order on the official website. Your personal testing kit will be shipped the moment the company receives your order and it should arrive at the specified address within 5-7 business days. As for available payment methods, the company accepts the majority of credit and debit cards as well as PayPal. 
Registering your testing kit – Once your personal at-home testing kit arrives at your address, you will need to register it on the official website and link it to your account. Your personal kit ID is located at the bottom of the box just below the barcode. It contains two letters followed by six numbers. During registration, you will also need to enter your first and last name, phone number, gender, username, email address, and password. 
Collecting the DNA sample – In this step, you should collect your DNA specimen by following the detailed instructions provided with the kit. CRI Genetics' testing kit uses mouth swabs to collect buccal cells from the inner side of your cheeks. Simply rub both sides of your cheeks for around half a minute and deposit the sample into the provided container (plastic bag). You should not brush your teeth, smoke cigarettes, chew a bubblegum or eat or drink anything but water for at least half an hour (ideally, two hours) prior to sample collection. The process should be completely painless and it should never draw blood. 

Sending the sample back – After securing your biological specimen according to the instructions, you should simply mail it back to the lab in the provided pre-paid return envelope. The return address is already there, so all you have to do is drop it in the mail. 
Inspecting your results – 6-8 weeks after the company's state-of-the-art lab receives your sample, your final report will be generated. You will receive a personal email linking to the results on your account. At that point, simply log in and start exploring what your unique DNA strand has to say about you. 
Why Choose CRI Genetics
CRI Genetics is one of the rare companies that combine ancestral genetic research with health-related results, which makes it a part of a small group of elite testing providers like 23andMe. Let's go over some other advantages of testing with this company: 
Top-of-the-line testing facilities

 

CLIA certification

 

Proprietary testing algorithm 

 

Experienced team of geneticists, anthropologists, and social scientists

 

99.9% precision

 

Simple and convenient testing process

 

Quick turnaround times

 

8-weeks efficiency guarantee

 

Competent and friendly user support

 

Dual ancestry reports

 

642,824 genetic markers checked

 

Jewish heritage

 

Solid privacy policy and website security

 
Tests
Like 23andMe, CRI Genetics offers both ancestry and health DNA testing. While the ancestry report can be ordered separately, the health analysis can only be purchased bundled with the ancestry test. The available testing solutions include: 
Ancestry (99.00$) – CRI Genetics' ancestry test guarantees 99%+ accuracy and analyzes up to 642,824 genetic markers across your entire genome. Your genetic markers are compared to the samples taken from reference groups in Europe, Asia, and Africa. The test also shows potential Jewish heritage. This testing solution should really be perceived as two ancestry reports in one since it covers the most recent ancestries in your family history but also goes back much further to uncover the ancient origins of your DNA (up to 200,000 years in the past). Note that women will not have access to the Y portion of the test (the examination of the paternal lineage) since females do not have the Y chromosome in their genome. Bottom line, the test will provide you with dual biogeographical ancestry reports, detailed percentage breakdown of your genetic heritage, and a comprehensive ancestry timeline report.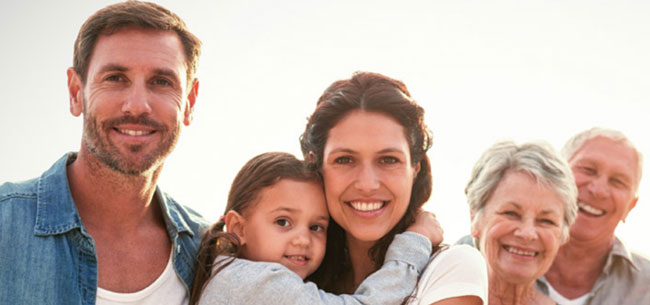 Ancestry + Health (199.00$) – For an extra fee, you can also pair your ancestral research with the most important health-related factors dictated by your DNA. Your final health results will include a caffeine metabolism and consumption report, milk digestion report, bitter taste report, umami taste report, fat storage report, overall BMI report, alcohol flush report, triglyceride report, earwax report, body odor report, food cravings report, drowsy after reading report, asparagus smell report, smell floral report, sun sensitivity report, red hair color report, hair thickness report, basic eye color report, genetic weight loss blueprint, and DNA-based recipe guide. The company is currently working on food allergy reports and DNA-based vitamin recommendations.
8-Week Efficiency Guarantee – CRI Genetics protects its users from delays by implementing a unique "Efficiency Guarantee." This means that if the lab is not able to produce your final report within 8 weeks of receiving your DNA sample, you will get your money back and still receive the results once they are finished. Also, if your DNA sample gets contaminated in any way or there is simply not enough DNA for a successful test, the company will send you an extra testing kit completely free of charge. If you have any doubts or questions, you can always contact the company's customer support team by phone at 1-800-571-9216 or send them an email at Support@CRIGenetics.com 
Privacy And Security
First of all, any interaction with the company's website is protected via 256-bit encryption for optimal security. In other words, nobody will be able to intercept or interfere with your connection or have access to the data you have shared on the site. CRI Genetics collects three types of information from you: 
Personal information – As we already mentioned in this CRI Genetics review, the company will require your name, date of birth, email address, phone number, payment information, billing and shipping address, and password when you are creating your personal account. 
Genetic information – Once you submit your DNA sample and the company's lab team performs the DNA test, the resulting genetic information will be stored in the testing provider's database. All DNA samples are kept for a period of one year unless circumstances require sample disposal at an earlier time. With your explicit consent, the company may also use the samples for additional genetic testing. 
Website collected information – CRI Genetics' website uses cookies, device identifiers, scripts, tags, and other similar tracking technologies to help the company recognize you, improve and customize your user experience, analyze usage of its services, offer new products and services, gather user demographic information, monitor the progress of its marketing programs, and serve targeted advertising on its website. It will never use your personal info for targeted advertising. The company will gather certain information automatically and store it in its log files. This includes your IP address, ISP, browser type, referring/exit pages, date/time stamp, operating system, and clickstream data. 
All personal information provided to CRI Genetics is stored and processed in the US. The storage, transfer, and processing of information are always done with your explicit consent. The company will not share your personal info with any third parties except to protect the property and rights of CRI Genetics or if required to do so by law, legal process or regulatory authorities. Your data may also be shared to protect the company's rights, safety, privacy, reputation, confidentiality or property and to enforce its Terms and Conditions. Finally, it may also be shared to prevent cybercrime or fraud. 
Shipping And Handling
As we already stated in this CRI Genetics review, your personal testing kit should arrive within 5-7 business days after the company receives your order. Within the US, you should also add a shipping cost of 5.95$ to the price of the test. Note that the billing and shipping addresses do not have to match, so you can also send the test as a gift or order multiple tests and send them to different locations. 
Ancestry and Ancestry + Health tests are eligible for shipping within the US but can also be sent to Canada, Mexico, Puerto Rico, Spain, and the UK. Before ordering a test, you should definitely check whether or not your local legislation allows for at-home genetic testing. 
Bottom Line
As shown in this CRI Genetics review, this is a reputable and serious company dedicated to genetic testing with an experienced leader at the helm backed by a skilled team of geneticists, anthropologists, and social scientists. CRI Genetics is also one of the rare companies that combine ancestry and health testing solutions without compromising the quality and precision of either. This allows you to save a lot of time and money on ordering the tests separately from different testing companies. 
CRI Genetics is definitely a good choice if you want to explore your ancient origins up to 200,000 years in the past but also get some personal health recommendations that will allow you to sync your daily life with the health requirements dictated by your genetics.