Find your complete ethnic origins
AncestryDNA Review - UPDATED Mar 2018
This AncestryDNA review will serve as a well-rounded introductory course for the brand pertaining to the largest genealogy company in the whole world. We're talking about Ancestry.com LLC, a private Internet company located in Lehi, Utah. The said enterprise was founded in 1983 and has since launched numerous brands and products. Apart from AncestryDNA, they incorporate Ancestry, AncestryHealth, Archives.com, AncestryProGenealogists, Find a Grave, Family Tree Maker, Rootsweb, Newspapers.com, and Fold3.
From June 2014 onwards, they've provided access to 16+ billion of historical records with 2+ million paying subscribers. The users have generated over 700 million names in family trees, with 200 million scanned documents, written stories, and photographs. Under their subsidiaries, they operate foreign websites, services, and region-specific records in their own languages. These include Canada, Australia, China, the UK, New Zealand, Brazil, Japan, and others.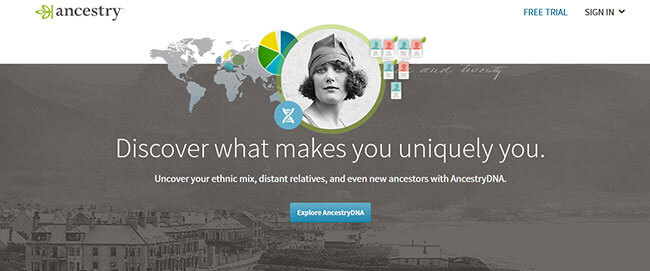 How AncestryDNA Works
The protocol is pretty effortless and straightforward. It includes the following steps:
Online order – This is done through the AncestryDNA website.
Sample collection – The test kit should arrive in a couple of business days. Once you have it, just fill the saliva collection tube. AncestryDNA opted for saliva test over DNA swabs.
Returning the test kit – Once your sample is ready, simply mail the kit back to the company.
Activating the kit – You will do this with 15 alternating numbers and letters found on the collection tube.
Explore the results – This is done directly on the website.
The test kit contains:
Full instructions on handling the kit
A sample-collection tube
A sealable bag
Pre-paid return mailer. Mailing the kit back doesn't incur extra charges  
Filling the top line of the tube with saliva might prove challenging. It's completely natural if it takes you a couple of minutes to do it. The tube cap features a chemical solution for keeping your sample fresh and bacteria-free. You should replace the funnel with it and squeeze in order for the stabilizer to activate. Shake for 5 seconds repeatedly. Once your results are in (6-8 weeks, longer if demand is higher), you will be sent a link to them via e-mail.
Why Choose AncestryDNA
Here are some of the incentives for opting to do your genealogy research with AncestryDNA:
It pertains to a large conglomerate dedicated to reaching ultimate levels of genetic science.
They sport a high-quality DNA test.
The test is not segmented; you are offered all the utilities in a single one, meaning there are no additional expenses as well.
700,000+ genetic markers are being checked, which is beyond impressive and results in high accuracy and test reliability.
The test also offers insights into your potential Native American ancestry (not aboriginal and Maori, though).
Purchasing the test grants you access to one of the biggest databases with countless family trees and documents uploaded by users. The AncestryDNA database has over 3 million people as we speak.
Good security and safety of your personal information. Only you choose what you want to share and with whom.
A substantial number of research projects you can be a part of, contributing to the advancement of genetic studies.
On the downside, their FAQ leaves a lot to be desired and they no longer offer separate Y-chromosome and mitochondrial DNA test results. Another pet peeve of ours is showing incentives for users to purchase products from sister companies, like Ancestry subscription, for example.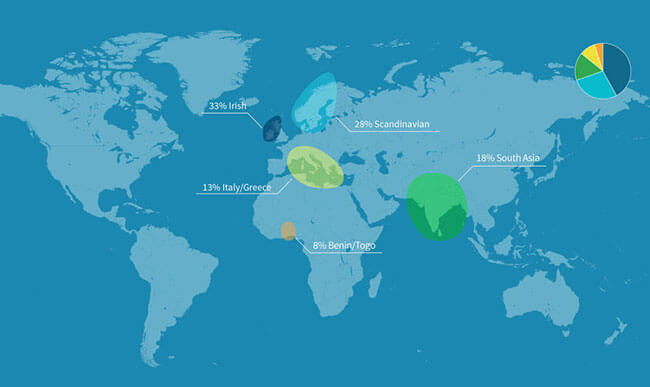 Test
AncestryDNA offers a single test simply called Ancestry DNA Test. The current pricing is 99$. However, the test examines your entire genome, which means it addresses both autosomal and sex chromosomes.
Every human being has 23 pairs of chromosomes. In every pair, one comes from our mother, the second from our father. The first 22 pairs are called autosomal chromosomes, and they are used for determining our entire family ancestry. The 23rd pair decides the gender of the person (thus sex chromosomes). Y stands for male, X for female.
Y-chromosome helps determine direct paternal lineage and it's available only for males. X-chromosomes or "mitochondrial DNA" reveals direct maternal ancestry. Mitochondrial DNA passes down from mothers to children unchanged, so mtDNA match spells certain direct maternal relatives.
The quality and precision of the test depend on the number of markers checked within our DNA. The more markers, the better. AncestryDNA test surveys 700,000+ locations in your DNA. To put things into perspective, solo Y or mt tests check 25, 37, 65 markers within chromosomes. Another key difference is the fact that both men and women can take the AncestryDNA test. The same locations in their genomes are inspected and they both carry relevant DNA.
Understanding The Results
The accuracy of the results is held at the level of 98%. If any of the results fails to meet the required standard, the company will call for a new sample collection.
The test results will offer:
DNA matches – Your DNA is measured against one of the most unique and comprehensive DNA collections in the world. Every potential match will be followed by a "confidence percentage." It ranges from 0-100%, so you should focus on the higher percentages for closer relatives. You can then add the newly found relatives to your family tree, located on your AncestryDNA page.
Ethnicity map – This is an easy and interactive way for you to visualize/interact with the results of your DNA test. The colors on the map correspond to the colors found on the pie chart of your ethnicity results. Ethnicity maps might show a completely different picture than you hoped for, but this happens on a regular basis.
DNA circles – A way for DNA matches to come together around, at least, one common ancestor with shared DNA.
"Map and Locations" map – This is an option Ancestry Magazine subscribers have. If both you and your DNA matches have family trees linked to your DNA results, you will have access to this feature. It'll show pins in different colors, indicating the birth locations of all the direct-line ancestors in your family tree within 10 generations or less.
Raw DNA download – You can download your raw results and use them on genealogy research sites or with other DNA-testing companies.
The company no longer offers stand-alone Y or mt test results, so there is no way of separately viewing your ethnicity from your mother's/father's side of the family.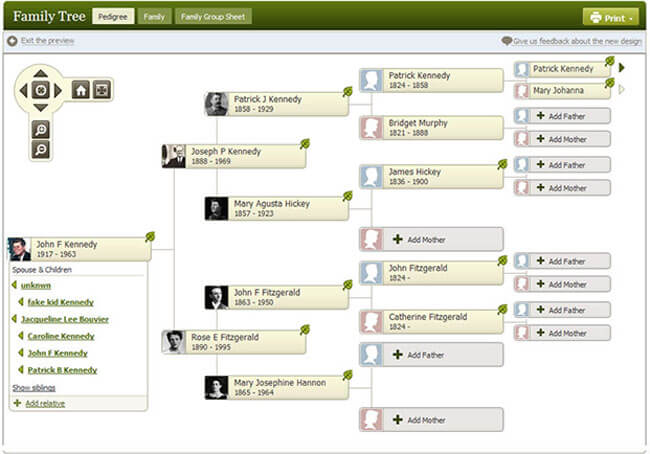 Research
The part of the mission for AncestryDNA is advancing the research in the fields of human genealogy, genetics, health, and anthropology. They offer their consumers the opportunity to support these research attempts by participating in the Ancestry Human Diversity Project.
Your data will be bundled with millions of results in order to:
help make important advances in understanding human history and migrations
improve and learn more about our health
explore the connections between human traits and genetics
improve or develop new diagnostic tools or therapies for treating diseases and other conditions.
You can find more info on the projects in the "informed consent" section of the site, where you can also authorize AncestryDNA to use your data as its integral part. You can always review, change or even withdraw your consent, no questions asked.
The research may be conducted by academic institutions, scientists from AncestryDNA, non-profit/for-profit businesses or government institutions. AncestryDNA constantly looks for ways to improve the science in its field, so you can definitely expect more projects like this in the future.
Privacy And Security
The samples are being processed in a secure 3rd party lab in the US. All the steps from handling your sample to providing results fall under the AncestryDNA privacy Statement and Terms and Conditions. You can explore this topic in-depth by reading the stated documents on their website.
Once you purchase and activate your test, you will be declared the administrator of it. You'll be able to choose who can see your test results and who cannot. If you want to use the invite option, however, you will have to share your info with your target audience. For example, if you want to send an invite to your ethnicity matches, you'll have to share details on your ethnicity.
You can also share access to your account by granting people editor or guest titles. They will be able to inspect your DNA results and even modify your info to an extent. You can also transfer your administrator rights to another person, but you'll then lose those rights and be listed as an editor. The main point is that only you decide who sees your personal information and to what extent. You can share nothing or everything with whoever you choose, it's all up to you.
Shipping And Handling
AncestryDNA feels somewhat stingy with information at times. This is also the case when it comes to data about shipping and handling your test kit. The Ancestry blog states that the AncestryDNA test is now available in 35 different countries. The short text also disclosed that the DNA kit used for sample collections varies in prices depending on the country. The same goes for shipping and other potential hassles that might be involved.
After some research on our part, we've seen the free-shipping option through Amazon Prime. This is definitely a beneficial find, but not all countries have access to Amazon Prime. Shipping costs and similar procedural things must be clearly stated at all times and the excuse of semi-worldwide shipping is definitely not good enough.
This would also be a good opportunity to say we see a lot of space for improvement when it comes to the FAQ offered on the site. AncestryDNA has its own YouTube channel, which features a lot of interesting content, but it should all, at least, be linked to from the relevant pages on the site. The way things are right now, the website seems somewhat barren in the information department.
Bottom Line
Our AncestryDNA review painted AncestryDNA as a superb choice for all your ancestry-researching purposes. It does have its misgivings, but they all pale in comparison to one of the most detailed DNA tests out there and the high-quality service provided.
The thing we like the most about this company is its proactive approach. You'll never see AncestryDNA standing still, not for a moment. There's always new data to be uploaded and users to be matched, new projects to take part in, and new scientific grounds to break.
Just in the last two months, over 92 million new records came online.
As much as we talked about the general lack of information on the site, their YouTube channel is definitely making the right moves, so if you still have some unanswered questions or you just want extra info, you can certainly find it there.