WeGene Review
Advertiser Disclosure
This website features affiliate links. For purchases made via these links, we earn commissions that allow us to keep producing helpful content. To find out more
click here
.
Close
WeGene is a DNA testing company committed to enabling individuals with East Asian heritage to get all the benefits of exploring their genomic data. Its main services include ancestry testing, personalized exercise and weight-loss plans, genomic medicine, and nutritional genomics.  
In the future, the company intends to expand its services to cover all the corners of our personality affected by our unique genetic signature. As mentioned, the available testing solutions focus on individuals of East Asian descent (particularly Chinese), so they might not be the right choice for Europeans and other non-Asian ethnicities.  
Keep reading our comprehensive WeGene review to learn all there is about this unique company and find out how it can help you discover your roots and change your lifestyle based on the secrets locked deep inside your DNA. 
How WeGene Works
First of all, WeGene allows you to import your raw DNA data file if you already tested with 23andMe. If you sequenced your entire genome with some other company, you can import those results as well. Note that genome-wide examination is a very complex endeavor and it involves large quantities of data, which is why you should first contact the company's user support at service@wegene.com for additional instructions. 
Apart from these options, you can also purchase the WeGene at-home testing kit and have it delivered to your home address. The procedure involves the following steps: 
Placing an order – It all starts once you decide to place your order on the official website. You can create a new personal account in order to do this or use your WeGene WeChat public number. 

 

Registering the kit – Once your order is received, your personal testing kit will be sent via SF Express. In order to proceed with the testing, you'll have to register the kit on the official website; otherwise, it will not be processed. Your unique 14-digit code can be found on the bottom of the sample collection container.

 

Collecting the sample – After registering your personal kit, you can proceed to sample collection. WeGene's at-home DNA test uses saliva for DNA extraction.
Sending the sample back – At this point, simply send your sample back to the company's lab for further processing. WeGene urges its customers to use SF Express for this purpose. Note that you'll have to pay the return shipping costs. 

 

Inspecting your results – 4-6 weeks after the lab receives your sample, your final report will be generated. You'll be able to inspect it on the official website (using your personal account) or WeChat (microgene). You can also use your account to monitor the progress of your test before your report is ready. Note that WeGene currently provides its users only with digital reports.
Why Choose WeGene
WeGene is one of the rare companies that specialize in the genetic exploration of Asian heritage. Apart from this, here are some other benefits of using its services: 
Comprehensive analysis of Asian Heritage

 

Numerous fitness and health-related results

 

FDA-approved Genotek at-home testing kit 

 

Custom high-density Affymetrix processing chips

 

Numerous reputable partners

 

Science behind the testing based on thousands of peer-reviewed scientific studies

 

Simple testing procedure

 

Quick turnaround time

 

Accurate and reliable results

 

Free updates for life

 

Solid privacy policy

 
Tests
As we already mentioned in our WeGene review, you can explore your East Asian ancestral origins (specifically optimized for Chinese heritage), study your genetic traits, and discover potential predispositions for certain diseases and conditions with the WeGene test. The data from your final report can also be used with a number of third-party apps to get even more information about yourself as dictated by your genetics.  
The price of the test is 499.00¥ (around 74$) and 399.00¥ (around 59$) if you order multiple kits.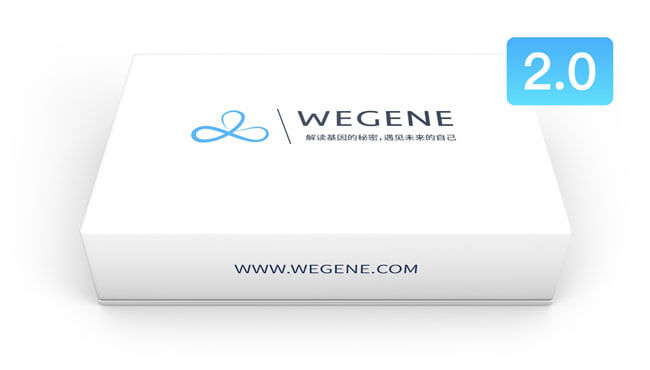 When it comes to the actual results, they're segmented into 8 different groups: 
Ancestry Analysis
This segment will hold information about your ethnic breakdown, paternal and maternal haplogroup, and the percentage of DNA inherited from your Neanderthal ancestors. It will also trace your last name as far back as possible. The test inspects more than 400,000 genetic markers. 
Motor (Sports) Genetics
This part of the report will tell you more about your: 
Basal metabolism, including caffeine/carbohydrate/saturated fat sensitivity, carbohydrate intake, total caloric intake;

 

Physical characteristics, including endurance, explosive force;

 

Weight management, including dietary and exercise effects on your weight;
Exercise response, including increased body temperature during exercise, motivation, increased muscle durability, heart rate during exercise, maximum oxygen uptake;
Protection, including lumbar disc/anterior cruciate ligament/Achilles tendon protection.

 
Nutritional Metabolism
This section will tell you everything about your lactose/caffeine metabolism, folic acid/calcium nutritional needs, alcohol metabolism, and vitamin E/B12/A/iron nutritional needs.  
Health Risks
This portion of the results will determine your prerequisites for 88 diseases and conditions (96 for females) across your nervous, circulatory, reproductive, digestive, and respiratory systems.  
Hereditary Diseases
Here, you'll be able to inspect your DNA for traces of 46 hereditary diseases and conditions (47 for females) ranging from Familial Mediterranean fever and Kanavan disease to homocysteine and phenylketonuria. 
Drug Guide
This section of the report will deal with your tolerance to 14 different drugs, including nitroglycerin, Losartan, Tamoxifen, Celecoxib, and others.  
Genetic Characteristics
Here, you'll be able to see some interesting genetic facts about yourself (12 reports/14 for females), including your genetic predispositions for alcoholic blush, bitter sensitivity, deep sleeping, error avoidance, and more.
Skin Characteristics
This segment includes 7 reports (8 for females) concerning your tanning ability, antioxidant capacity, resistance to acne, anti-aging/anti-freckle ability, and more.
***
Apart from its main DNA test, WeGene also offers Whole Genome Sequencing Edition (3,999.00¥ – around 590$) and Whole Genome Sequencing Ultimate (9,999.00¥ – around 1,470$). Both services offer full genome sequencing with 3 billion loci mapped and unlimited interpretation. The Ultimate version also comes with downloadable raw data, 1-on-1 expert consultation, and exclusive storage service.
Privacy And Security
WeGene only collects the data required to provide its services and will never disclose it to any third parties, including online marketing services. Data storage is based on HIPAA rules and regulations, which includes HTTPS encryption on the entire website, separate storage of user info and genomic data, cloud backups, cloud AND local storage, and more.
Shipping And Handling
WeGene signed a sample delivery security declaration agreement with SF Express. If you so choose, you can mail your sample back using a different courier service, but the company generally recommends going with SF.  
The testing kit itself doesn't have a particular expiration period, so you can send it back to the lab whenever you choose.
Bottom Line
WeGene is one of the rare companies that focus on Asian genetic ancestry and offer DNA testing solutions specifically designed to fit the genetic needs of individuals with Asian heritage. Apart from this, its main testing option incorporates an impressive amount of data for just one test. Each of the report segments can be offered as a stand-alone test and companies usually do separate them in order to make more money.  
Everything about WeGene is simply superb, from the company's lab and processing technology to its test results and user support, so if you wish to explore your East Asian (especially Chinese) heritage, this is definitely the right company for you.