Live Well Testing Review
Advertiser Disclosure
This website features affiliate links. For purchases made via these links, we earn commissions that allow us to keep producing helpful content. To find out more
click here
.
Close
– – – Important Update – – – 
As of early 2020 Live Well Testing is officially out of business. We do not have any details at this moment and their website is not working. If you're looking for a similar company we recommend you take a look at our review of Living DNA. As far as your pets are concerned, Embark and BasePaws are simply the best.
– – – Important Update – – – 
Live Well Testing is a San Diego-based branch of Confirm BioSciences, Inc. Its e-commerce website covers a wide array of affordable and easily accessible testing solutions, whose sole objective is to improve the health and wellness of your body, pets, and environment.
Its father conglomerate was founded in 2008, which gave it ample time to hone its craft in producing drug and alcohol tests for employers, individuals, schools, and government bodies.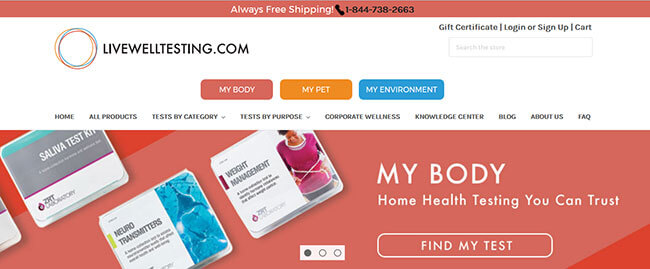 Zeynep Ilgaz acts as founder and CEO of both companies. Her story is a classic dark horse story, rising up from a poor immigrant from Turkey to a renowned entrepreneur at the helm of two corporate giants. Her personal motto is striving for a happier and healthier world for everyone.
Confirm BioSciences is ranked among the top 25 San Diego companies and Live Well Testing follows in similar footsteps, setting the same bar when it comes to both its professional approach and standards.
This Live Well Testing review will focus on the company's efforts to expand the testing business to health and wellness.
How Live Well Testing Works
Live Well Testing is a classic e-commerce website. Once you've skimmed over the general offer, you can sign up and create your personal account. It's pretty self-explanatory from there, with a classic shopping cart system. Besides various testing solutions, you can also purchase gift certificates (birthday, general, boy/girl, celebrations, and Christmas). One thing to note here is that gift certificates are non-refundable, so take your time before making a purchase.
As far as tests are concerned, Live Well Testing follows the same model as other DNA testing companies:
Sample collection is performed at your home, once the test kit arrives.
A pre-paid shipping label is included, so you can send your specimen to the lab without extra shipping charges.
You will receive your test results via e-mail after the analysis is concluded. Turnaround time varies between different tests.
If you have any questions about the test or testing procedure, you can browse its extensive knowledge center and FAQ and you can also contact its representatives via phone, e-mail or social networks.
Why Choose Living Well Testing
Live Well Testing is one of the best DNA testing providers currently on the market, offering a pleasant customer experience and an incredible portfolio of tests. It is the ultimate destination for all your DNA testing, health, and wellness-related needs.
Here are just some reasons why you should choose Live Well Testing:
DNA testing conglomerate with a stellar reputation
Leading professionals performing the analyses
Broadest offer of testing solutions on the market
Detailed guides and descriptions for every test
A+ rating with the Better Business Bureau
Legal and non-legal test iterations
Flexible specimen varieties (including hair, blood, mouth swab, and various alternative body excretions)
Quick turnaround times
Budget-friendly prices and discounts
Corporate wellness programs
Price match guarantee
Free shipping
As we mentioned already, Living Well Testing focuses on keeping your body and environment in perfect shape and harmony. On top of that, it even includes tests that can improve the well-being of our animal family members.

Living Well Testing focuses on allowing you to monitor your health without breaking the bank. The tests offered will check your vitamin and hormone levels, cholesterol, bone density, and more.
Our pets are much more than just animals, they're integral parts of our families. Now, instead of expensive veterinary testing, you can monitor your pet's health at home with Live Well Testing solutions. Worst case scenario, the tests will show you if your pet needs immediate veterinary attention. Besides the tests for "furry" animals, the offer extends to our scaly and feathered friends as well.
You can only be as healthy as your environment, so Live Well Testing offers various water and soil tests, as well as some unusual tests such as the one measuring lead levels in paint.
Tests
This is the section where Live Well Testing shines the brightest. We'll cover its complete offer, so bear with us, since the journey won't be short by any means. As we mentioned at the beginning of this Live Well Testing review, its test variety is truly staggering, including body, pets, corporate wellness, and environment-focused varieties.
Body oriented tests
The body-oriented tests category includes:
Genetic and DNA – This section is brimming with choices, offering instant at-home blood type test kit (10.99$), twin zygosity home DNA test kit (169.99$), maternity home DNA buccal test kit (139.99$), grandparent home DNA test kit (169.99$), Labrix FindWhy weight control genetic testing home kit (199.99$), legal and non-legal paternity home kits (249.99$ and 139.99$, respectively), avuncular home DNA tests (259.99% and 169.99$ respectively), and sibling home DNA buccal test kits (349.99$ and 249.99$ respectively).
The blood type test detects both blood type and Rh factor. It has 18 months of shelf life and is FDA approved.
Relationship tests provide results in 3-5 business days. Non-legal variants allow at-home sample collection while legal ones require a certified institution for the purpose. They check 23 genetic markers and are the most reliable way of determining biological relationships. The results of legal DNA tests are approved and fully admissible in court. The legal maternal DNA test is not available for purchase in New York.
Weight management – This branch offers strips for ketone urine instant test (9.99$) and ZRT weight management profile – vitamin D, hormone, thyroid (299.99$). Besides said tests, you can also purchase tools for weight management such as Accu-measure body fat caliper (19.99$) and Shrinkx bamboo charcoal post-pregnancy belly wrap (49.99$).
The ketone test contains 100 easy-to-use testing strips, which accurately read the levels of ketone in urine. This test is perfect for keeping track of your ketogenic, Atkins, low-carb or Paleo diet. It provides instant results.
The ZRT weight management profile measures levels of Estradiol, Progesterone, Testosterone, DHEA-Sulfate, Cortisol, Thyroid Stimulating Hormone, Vitamin D, and HbA1c. It uncovers hormone imbalances and helps early detection of type 2 diabetes, insulin resistance, and other metabolic illnesses. Results are available within 3-5 business days. It can't be shipped to New York due to state laws.
Hormones – The tests in this category are too many to enumerate separately. The segment features 59 different tests for hormonal analyses.
The prices range from 54.99$ for hormonal disbalance tests up to 429.99$ for the ZRT advanced metabolites 49-panel hormone home test kit. Depending on the test, turnaround times include 3-5, 5-7 and 7-10 business days. Some of the DNA testing kits also clash with New York state law, meaning they cannot be shipped there.
Heart health – This section includes ZRT triglycerides blood spot home test kit (64.99$), ZRT hemoglobin A1c blood spot home test kit (64.99$), ZRT Insulin blood spot home test kit (69.99$), ZRT cardiometabolic profile home blood spot test kit (189.99$), CardioCheck test strips for HDL, cholesterol and triglycerides (14.99$, combo pack costs 41.99$), and a CardioCheck blood testing device (130.99$).
Turnaround time for triglycerides, insulin, and cardiometabolic profile tests is 3-5 work days; 5-7 for the hemoglobin test.
Baby health – This category offers tests for screening alcohol levels in breast milk. You can choose between the 8 pack (14.99$) and 20 pack (24.99$) iterations. Tests detect everything above 0.02% of alcohol. The strips change color if alcohol is present and the results can be inspected after 2 minutes.
On top of milk screening tests, Live Well Testing also offers an ample collection of baby supplements, a 24-hour temperature monitor, and complete nausea relief.
Fertility – This division contains ZRT follicle stimulating hormone imbalance blood home test kit (64.99$), ZRT lab luteinizing hormone imbalance blood spot home test kit (64.99$), ovulation fertility test strips (0.65$ a piece), early pregnancy detection test (0.65$), and pregnancy midstream home test (2.00$).
Turnaround time for blood spot tests is 5-7 work days. The early detection pregnancy test can show positive results in 2-5 minutes 6-8 days after conception. It's cleared by the FDA and the accuracy level is 99%.
Vitamin – This category features ZRT vitamin D deficiency blood home test kit (79.99$), ZRT elements blood spot home test kit (149.99$), and Doctor's Data vitamin D blood spot home test kit.
Deficiency of vitamin D increases the risk of stroke, flu, cancer, diabetes, and more. ZRT tests produce results within 5-7 work days while the range for the Doctor's Data test goes between 3 and 5 days.
Neurotransmitter – This category contains ZRT 10 panel neurotransmitters neurointermediate profile home test kit (269.99$), ZRT 8 panel neurotransmitters NeuroBasic profile home test kit (219.99$), ZRT 15 panel neurotransmitters NeuroAdvanced profile urine home test kit (329.99$), Labrix NeuroHormone complete + saliva home test kit (381.99$), Labrix NeuroHormone complete panel home test kit (347.99$), and Labrix NeuroAdrenal panel urine + saliva home test kit (258.99$).
The neurotransmitter tests check levels of Serotonin, GABA, 5-HIAA, Glycine, Histamine, Glutamate, PEA, DOPAC and HVA, Dopamine, Epinephrine, and Norepinephrine. This is the 15-panel test, options with fewer panels omit certain neurotransmitters. Turnaround time is around 3-5 business days.

Allergies – This section contains 15 different at home test kits, manufactured by ALCAT, Doctor's Data, and ZRT. The prices meander between 79.99$ for Doctor's Data tests for exposure to Mercury and iodine and 889.99$ for ALCAT's platinum food intolerance blood test kit.
The main purpose of allergy tests is analyzing your cellular response to more than 320 items of food, molds, chemicals, and antibiotics. Around 15 million Americans suffer from some form of food allergy, so these tests identify ingredients to steer clear of. Average turnaround time is 5-7 business days.
Substance abuse – This category features 21 tests for detecting the presence of nicotine, alcohol, steroids, and drugs in urine, saliva, and even hair follicles.
The results are almost instant and the prices vary from 15.99$ up to 199.99$ for the EtG alcohol urine test. The DrinkSafe Date Rape Detection Test Card, which costs 3.59$, is a personal safety-oriented test that uses a drop of your drink to identify potential drugs present.
Disease detection – This part of the company's offer offers 33 different at home test kits for diagnosing mononucleosis, H. Pylori, Strep A, high cholesterol and glucose, HIV, and gluten sensitivity levels. There are also tests for identifying exposure to toxic compounds and heavy metals.
Home inspection – In this section, you will find 35 tests for determining VOC/SVOC in solid materials, amounts of lead in paint and lead dust in children's toys, presence of diesel and gasoline in the soil, radon, coliform bacteria, lead, fluoride, E. Coli and pesticides in water, quality of air, and presence of allergens, mold and asbestos at home.
Dog tests
Dog tests include the following options:
Canine Health Check – Dog Genetic Disease & Trait Test (129.99$) – This test allows you to screen your dog for more than 150 DNA-related diseases and traits. The results will be uploaded to your personal account within 7-10 days.
Petnostic Urine Home Test Kit (10.99$) – The screening cup enables you to check the overall health of your pet at your home. The results are instantly available and you can also share them with your veterinarian. No exam, lab or collection fees.
PetConfirm Value Pack (29.99$) – This test screens for potential urinary tract infections, diabetes, and possible kidney failures. The results are generated in 2 minutes and the procedure doesn't cause any pain or discomfort to your dog.
Perfect Pet Dog Blood Heartworm, Lyme or Ehrlichia Home Testing Kit (44.99$) – The name of the test pretty much covers it all. The results are available within 24 hours after the receipt of the sample.
Perfect Pet Fecal Worm Home Detection Test (33.99$) – This test can be used on all animals, not just dogs. It will detect Roundworms, Whipworms, Coccidia, and Hookworms. The final report is ready within 24 hours.
PetConfirm – Dog Urinary Tract Infection Home Urine Test Kit (18.99$) – The test is designed to detect any traces of urinary tract infections. It screens blood, Nitrite, and white blood cells.
PetConfirm – General Wellness Home Test Kit for Dogs (21.99$) – The test screens for UTI, kidney failure, and diabetes. It also detects protein, glucose, and blood in animal urine. It is completely painless and non-invasive.
Live Well Testing doesn't offer any specialized dog DNA tests for breeders and vets. As an online store, it also doesn't take part in any animal charity work. Environment quality tests have already been explained in the "home inspection" subsection.
Shipping And Handling
Orders placed Monday-Friday before 12:00 PM PST will ship the same day. Orders received during weekends or after 12:00 PM will be dispatched the following business day. For pre-ordered items, you will be notified via e-mail the moment your order is in stock and ready for shipping.
Once your order is dispatched, you'll receive a confirmation e-mail with the tracking number (when available). One thing to note is that first class shipments don't feature tracking numbers. Live Well Testing doesn't accommodate check payments and money orders at this time, only American Express, MasterCard, and Visa. Your credit card will be charged the moment your order becomes viable for shipping.
All orders are shipped through USPS Priority Mail and FedEx, depending on your shipping address and choice of options during checkout. Delivery time is usually within 3-5 work days for items in stock. Shipping to P.O. boxes is available through USPS only. Live Well Testing also allows APO/FPO/AFO orders.
The company does ship internationally, with some limitations:
Some elements cannot be used outside of the US, such as DNA tests and other items requiring lab analysis.
Live Well Testing won't take responsibility for shipments delayed or lost through actions of customs or delivery companies.
Buyers handle potential customs fees.
Shipping charges are dictated by items purchased and final destinations.
Exchanges and returns of tangible items are possible within 30 days of receipt. Refunds will be made in the same form as the original payment, between 7 and 14 days after the company receives the returned merchandise.
Bottom Line
This Live Well Testing review showed the test abundance this company provides. Offers such as the one it features tend to intimidate people due to the sheer volume of information presented. That's why proper research is paramount before making the final decision.
We hope our in-depth review covered all the ins and outs of its extensive portfolio and brought the whole concept a bit closer to home. All of the tests are FDA-approved and certified by several government institutions. On top of all that, if you need an exciting entrepreneurship story, just read about Zeynep Ilgaz's journey from owning only two suitcases to managing a corporate giant.