European version of AncestryDNA
iGENEA Review - UPDATED Apr 2018
iGENEA is a DNA testing company launched in 2006 with headquarters located in Switzerland. Its founder, Joelle Apter (comes from Opatow) holds a master's degree in both genetics and anthropology and her driving force from the start was her desire to uncover the Jewish/Polish origins of her ancestors. Apart from iGENEA, she also founded Websheep and GenePartner, where she also holds the position of CEO.  
As far as their business model is concerned, we would go as far as to declare iGENEA the European version of AncestryDNA. They both act as a bridge of sort, connecting the advantages of historical and genetic research to learn more about our origins as a species. This interdisciplinary approach is what sets them apart in the highly competitive market of DNA testing providers. 
Note that iGENEA collaborates with Family Tree DNA and performs analyses through their laboratory and database. Keep reading our detailed iGENEA review to find out more about this company.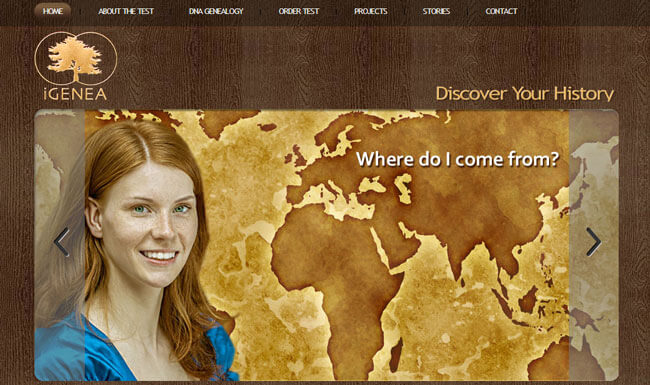 How iGENEA Works
The DNA testing protocol with iGENEA includes the following steps: 
Order – This can be done online through their official website or via telephone or email.
Sample Collection – After the testing kit arrives at your address, you should collect your DNA sample for further analysis. The company opted for buccal swabs instead of saliva containers.
Returning the kit – With your buccal sample ready, all you have to do is mail the kit back to the indicated address.
Inspecting the results – Your first results should be ready within 6-8 weeks. Depending on the testing option you've chosen, these could be your final results or they will be sent for further analyses.

The sample collection kit contains: 
2 buccal swabs

 

2 collection tubes

 

Detailed and comprehensive instructions

 

Return envelope

 

Declaration of consent

 
The general rule of thumb with buccal swabs is that the procedure shouldn't be painful at any moment. If you start feeling pain or draw blood at some point, just stop and continue later. Note that eating and drinking anything but water might contaminate the sample so it's not recommended at least 2 hours before the collection.  
You can also order the test kit as a gift by simply stating the receiver's address in the comments section of the order form.    
Why Choose iGENEA
There are numerous factors that might persuade you to entertain the idea of purchasing one of the DNA tests offered by iGENEA. Let's take a look at some of the most prominent reasons to opt for this DNA testing company: 
Collaboration with Family Tree DNA, which translates to state-of-the-art laboratory and an ever-growing database;
Interdisciplinary approach, combining historical, anthropological, and genetic breakthroughs, offering much richer final results;
3 different DNA tests;
Kinship identification goes indefinitely into the past, as long as your DNA strain has a match;
Affymetrix chip;
The tests inspect 500,000 SNPs located in your DNA;
Preview of the results on the site;
Written copy of the results;
Downloadable raw data;
Jewish ancestry;
Free consultations with experts;

 

A highly skilled team of scientists;

 

Numerous projects with the possibility of starting your own research completely free of charge;

 

Focus on European ancestry and origins;
Quick test kit delivery;
Numerous payment methods available;

 

Lifetime database access;
Your DNA sample is kept in the laboratory for 25 years in case you decide to conduct further testing or upgrade your current test;
Excellent privacy policy;
No control sample needed;

 

Gift options.
Having said that, we do have our reservations with this service, especially concerning the scope of their DNA tests. Namely, you can only choose to explore your maternal or paternal ancestry line whereas other DNA tests on the market usually provide both and offer singular testing only if you're specifically interested in it. We'll make additional concerns known in their corresponding paragraphs of this iGENEA review.
Tests
iGENEA offers 3 testing instances: 
iGENEA Basic (179EUR) – This test is also called DNA-Explorer, providing you with a basic insight into your DNA genealogy. The origin of your ancestry is determined by regions and percentages. The results will feature a world map, which will show your mixed origins. Simply put, this test will show you the regions of the world from which you descended. It will also locate your potential relatives inside the database and provide you with their email addresses, allowing you to contact them. Since the test doesn't examine gender chromosomes, we would basically call DNA-Explorer iGENEA's version of the classic autosomal DNA test.

 

iGENEA Premium (499EUR) –  This test is the upgraded version of DNA-Explorer. It includes the results offered there plus a detailed paternal or maternal lineage. It should be looked at as a more personalized DNA analysis. It also offers potential to basically make your own DNA test by writing down personal requests in the remark field on the order form. The results include information about your prehistoric origins (the subgroup of your haplogroup), your ancestral tribe, the region of your origin, a map of the world showing your ancestral percentages, and unconditional access to their genealogical database where you can start searching for your relatives.

 

iGENEA Expert (1279EUR) – As you might've already guessed, this test is the best DNA test the company has to offer. Apart from the high-resolution DNA analysis, you'll also receive the most detailed and precise interpretation guide. The results also cover the subgroup of your haplogroup and the regions of your ancestral origins, paired with detailed information about your paternal or maternal ancestral lineage. Needless to mention that DNA-Explorer is also included. For maternal line, however, your entire mitochondrial DNA will be analyzed. On the other hand, the test inspects 111 STR and several SNP markers located within your Y chromosome for your paternal line. On top of that, the test inspects around 710,000 SNPs on the autosomes and X chromosome.

Don't get confused by the often mentioned "Family Finder Test" in the official FAQ. It's just another term used for autosomal testing, which inspects chromosomes 1 to 22, without X and Y, the so-called gender chromosomes.  
One of the major drawbacks of these tests is the fact that you can't order both paternal and maternal testing with their premium option. This means, hypothetically, that you'd have to order the same test twice in order to get your complete ancestral lineage. Given the steep pricing, that would indeed be a costly endeavor.  
Also, the company doesn't provide a ton of information on their testing options, but they do encourage you to contact them in case you have any additional questions, which you will most likely have.  
In case something goes wrong, however, iGENEA guarantees a repeat of the ordered test completely free of charge.  
Research
When it comes to the research section of this iGENEA review, the company truly lives by its words, as it is involved in numerous projects aimed at making new discoveries in the field of genetic genealogy.  
Their list of projects includes: 
The Bourbon DNA project, examining the DNA profiles of Bourbon children "born of wedlock" and searching for their living relatives;
Napoleon's Y-DNA profile, searching for his male descendants on a world scale;

 

The Tutankhamun DNA project, searching for his living relatives in Europe after publishing an exclusive y-DNA profile. Note that you can test your DNA against Tutankhamun's and get your payment refunded if you prove to be a match;
Surname projects, which conduct an investigation of the potential biological relationship between males with similar or same surnames;

 

Famous persons DNA project, where you can compare your own DNA signature with those of famous people;

 

The warrior gene project (MAOS-L gene variant), investigates the genetic propensity of men to take risks and fall into aggressive or compulsive patterns of behavior.
On top of all this, you can also start your own surname project and investigate other bearers of your surname for potential biological relations. There are currently around 7,000 surname projects in iGENEA's database.  
Privacy And Security
With iGENEA, data discretion is very highly regarded, so you won't have to worry about your personal information being handed off to any third parties.  
The company operates under Swiss law on data protection. The Federal Act on Data Protection (FADP) and its Ordinance regulate the collection and use of personal data on a federal level. Additionally, each of the 26 different cantons has its own cantonal data protection act, which regulates the processing of data by the cantonal bodies.  
Furthermore, their partner Family Tree DNA operates under the US-EU "Safe Harbor" Convention on data protection. The said convention does encounter some problems with meeting EU demands on data protection, but you can read more about that online if you wish.
Additionally, you can always request that all of your data be immediately deleted from the database.  
Shipping And Handling
Once you place your order with iGENEA and your payment is processed, your DNA test kit will leave their facilities the next day, at the latest. You can also place an order during the weekends, in which case the kit will be sent on Monday.  
Apart from this, there is no additional information to be found on the site. We don't even know whether they ship worldwide or not. Sure, you can always contact user support and obtain the relevant info, but user support definitely shouldn't be used to gather the most basic of information regarding the service a company is trying to sell you. 
Bottom Line
To finish this IGENEA review, the company does have its ups and downs, but they do offer superb DNA testing and pretty reliable results. Family Tree DNA wouldn't partner with just anyone, so nothing to worry about there.  
On the other hand, the test prices are overly excessive by all measurements and the lack of unified paternal and maternal results could also be perceived as a major weakness.
This test is good for people who expect European origins since you won't find a better Europe-centric DNA testing service currently on the market. You have to pay a bit more but you'll receive detailed results painting a "high-res" picture of your prehistoric ancestry. You'll also be able to start your own surname project, investigating your lineage even further. So, if you're a European or expect origins from those regions and don't mind paying more money for a complete ancestral picture, this is the right DNA test for you.