GPS Origins Review
Advertiser Disclosure
This website features affiliate links. For purchases made via these links, we earn commissions that allow us to keep producing helpful content. To find out more
click here
.
Close
GPS Origins is a state-of-the-art ancestry DNA test developed by DDC (DNA Diagnostics Center). Contrary to popular belief, GPS doesn't stand for global positioning system but for "Geographic Population Structure." The main edge of this test, compared to the competition, is its ability to provide a more precise picture of your genetic origins, pinpointing to exact locations.
DDC is a DNA testing center, well-known for its hi-tech approach to genetic sequencing, incorporating robotics technology, among other modern scientific marvels. It was founded in 1995, following the idea that genetic science breakthroughs should be translated into widely available services.
GPS Origins ancestry DNA test was created by Dr. Eran Elhaik, the multidisciplinary team leader at the University of Sheffield. Apart from his Ph.D. in the field and two post-doctoral research fellowships, Dr. Elhaik was also appointed as a research associate at the John Hopkins School of Public Health.
Continue reading our honest GPS Origins review to learn more about this DNA test.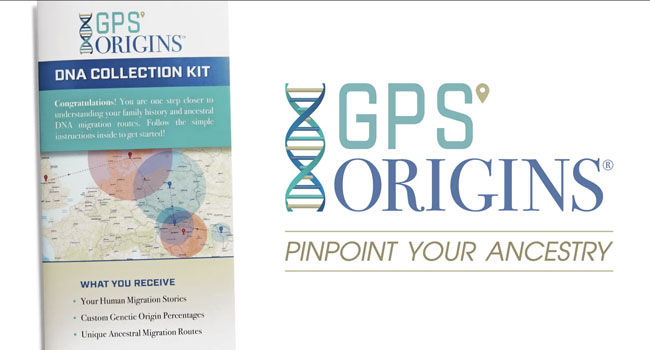 How GPS Origins Works
As we mentioned before in this GPS Origins review, GPS Origins is envisioned as a widely available, commercial ancestry DNA test. As such, it follows the traditional recipe for the DTC (direct-to-customer) testing approach, including the following steps:
Online order – To order GPS Origins DNA test, you have to place an order with DDC ancestry service, so you should first register and create your personal account on its website. After that, you'll be able to place an order for your DNA testing kit. Note that you can fill out a questionnaire during the registration process, which will help the company refine your final results.
Sample collection – Once your kit has arrived, you can collect your DNA specimen by performing a buccal swab.
Mailing the specimen back – The kit also contains a pre-paid envelope, in which you should insert your collected sample. Once you've done that, simply drop it into the mailbox.
Inspecting the results – In around 6 weeks, your report should be ready. You can inspect your results online, through your personal account.
The DNA test kit you'll receive upon order will contain:
Order form
Comprehensive instructional manual
4 buccal swabs
Sample storage envelope
Pre-paid return envelope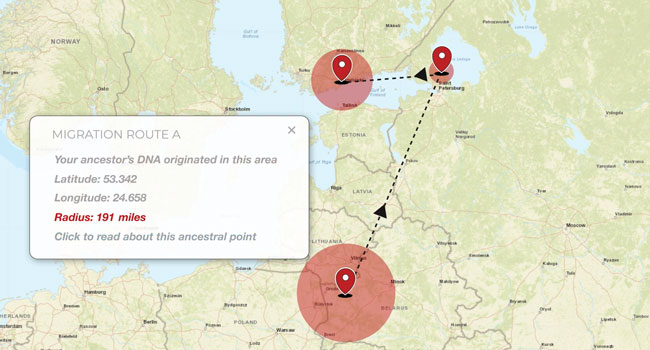 Why Choose GPS Origins
GPS Origins is one of the best DNA tests on the market, distributed by DDC. If this alone isn't motive enough to explore your past with this test, here are other reasons why it may be a good choice for your DNA testing needs:
The most specific ancestry DNA test with a detailed geographic report
800,000 genetic markers checked
41 regions of the world covered
1,000+ reference populations taken into account
The test traces your genetic origins over 1,000 years in the past
Proprietary, hi-tech testing lab with robotics technology
Numerous certificates and accreditations
The University of Sheffield stands behind GPS Origins, with the renowned scientist Dr. Eran Elhaik as its creator
DDC has over two decades of active participation in the field
Dr. Michael Baird, the world's leading DNA expert, is the Chief Science Officer of DDC
Accurate test results, based on the original algorithm published in a peer-review publication (Nature Communications Journal)
Affordable pricing
10$ discount for using a specific promo code
Strict confidentiality policy
Transferable raw data from Family Tree DNA, 23andMe, National Geographic, and AncestryDNA
Knowledgeable and competent user support
Possibility of refunds
Test
GPS Origins enables you to trace your specific DNA strain back to the place where it began. Your genetic ancestry is traced to 1000 years in the past. In some cases, the results will be able to pinpoint the exact town or village where your DNA originated.
GPS Origins utilizes 41 global gene pools in order to calculate the unique signature of your autosomal DNA. Then, it compares that signature to populations around the world in order to locate the origin point of your DNA. Lastly, it calculates 2 genetic lineages by tracing your DNA's migration patterns.  The test checks more than 80,000 autosomal markers within your DNA.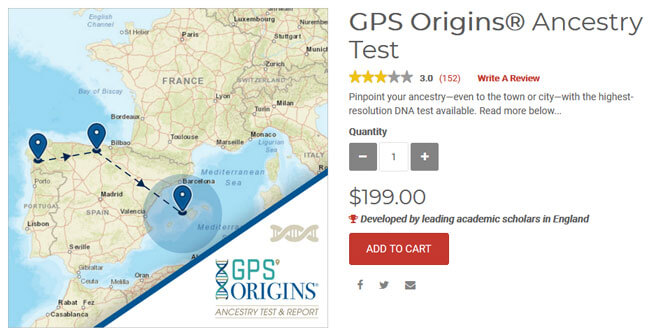 Gene pools (or Ancestral Origins) are collective sets of genetic data within specific regions where populations inhabiting it had limited contact with different populations outside that distinct group for around 20,000 or 60,000 years.
Reference populations (or Study Bases) are representative samples of certain individuals during a specific time span. GPS Origins utilizes 1,000+ reference populations, which, combined with 41 gene pools, provides the famous accuracy of this test.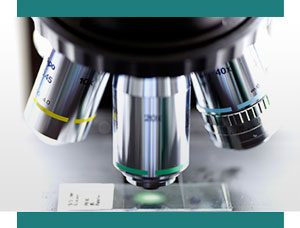 With that explained, we can delve deeper into the specific inner-works of the test. Namely, it explores the unique composition of your genetic signature, comparing it to a database containing more than 10,000 signatures, spread across the already mentioned reference populations. Genetic mixing in the past usually occurred only when larger groups of people migrated from place to place, which was a relatively rare occurrence. That means that scientists are able to extract pretty clean reference points of DNA compositions found in different locations of the world.
The algorithm used by GPS Origins presumes that your DNA shares a lot of common points with the genetic material it originated from, but it still considers it unique to you. It calculates the genetic "distance" between your current and ancestral DNA strain and converts it into geographic distance. Then it uses those geographic points as GPS locations, triangulating the place where your DNA originated.
The test report includes the following elements:
Specific ethnic data, extracted from 41 possible gene pools, covering the whole world
Geographic origin location of your unique DNA chain
The migration pattern of your DNA more than 1,000 years back. The migration map follows both your maternal and paternal genetic journey through time
The temporal point when your DNA underwent its final major alteration on a population level
Summary Page with assorted links to help your potential external genetic research
The price of the test is 199$, which is admittedly higher than many competing products. However, for that price you will get many things that you can't get anywhere else. For example, this is the first and best DNA test with bio-geographical targeting capability to the town or village level. It will also provide you with detalied stories about DNA mixture events such as famines, wars and migrations.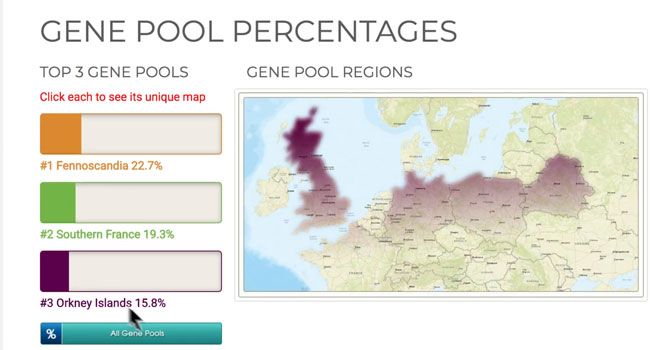 Research
Dr. Eran Elhaik, the creator of GPS Origins, is a research associate with John Hopkins School of Public Health. His research efforts are focused on answering the most important biological questions, drawing from statistical and computational skills, alongside mathematics and epidemiology.
Major breakthroughs in his research include designing the 2 microarrays dedicated to genetic genealogy. In 2014, he dated the origination of the "Adam" chromosome, the most ancient Y-chromosome, to 208,500 years ago. In the same year, he also laid the groundwork for what's to become GPS Origins. He and his team used the original algorithm to discover the ancient Ashkenazi in Northeastern Turkey.
Privacy And Security
As GPS Origins is distributed by DDC, this section of our GPS Origins review will explore DDC's privacy policy. As you may know, DDC is a very reputable company and, as such, it takes your privacy very seriously. With that in mind, here's what it promises in regards to data security:
DDC will not release your information or share it with anybody without your initiative or explicit permission.
It will always follow your specific instructions (if any) concerning information transfer with you or other parties.
It will never release any kind of personal information over the phone.
DDC incorporates all the industry standard safety measures to keep your personal profile and data transfers as secure as possible.
However, it can share your information (except test results) with other ventures under its umbrella. On the positive side, it states that potential recipients of your data will be obligated to follow its privacy policy.
Shipping And Handling
GPS Origins DNA testing kit can only be delivered within the US and Canada. DDC doesn't mention anything about shipping options or timetables once it receives your order.
Bottom Line
GPS Origins is one of the best ancestry DNA tests. It should provide exceptionally accurate and specific data regarding your genetic and ethnic origins. If that's the only thing you want to find out about your ancestry, then this is the clear-cut choice for you. On the other hand, if you wish to discover potential DNA relatives and connect with them, this test leaves much to be desired. Due to this fact, people usually regard it as an ideal add-on to every other ancestry test available and not much of a stand-alone solution.
The creator of the test and its "father" company are both renowned names in the field of genealogical genetics. DDC offers a cutting-edge testing facility with literally no room for errors or testing failures while Dr. Eran Elhaik has dedicated his life to pushing forward the boundaries of our understanding of human genetic origins. Our final conclusion is that this is a perfect test for you, provided you already did one with some other company. However, it shouldn't be the initial step into the world of exploring your genetic ancestry.