Embark and Wisdom Panel are companies dedicated to animal DNA exploration, offering testing solutions for private owners, breeders, and veterinarians. Across the two companies, you have a multitude of tests designed to tell you more about your animal friends and help you and your veterinarian provide the best conditions and healthcare for them to lead happy lives. Everything you'll ever need to know about your pets is already encoded in their DNA signature – it's all just a matter of "unlocking" those genetic secrets.
Our Embark vs. Wisdom Panel comparison will help you choose between these two companies by providing all the essential information and allowing you to make the best decision for the specific needs of your pet. In some cases, you'll have a pretty clear-cut choice while others might require some additional research.
Side by Side Comparison
Test
Specialized Test For Breeders
Special Offer For Veterinarians
Sample Collection Type
Dog Breeds Checked
Breed Identification
Parentage Test
Ancestry Research
Coyote & Wolf Ancestry
Physical Traits Report
Health Report
Average Result Time
Updates Available
Charity Work Involvement
Shipping
Dog DNA
yes
yes
cheek swab
yes
yes
yes
yes
no
yes
yes
8 weeks
n/a
n/a
n/a
Dog DNA
yes
yes
cheek swab
yes
yes
yes
yes
no
yes
yes
2-3 weeks
yes
yes
USA
Ratings
Our comparison process entails numerous factors that extrapolate only the best dog DNA testing services on the market at any given moment. Primarily, we research the overall scope of their portfolio, meaning testing solutions for private owners but also specialized DNA tests for professional breeders and veterinarians. We explore their breed identification tests to see how precise of a genetic composition they can actually provide. This also includes potential coyote and wolf background. Furthermore, we're interested in how many genetic diseases and traits the specific test covers and whether it also offers a comprehensive health report and recommendations. Lastly, we are interested in the accuracy of the parentage test and whether the company can perform it without the dame's DNA sample present. Naturally, we also go over the pricing policy and potential involvement in animal charity work.
Winner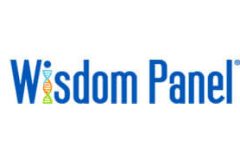 Scope Of DNA Tests
Embark Dog DNA Test answers all the relevant questions you might have about your canine friend. It checks your dog's DNA for traces of over 150 different breeds, which also include coyote, village dog, and wolf ancestry. The test will determine your dog's haplogroup, haplotype, and the migration routes of its ancestors 15,000 years back. It'll also screen your dog's DNA for more than 160 genetic conditions. Finally, it'll accurately determine your dog's genetic age. There's also a tailored DNA test for breeders, providing both breed-specific and trait results. 
Wisdom Panel, on the other hand, offers 4 different tests at this time. Wisdom Panel 4.0 will determine your dog's genetic makeup by comparing its DNA with over 250 breeds. Wisdom Panel Health is basically Wisdom Panel 4.0 with additional screening for more than 140 genetic mutations. Optimal Selection Canine Genetic Breeding Analysis is designed for breeders and provides a breed-tailored disease report, covering more than 150 known illnesses and checking over 1,800 SNPs. It also comes with some interesting tools for breeders. Finally, Wisdom Panel also features Optimal Selection Feline Genetic Breeding Analysis, which is the previous test adapted for cats. 
Test Processing Times
Embark usually generates the final report 8 weeks after the analysis has been completed. 
Wisdom panel 4.0 results arrive within 2-3 weeks, Wisdom Panel Health within 3 weeks, and Optimal Selection Canine/Feline Genetic Breeding Analysis within 3-4 weeks. 
Privacy & Security
Embark will never share your personal data with anybody without your explicit consent. They do encourage users to provide their information for research purposes, though.  
Wisdom Panel is a part of Mars Veterinary, which features a strict privacy policy. The results of the conducted tests are crucial for several ongoing projects, but you're not obligated to provide them.    
Value For Money
Embark Dog DNA Test costs 199$, with a potential discount for multiple dogs. Embark test for breeders has a price tag of 179$ and bulk purchases also qualify you for a significant discount. 
Wisdom Panel 4.0 costs 84.99$, Wisdom Panel Health 149.99$, Optimal Selection Canine Genetic Breeding Analysis 129.99$, and Optimal Selection Feline Genetic Breeding Analysis 99.99$.  
As you can see, the two companies are pretty evenly matched when we compare the value offered to their standing price tags. 
Overall Experience
Overall experience is the summation of our Embark vs. Wisdom Panel comparison. Both companies offer high-quality testing solutions, so it's very difficult to pick out a winner. Embark allows you to get all the relevant information with a single test while Wisdom Panel has segregated solutions. Wisdom Panel is a bit cheaper and provides wider breed identification. However, it offers a smaller screening panel – unless you want to order additional tests, which significantly increase the price. In other words, Embark seems more convenient.  
Wisdom Panel offers quicker results than Embark, but that's more of a secondary factor compared to the overall quality. The biggest difference between the two companies, however, lies in the fact that Wisdom Panel also offers a genetic test for felines while Embark remains dog-centric, as the name implies.