DDC Veterinary Review
Advertiser Disclosure
This website features affiliate links. For purchases made via these links, we earn commissions that allow us to keep producing helpful content. To find out more
click here
.
Close
DNA Diagnostics Center (DDC) is one of the largest and most experienced private laboratories for genetic testing. It was founded in 1995 in Fairfield, Ohio, and has since provided high-quality service at reasonable prices.
DDC Veterinary is a division of DDC aimed at animal DNA testing. This DDC Veterinary review will focus on its promises of low fees, quick turnaround times, and top-quality testing.
How DDC Veterinary Works
DDC Veterinary follows a simple direct-to-customer protocol, which entails:
Online order through the website
Sample collection and online registration once the testing kit arrives
Sending the kit back to the lab via pre-paid shipping label
Inspecting the results sent to you via e-mail
The technology behind animal DNA testing uses the polymerase chain reaction process (PCR). Pure DNA is primarily isolated from the swab by removing anything else found in a cell (proteins and other integral parts). The sample is then placed inside a thermocycler with fluorescent primers designed for specific locations in the DNA. The thermocycler is then let through different temperature cycles, amplifying the located fragments of the DNA. Amplified DNA is then processed through an ABI Prism Genetic Analyzer for capillary electrophoresis and the data is collected from highlighted locations.
This creates a comprehensive personal profile for each individual tested. The results are afterward reviewed by an experienced Ph.D.
Why Choose DDC Veterinary
DDC is a world-renowned DNA testing company. All its experience, expertise, and technology in human testing was poured into its tests for animal genotyping.
Here are some of the benefits of choosing DDC Veterinary:
One of the biggest companies of its kind
Excellent choice of tests
Its Chief Science Officer is Dr. Michael Baird, the leading DNA expert in the country
Numerous accreditations for its laboratory, including the one from the Orthopedic Foundation for Animals
Additional inspections of the results
Guaranteed accuracy
Advanced technology
Quick turnaround times
Every test is controlled by a Ph.D.
Every result is reviewed by a Ph.D.
Strict privacy policy
Budget-friendly prices
Professional and trained user support
This is just a part of a much larger list of benefits offered by the company. DDC Veterinary truly follows in the footsteps of its famous, human-dedicated iteration.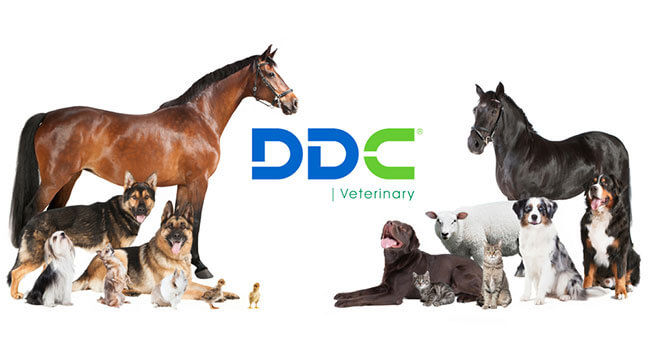 Tests
DDC Veterinary covers a wide array of animal species, easily overshadowing the competition.
Their animal DNA tests can be segmented into:
The site also mentions alpaca DNA testing and partnership with Alpaca Owners Association in Lincoln, Nebraska.
Let's take a look at each testing option in its portfolio:
Canine DNA testing
The segment offers a search field for purebred dogs, which enables you to simply type in your breed and immediately receive a full list of tests available for your purebred dog.
Apart from that convenient feature, DDC Veterinary offers the following tests:
DNA Test & Life Plan By Orivet (89$ + shipping) – First of all, we have to point out that this test is available in the US and Canada only and cannot be shipped to P.O. boxes. Having said that, it's a classic at-home canine DNA test that allows you to collect the DNA of your dog via cheek swabs and send it back to the lab in a pre-paid return envelope. The test covers more than 220 dog breeds, including wolf and coyote, and yields results in less than 3 weeks. The test also includes an online life plan that you can share with your vet and help them maintain a perfect healthcare program for your dog.
Canine DNA Parentage Test (38$ per sample + shipping) – This test is used to remove doubts about the litter's parentage, as well as with potential multi-sired litters. It provides a DNA-certified pedigree. If you want to test one progeny, and for example, the total price is 114$. The test checks 16 DNA markers and will result in the inclusion/exclusion percentages for both sire and dam. The dam's DNA is not required but extremely desirable to have. It eliminates her half of the progeny DNA, making the process much quicker and more efficient. Dogs of any age are viable for testing.
Canine DNA Profiling/Genotyping (38$ per sample + shipping) – Genotyping is used to identify your dog as a recognizable individual. This is useful for proving parentage, but also if your dog gets stolen or lost. The results are also used among breeders for pedigree verification. The test inspects 16 DNA markers with numeric allele sizes for each of them. Each of the genetic markers features two allele sizes, one inherited from the sire, one from the dam. They are just used for identification and cannot inform you about the breed makeup, inherited diseases, and possible traits. Usual turnaround time is around 10 business days.
Canine Inherited Disease Tests (58$ per sample + shipping, 10$ discount for 5 samples sent at the same time) – DDC tests your dog's DNA for 10 different genetic diseases: Uric Acid DNA Test (Hyperuricosuria), Degenerative Myelopathy (DM) in Canine Breeds, Hereditary Nasal Parakeratosis (HNPK) in Labrador Retrievers, Multidrug Resistance 1 (MDR1), Exercise Induced Collapse (EIC), Centronuclear Myopathy in Labrador Retrievers, Cystinuria in Newfoundlands and Labradors, Pyruvate Kinase Deficiency (PK) in West Highland Terriers & Basenjis, von Willebrand's Disease Type 1, Progressive Retinal Atrophy, and Progressive Rod-Cone Degeneration (PRA-prcd).
Inherited Traits Testing (58$ per sample + shipping, 10$ discount for 5 samples sent at the same time) – DDC provides testing for 7 inherited traits: Coat Color Testing, Coat Length or "Fluffy" Test, Coat Curl Test, Coat Furnishings (IC), Myostatin or "Bully" Test for Whippets, Natural Bobtail Test, and Wooly-Long Coat Test for Akitas and Samoyeds and Siberian Huskies.

Feline DNA testing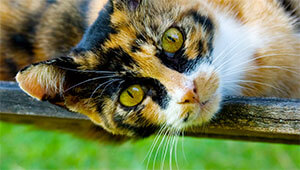 Feline DNA testing (48$ per sample + shipping) – This segment incorporates a single test called PKT Test. It stands for Polycystic Kidney Disease, which is an autosomal dominant inherited disorder causing cysts to form in the kidneys. PKD leads to renal failure and potential death if not treated. The results are ready within 10 business days from the moment the sample is received.
Avian DNA testing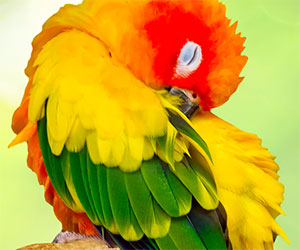 Avian DNA testing ((19$ with blood samples (17$ for 5 samples sent at the same time), 23$ with feather samples (21$ for 5 samples sent at the same time) + shipping)) – The test offered is called Avian DNA Gender Determination or "bird sexing." It is used to establish the gender of the bird when one cannot be determined by its physical characteristics and appearance. PCR is used to establish the presence of male and female chromosomes in the bird's genome. DDC suggests making your own sample collection kit by following its instructions found on the site. Feather and blood provide equally accurate results, but molted feathers do not have enough DNA for a test to be executed. The average turnaround time is 5 days.
Equine DNA Testing
The group dedicated to horses offers 2 separate DNA tests:
Equine DNA Parentage Test/Verification (38$ per sample + shipping) – The equine parent verification test also uses PCR technology to compare the sizes of alleles. DDC parentage testing uses an optimal panel of 23 DNA markers, including the gender marker. The final report consists of accurate percentages for both inclusion and exclusion. The DNA sample is collected from the mane. A young foal may not have enough DNA there, so it's recommended to collect hairs from the tail instead. Results will be emailed to you within 10 work days.
Equine DNA Profiling/Genotyping (38$ per equine + shipping) – As with canines, genetic profiling is used to establish a permanent ID of your horse in case it gets stolen, lost or simply as a proof of pedigree. 23 genetic markers are checked, each of them containing 2 alleles with different sizes. As before, this test is not designed to determine breed makeup or inherited diseases and traits. The DNA sample examined is the same as with parentage test. Turnaround time is also around 10 business days.

Privacy And Security
DDC Veterinary takes your privacy very seriously. It has a strict privacy policy, which states the following:
DDC will never release information about you or the test subject to anyone without your explicit consent.
Regarding the communication about the test, DDC will always follow your instructions to the letter.
Test results will never be released over the phone to anyone, including you.
Shipping And Handling
DDC Veterinary ships its animal DNA testing kits to the US and Canada only. It does not send shipments to P.O. boxes. Orders placed during business days usually ship the very same day. If the company receives your order after 3:00 PM EST, the shipment will be dispatched the next business day.
You'll have to pay the shipping costs, but the kits include a pre-paid mailer for sending them back to the lab.
Bottom Line
DDC Veterinary is definitely one of the best, if not the best animal DNA testing company on the market. The benefits of opting for DDC are truly overwhelming and this DDC Veterinary review is too short to give them all proper justice.
DDC is one of the rare companies that owns its own testing lab. Similar companies usually outsource scientific activities and they deal solely with logistics and advertising. On top of owning a lab, DDC features state-of-the-art technology and world-renowned scientists and DNA experts. If you want to know more about its facilities and overall business model, you can take a look at our DDC review for human DNA testing.
We hope our DDC Veterinary review shed some light on the entire enterprise and brought the idea of animal DNA testing a bit closer to home.