JScreen Review
Advertiser Disclosure
This website features affiliate links. For purchases made via these links, we earn commissions that allow us to keep producing helpful content. To find out more
click here
.
Close
JScreen is a non-profit organization partnered with Emory University and dedicated to carrier screening programs for Jewish genetic diseases and at-home education. It was named one of the most innovative American-Jewish organizations in 2014.
It was founded by long-time Jewish community activists Randy and Caroline Gold after their traumatic yet preventable family hardships. Namely, in August 2009, their 18 months old daughter Eden was diagnosed with Mucolipidosis Type IV (ML4), a very daunting and completely preventable Jewish genetic disease.
The couple was screened for Jewish genetic diseases beforehand, only to realize the test covered just 8 of the 19 most common ones. That's what propelled them to launch JScreen, alongside ML4 Foundation, through which the Golds are trying to discover a cure for their daughter's disease.

How JScreen Works
The JScreen testing protocol includes 4 simple steps:
Online order – You can have the JScreen testing kit delivered to your home address. Note that JScreen will have to contact your physician in order to obtain medical approval prior to sending you the kit.
Sample collection – Once the testing kit arrives at your home, all you need to do is fill the collection tube with your saliva and seal it in the provided specimen bag. The whole procedure takes around 2-5 minutes.
Sending your sample back – The kit features a pre-paid mailer, so you can simply drop it in a FedEx drop-box.
Inspecting the results – After roughly 3-4 weeks, Emory University will contact you to inform you about your results. You will receive an e-mail notification, instructing you on how to proceed with obtaining your final DNA report.
JScreen requires medical approval before sending you the DNA testing kit because it is not a business in the strict meaning of the term. It aims to spread awareness of Jewish genetic diseases through both education and testing. That's why it will also provide you with educational content before letting you order its testing kit.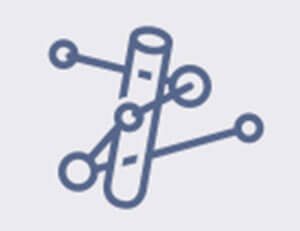 The founders of the company are highly dedicated to the Jewish community and have launched their genetic screening project in an effort to prevent the development of genetic diseases.
If you want to discuss your results face-to-face with an expert, JScreen genetic counselors offer this possibility through secure video conferencing. JScreen also features a broad network of professional counselors and can refer you to the one nearest to your location.
If you are identified as a genetic disease carrier during the testing, you are encouraged to participate in a telephone genetic counseling follow-up. JScreen counselors can help you prepare and plan the healthiest options for your future family by minimizing the risk of inherited genetic diseases. Everyone is basically a carrier of genetic alterations, so JScreen also offers its services to people without the Jewish ethnic background.
Why Choose JScreen
The most prominent reason to sway you its way is the fact that JScreen is an embodiment of a personal crusade against Jewish genetic diseases, rather than just another business interested solely in making a profit.
Some other important factors include:
Partnership with Emory University
Highly professional staff and cutting-edge testing facility
CLIA certification
Scientific advisory board oversees the entire testing procedure
All tests are ordered by licensed medical providers, as instructed by law
200 genetic diseases screened, including the 19 most common ones affecting people with Jewish ethnic heritage
Limited financial assistance if you don't have insurance or the funds necessary
Comprehensive educational content available
Professional counseling provided before and after the test
Testing available even for non-Jewish individuals
Doctor's review of the final results
HIPAA-compliant result database, following Emory University's security standards
Gift certificates available
One of the services offered by JScreen is mapping your best options after you've received the test results. This is way outside of the scope of what a regular company would do for you. JScreen will suggest the best possible route to forming a healthy family, even if you're established as a carrier of a certain genetic disease.
Test
The first piece of information we need to put into perspective in this section of our JScreen review is the fact that JScreen focuses more on reproductive risks than on personal conditions. With that in mind, you should note that its test won't provide information on things like your genetic ancestry, potential breast cancer or Down syndrome in pregnancy.
Before you're given the option to order the test, you'll have to watch an educational video, guiding you through the entire process and explaining what to expect once your results arrive.
The price of the test is 149$ with private insurance (used to be 99$ while JScreen tested only for 45 genetic diseases). As we already mentioned, if you can't afford the test or don't have insurance, you can contact JScreen and check if you're eligible for its financial assistance program.
JScreen uses a common method called DNA sequencing to process your sample and provide accurate results. This method ensures a 94-99% accuracy of your final report, depending on particular diseases. It enables genetic scientists to determine the precise order of nucleotides in your DNA molecules. Unfortunately, JScreen remains silent on the actual number of genetic markers it checks during the testing process.
JScreen DNA testing incorporates over 200 genetic diseases, including the ones predominantly found in Mizrahi, Ashkenazi, and Sephardic Jewish populations. You can view the entire screening panel on its website. Most of these diseases are inherited in a recessive pattern. This means that the child can inherit the condition only in cases when both of the parents are carriers of the non-working gene for that specific condition. In order to develop symptoms, the child needs to possess a pair of non-working carrier genes, for which there is a 25% chance with two carrier parents.
Among other illnesses, JScreen also tests all females for Fragile X Syndrome with no extra charges. The condition especially reaches the peak of its severity in males, causing a wide spectrum of behavioral and developmental problems.
Only females are tested for it because it's inherited differently from other conditions on the list. Women have a 50% chance of giving birth to an affected child. Males can be carriers as well, but the child is at risk of being affected only if the mother passes on the required genetic alteration.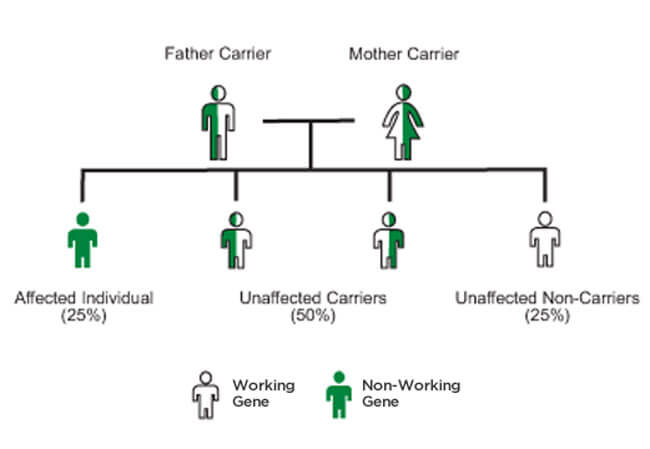 JScreen genetic testing utilizes saliva samples rather than blood or buccal cells. The level of accuracy is the same since your DNA doesn't differ from one potential specimen to another. Collecting saliva is also a far less invasive method than drawing blood. However, there is a minuscule chance of having to recollect the sample if the original one doesn't pass the quality check. If this happens, JScreen will arrange the recollection for you.
In some cases, JScreen will require a follow-up test of your blood enzymes to clarify the potential carrier status.
JScreen's recommended age for testing is between 18 and 45 years of age. As we said, its test is aimed at people planning on forming a healthy family before anything else. Therefore, there is no purpose in testing children or older adults since they won't be provided with any relevant information. The average turnaround time is around 3-4 weeks.
Understanding The Results
The final report is pretty straightforward and it will give you positive or negative results for all the genetic diseases tested. Unfortunately, like any test, it's designed to minimize the risk as much as possible, but it can't definitively negate your carrier status.
You should note that, even if you're listed as a carrier, you may not develop any of the conditions. JScreen testing can also inform you about your existing Tay-Sachs or Gaucher Disease.
Upon your request, the copy of the results can be provided to your family physician. If you've already received your report, there's a form on the website that authorizes JScreen to release the copy of your results to your doctor. The extra results should be delivered within 3 business days.
Privacy And Security
JScreen follows a very rigid privacy policy dictated by Emory University. This means that it will never release any personal information regarding your contact details and test results.
This, however, also means that you won't be able to access your family members' results without their explicit permission. This also includes your children.
Shipping And Handling
Surprisingly, there is no information regarding shipping options and the regions covered by JScreen's shipping policy. Its website is brimming with relevant information otherwise and the inclusion of shipping options available would definitely make the data pool complete.
Bottom Line
The JScreen test should be considered by everyone, Jewish heritage or not. It provides the very foundation upon which to build a healthy family.
The following guidelines can help you determine if this test is right for you:
If you were already screened for Jewish genetic diseases, you should definitely repeat the test since the quantum of included conditions is constantly growing.
Many children are born with certain genetic conditions, even when they don't run in the family. So, even if you don't have a family history of genetic diseases, you should take the test to exclude the possibility of generations of healthy carriers.
You should take the test, regardless of the fact that you already gave birth to a healthy child. Remember, we already established that the child has a 25% chance of inheriting genetic diseases.
If just one of your parents is Jewish, JScreen also recommends performing the test since having just one Jewish grandparent increases the risk of carrying disease genes. This also applies to situations when just one of the partners is Jewish.
If you're adopted and have no knowledge of your ancestry, you should take the test.
If you already tested as a carrier and want to test your children, JScreen doesn't recommend it for the reasons stated above.
JScreen is a highly professional, humanitarian and, above all, noble effort for identifying genetic disease carriers on time and providing ample options for working your way around the situation. We hope that our JScreen review gave you a glimpse of its zealotry for this cause and inspired you to give the company a closer look.