Xcode Life Review
Advertiser Disclosure
This website features affiliate links. For purchases made via these links, we earn commissions that allow us to keep producing helpful content. To find out more
click here
.
Close
Xcode Life is a biotechnology company founded back in 2010 and headquartered in Chennai, the capital of the Indian state of Tamil Nadu. Xcode Life specializes in bioinformatics, genetics, personalized genomics, preventive health, nutritional genomics, fitness genetics, nutrigenomics, and nutrigenetics. 
The main goal of the company is to empower physicians, wellness professionals, and individuals with precise and actionable genomic data, which can positively impact and improve their health and quality of life. Read our comprehensive Xcode Life review to learn more about the company and its services.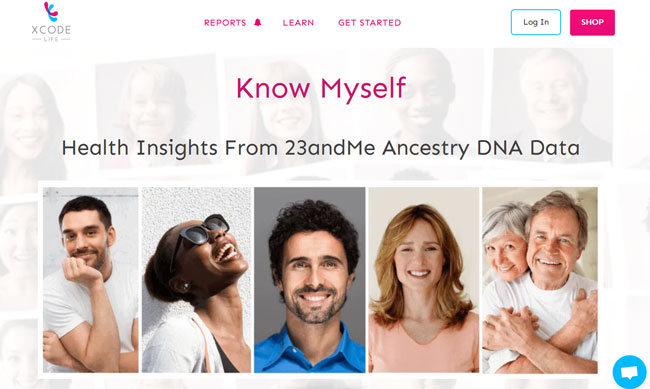 How Xcode Life Works
Xcode Life doesn't feature any proprietary DNA testing options. In order to obtain one of its reports, you'll have to upload your raw genetic data generated by another provider. The company currently supports raw DNA data files produced by 23andMe (v2, v3, v4, v5), African Ancestry, Atlas Biomed, Dante Labs, DNA Tribes, Family Tree DNA, Gencove, Genes for Good, Gene by Gene, Geno 2.0, Genographic Project, Invitae, Living DNA, MyHeritage, Vitagene, WeGene, and Whole Genome Sequencing. You can find reviews for most of these companies on our site. 
After submitting your raw DNA data, all you have to do is wait for your personal report to be generated. Xcode Life promises same day delivery. Note that you can pay via PayPal, PayPal Credit, MasterCard, Visa, Discover, and American Express.

Why Choose Xcode Life
Xcode Life aims to change the way we perceive ourselves by providing us with vital info stored in our genes. Here are some of the main benefits of using its services:
Numerous reports available
Simple procedures
State-of-the-art tools in bioinformatics and genetics
Same day delivery
Compatible with all reputable DNA testing providers
Excellent user support
Budget-friendly prices
Tests
As we already mentioned at the beginning of our Xcode Life review, the company doesn't have any proprietary DNA tests. Instead, it operates with raw DNA data files generated by other companies. Having said that, the official website does feature Amazon links to some of the most popular testing options compatible with Xcode Life reports, including:
23andMe Ancestry Kit (99.00$) 
23andMe Ancestry Kit + Health Report Bundle (199.00$) 
AncestryDNA Kit (99.00$) 
Family Tree DNA Ancestry Kit (79.99$) 
Living DNA Ancestry Kit (199.00$) 
Vitagene Ancestry + Health Personal Genetic Reports

 
You are in no way obligated to pick one of these tests. However, if you do, you will also receive an Xcode Health report absolutely free of charge. 
The list of reports offered by Xcode Life goes as follows: 
Super Pack (99.00$)
This option incorporates 7 different reports, including Gene Nutrition, Gene Fitness, Gene Health, Gene Allergy, Precision Medicine, Gene Skin, and MTHFR.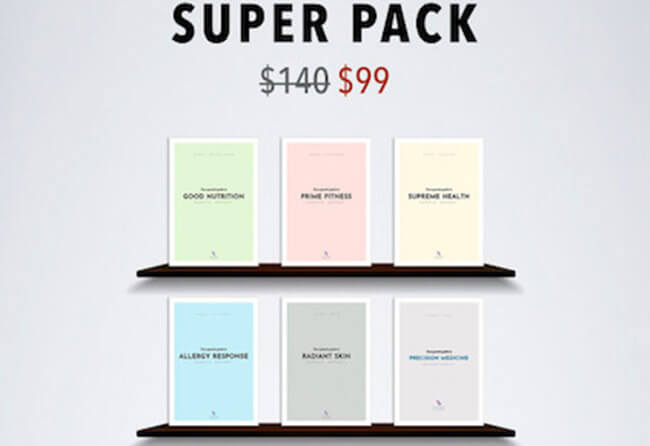 Best Seller Pack (49.00$)
The Best Seller Pack includes Gene Nutrition, Gene Fitness, Gene Health, Gene Allergy, and Gene Skin. 
Gene Nutrition (20.00$)
This report includes more than 33 different categories, such as tendency to overeat, vitamin A requirements, phosphate requirement, vitamin B12 requirement, selenium requirement, tendency to consume fats, vitamin B6 requirements, zinc requirements, tendency to consume sweet foods, vitamin B9 requirements, antioxidant needs, tendency to prefer bitter foods, vitamin C, caffeine metabolism, carbohydrate intake and weight gain tendency, vitamin D requirements, alcohol metabolism, fiber intake and weight loss tendency, vitamin D requirements, gluten sensitivity, saturated fat intake, vitamin K requirements, lactose intolerance, MUFA intake and weight gain tendency, calcium requirements, vitamin B2 requirements, PUFA intake and weight gain tendency, choline deficiency, alcohol flush reaction, protein intake and weight loss tendency, copper requirements, salt sensitivity, tendency to regain weight, iron requirements, and magnesium requirements. 
Gene Health (10.00$)
This report gives you information on more than 45 different genetic diseases and conditions ranging from type II diabetes and vitiligo to Alzheimer's and Parkinson's disease. 
Gene Fitness (20.00$)
Gene Fitness covers more than 15 different categories, including endurance, aerobic and heart capacity, power, hand grip strength, flexibility, tendon strength, ligament strength, lung capacity, exercise motivation, likelihood of injury, exercise recovery, insulin sensitivity with exercise, likelihood of fatigue, HDL cholesterol level with exercise, and weight loss or weight gain with exercise. 
Gene Allergy (10.00$)
This report covers 12+ categories, including cockroach allergy, hay fever, milk allergy, dust mite allergy, lactose intolerance, pollen allergy, animal dander, grass allergy, contact dermatitis, tree nut allergy, histamine intolerance, photic sneeze, misophonia, and motion sickness.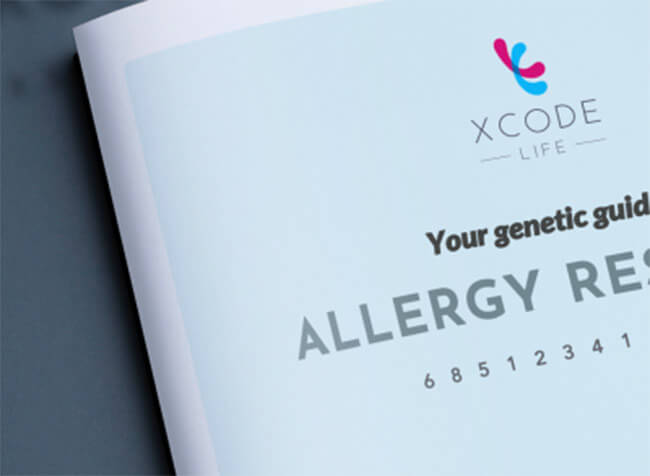 Gene Skin (20.00$)
This option provides you with 20+ skin-related categories, including glycation protection, sunspots, vitamin B2 deficiency, atopic dermatitis, vitamin B12 deficiency, tanning, contact dermatitis, vitamin B6 deficiency, wrinkles, psoriasis, vitamin C deficiency, UV rays protection, rosacea, vitamin D deficiency, cellulite, dry skin, vitamin D deficiency, stretch marks, vitamin B9 deficiency, antioxidant requirements, varicose veins, vitamin A deficiency, freckles, vitamin K deficiency, and acne. 
Breast Cancer (40.00$)
The covered categories include FDA approved BRCA gene markers, BRCA1 markers, BRCA2 markers, breast cancer risk, breast and ovarian cancer risk, breast and other cancers risk, early-onset breast cancer risk, hormone receptors in breast cancer risk, breast cancer risk in men, breast cancer prognosis, breastfeeding duration and breast cancer risk, breast size and breast cancer risk, hormone precursor levels and breast cancer risk, menopausal therapy and breast cancer risk. The report also covers more than 75 cancer-related drugs and your individual response to them. 
Carrier Status (40.00$)
With this report, you can discover your carrier status regarding more than 550 different genetic diseases and conditions. 
Methylation and MTHFR (20.00$)
This report checks the status of SNP variants for 15+ genes associated with the methylation pathway. 
Ancestry (40.00$)
Xcode Life can also provide you with some information regarding your genetic ancestry. The report covers your global ancestry composition, maternal/paternal haplogroups, Ancestry Wheel, and potential South Asian ancestry composition, which includes Ancestral North Indians, Ancestral South Indians, Ancestral Austro Asiatics, and Ancestral Tibeto Burmans.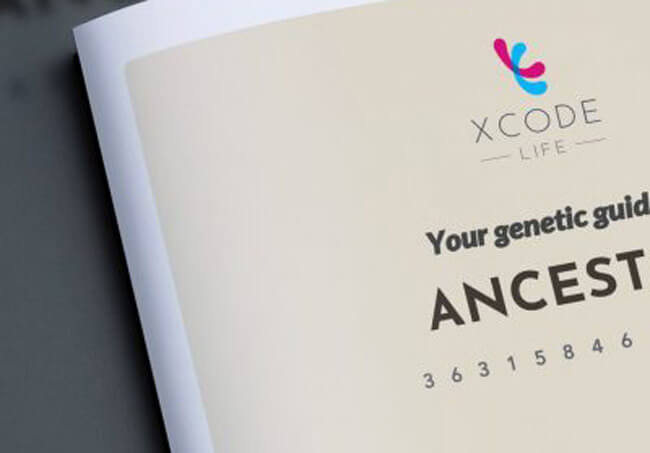 Mega Pack (199.00$)
This option includes all individual reports.  
Simplified Promethease Report
As its title says, this option allows you to simplify your version of the Promethease report and obtain valuable information regarding your health.  
Privacy And Security
Xcode Life collects the following information: 
Registration information – Your name, country, ZIP Code, email address, and payment info.

 

Optional self-reported information – Your family history, ethnicity, and similar information you choose to share with the company.

 

User content – Raw DNA data and other data files, reviews, testimonials, and comments uploaded to the official Xcode Life website.

 

Social media features – If you choose to use Xcode Life's social media sharing buttons (Facebook, Twitter, and Pinterest), these features may collect your IP address and page visits.

 

Referral information – Xcode Life has an active referral program and will use the email addresses of your referees.

 

Gifts – The company will also collect personal info shared with the company while gifting Xcode Life products or accepting them as gifts.

 

Information related to genetic testing services – This refers to your raw genetic data files.

 

Web tracking information – This includes cookies used to enhance user experience, collect demographic information, provide security, and monitor marketing programs.

 

Google Analytics – The company will utilize the User-ID feature offered by Google Analytics in order to track your behavior across different devices and sessions. However, this info will not be merged which your personal information. You can choose to opt out of Google Analytics Advertising through your Google Ad Settings.

 
Xcode Life will use your personal information to provide you with the requested services. You can delete your raw DNA files from its database at any given moment by sending an email request to info@xcode.in. Additionally, the company will also disclose your data if requested to do so by law.  
Finally, Xcode Life's Privacy Policy admits that the company can't guarantee the security and confidentiality of your information due to the inherent risks of electronic data transmission and storage.
Shipping And Handling
Since Xcode Life doesn't offer any at-home DNA testing solutions, you will have to check your chosen provider's shipping and handling policy. The tests featured on the official website are sold on Amazon, so Amazon's shipping & handling rules will apply.  
Bottom Line
Xcode Life is an interesting endeavor that allows you to build upon your DNA reports obtained from other reputable companies. Its budget-friendly pricing policy is the first thing that catches one's eye, especially when paired with pretty impressive report options.
If you're looking to upgrade your existing DNA testing results and don't want to spend a ton of money on it, Xcode Life will provide you with an abundance of additional information at a more than reasonable price.