Who'zTheDaddy Review
All DNA tests in one place.

Advertiser Disclosure
This website features affiliate links. For purchases made via these links, we earn commissions that allow us to keep producing helpful content. To find out more
click here
.
Close
Owned and operated by General Genetics Corp. (GGC), Who'zTheDaddy is a UK-based company dedicated to providing its users with quick, precise, and fully accredited DNA testing. The company has established partnerships with numerous processing labs all over the world, which gives it a degree of independence rarely offered by at-home DNA testing providers. 
Keep reading our honest Who'zTheDaddy review to learn more about its services, testing solutions, and rates and determine if they match your personal goals regarding DNA research.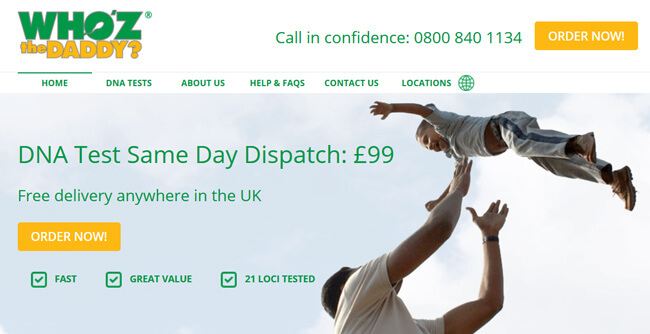 How Who'zTheDaddy Works
Who'zTheDaddy's testing procedure includes the following steps: 
Placing an order – You can purchase any of the available testing solutions by placing your order on the official website (the company accepts VISA, MasterCard, and PayPal). Depending on your chosen test, you will be prompted to answer a couple of questions required for optimal handling and DNA processing. For a classic paternity test, for example, you will have to answer whether the mother is tested, how many fathers/children are tested, whether you require another testing kit to be sent to a second address, and what type of shipping you prefer. You can also leave additional comments if necessary and opt for express results in just 3 business days for an additional fee of 69£. 
Sample collection – After the company receives your order, a personal at-home DNA testing kit will be sent to your address in an unmarked envelope for optimal discretion. The kit is designed to collect buccal cells from the inner side of your cheeks. It comes with simple step-by-step instructions, which can also be found on the official website. The most important thing is not to drink any tea or coffee or use any tobacco-based product for 4 hours prior to sample collection. After all hygienic requirements have been met, you can swab your inner cheeks for about a minute and leave the swabs at room temperature for at least 15 minutes to air dry. Who'zTheDaddy also accepts a wide variety of alternative DNA samples. 
Sending the samples back – After placing the swabs inside the sample collection envelope, simply fill out the required details and mail it back to the lab for further processing. 
Inspecting the results – Depending on the test in question, the average turnaround time is 5 business days from the moment the company receives your DNA sample. You can choose whether you want to receive your final report via email or letter. In order to ensure complete discretion, the company requires you to provide a password associated with your sample.  
Why Choose Who'zTheDaddy
Who'zTheDaddy is well-known for providing its users with reliable and fully accredited DNA testing solutions ranging from relationship tests to ancestry exploration. Here are some other benefits of using its services: 
Wide variety of testing solutions (including animal tests)
Partnership with numerous testing labs all over the world
"Curiosity" test examines 21 genetic markers
Immigration and legal paternity testing
Simple testing procedure
Quick turnaround times (usually around 5 days)
Solid privacy policy
Next day delivery available
Excellent customer support
Tests
Who'zTheDaddy offers the following testing solutions: 
Paternity Testing
Who'zTheDaddy provides its users with 3 different paternity testing options, including: 
Home Paternity Test (from 99£) – This is a so-called "curiosity test" that examines 21 genetic markers and produces conclusive results in just 3-5 business days. The company offers express testing only for mouth swabs, so you will not have this option if you are using discreet DNA samples.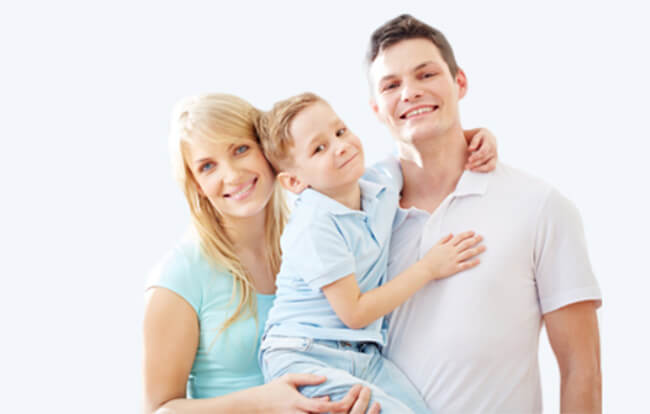 Immigration DNA test (price on request) – Who'zTheDaddy provides testing solutions designed to establish biological paternity for immigration purposes. The company can send its testing kits internationally, so testing individuals in different countries is also a possibility.  
Legal Paternity Testing (from 289£) – The price is for one potential father, mother, and child. This is an excellent option if you need to establish biological paternity for a birth certificate, alimony, custody disputes, inheritance, and other common situations.  
Relationship Testing
Apart from establishing or negating biological paternity, Who'zTheDaddy features numerous relationship tests designed to establish genetic connections between siblings (from 199£), twins (from 139£), grandparents and grandchildren (from 249£), aunts/uncles and their nieces/nephews (from 199£), mothers and their potential children (from 99£), and cousins (price on request). Additionally, there is also the option of determining a common male ancestor through Y chromosome testing (from 199£) and establishing paternity without the father through Genetic Reconstruction (from 299£).  
Ancestry Testing
If you are wondering about your ancient origins, you can order the GPS Origins and Ancestral Origins DNA tests through Who'zTheDaddy. Apart from these options, there are also testing solutions for exploring your paternal and maternal lineage (from 135£ and 159£, respectively).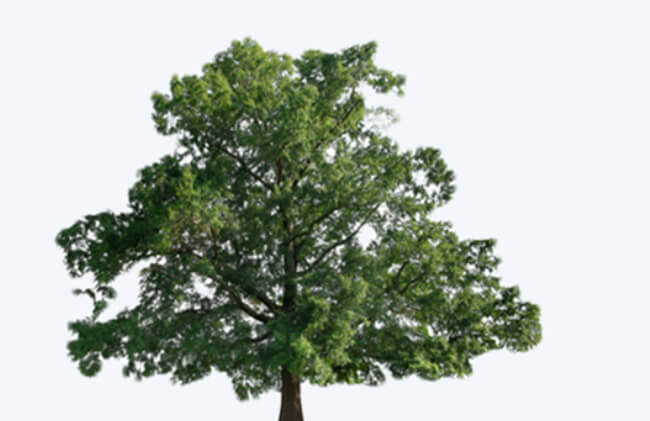 Prenatal Testing
This testing option is available starting at 10 weeks of pregnancy and has a much lower chance of false positives compared to similar tests. The testing process is completely safe for the mother and child and provides results in just 5 business days. It can also be performed earlier than amniocentesis and chorionic villus sampling. The price of the test starts at 379£. Note that this is NOT an at-home test and you will have to go to the nearest draw center in order to provide the required blood sample. The company will send your personal testing kit directly to the doctor, so make sure to provide the address of the chosen location.  
Animal Testing
Who'zTheDaddy performs animal DNA tests as well. The available options include DNA My Dog (from 58£), Wisdom Panel 2.0 Dog Bred Identification Testing (from 69£), Dog Parentage Testing (from 129£), Dog Inherited Disease Test (price on request), Avian DNA Sexing (price on request), and Feline PKD Disease Test (from 44£).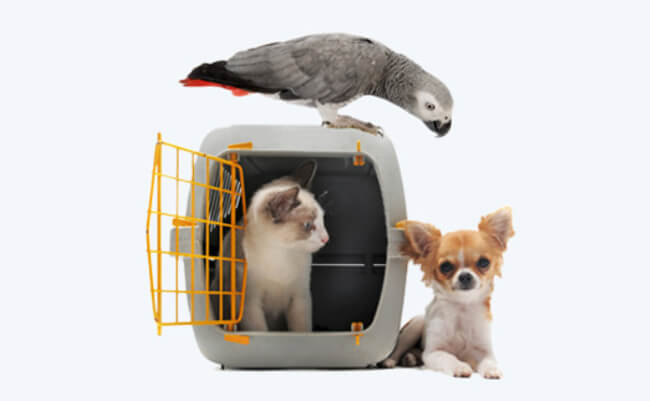 Other Tests
This category features clinical tests, including lactose intolerance (from 115£), cancer panel (price on request), and genetic predisposition test (from 199£).  
Finally, Who'zTheDaddy also provides its users with DNA banking service (from 119£), infidelity testing (from 299£), semen detection (from 90£), DNA profiling (from 99£), and home DNA banking (from 25£).  
Privacy And Security
Who'zTheDaddy collects your personal data when you apply for the service (first/last name, address, phone number, email…), your IP address, and certain data that cannot identify you as an individual (your browsing actions, equipment, browser type, operating system, and more). The company also uses cookies. 
This information is used to communicate with you, provide you with the requested service, improve the company's portfolio, and exercise or defend any legal action. The collected data will never be used for marketing purposes without your explicit consent. Furthermore, the collected data will never be shared with any unauthorized personnel.  
You can edit your personal data at any given moment, request a copy in a machine-readable format or simply demand that the company deletes all your information. Data deletion, however, comes with certain limitations, especially when it comes to legal DNA testing that includes a demonstrable chain of custody.  
Shipping And Handling
As we already mentioned in this Who'zTheDaddy review, the company can send its testing kits to any country in the world. Your personal DNA testing kit will usually be sent the day after the company receives your order. You can opt between First Class Mail and next day delivery, the second option coming with an additional 10£ fee.  
Bottom Line
Who'zTheDaddy is a renowned DNA testing company that offers a wide variety of different testing solutions, including relationship, ancestry, legal, prenatal screening, and more. It also features numerous options for testing your animals.
The company checks 21 genetic markers, which ensures precise and reliable results. The average turnaround times are also very short, usually somewhere between 3 and 5 business days. There are no hidden fees whatsoever and you can order any of the available testing solutions anywhere in the world.  
Bottom line, this Who'zTheDaddy review revealed a highly versatile and reliable company that will help you with anything DNA-related, from establishing biological relationships to uncovering the past of your genetic signatures thousands of years in the past.