Vitl Review
Advertiser Disclosure
This website features affiliate links. For purchases made via these links, we earn commissions that allow us to keep producing helpful content. To find out more
click here
.
Close
Vitl is an English at-home DNA testing provider launched in 2015 with an idea to "reinvent your nutrition" and allow you to combine your DNA and blood test results and pair them with tailor-made supplementation and personalized health consults.
Read this comprehensive Vitl review to learn more about the service and whether it is what you are looking for in a DNA testing company.
How Vitl Works
Vitl pretty much follows the established protocol for at-home STD testing that involves the following steps:
Placing an order – You can order your Vitl DNA test on the official website and the company will dispatch your personal at-home testing kit the moment they receive the order.
Registering your kit – Before anything else, you should register your Vitl test kit on the official site or through the app using the barcode on the box. If you fail to register your unique kit ID, your sample cannot be processed.
Collecting the sample – Once your testing kit arrives, you can use the swabs to collect a saliva sample and secure it inside the provided bubble bag. Make sure the swabs do not come into contact with anything else but your mouth in order to preserve the purity of the sample. You should not smoke, eat or drink anything but water for around an hour before collecting your sample. Once your specimen is ready, simply mail it back to the processing lab using the provided prepaid post bag.
Inspecting the results – Around 2-3 weeks after receiving your sample, a personal report will be generated and you will be able to inspect it through your Vitl account.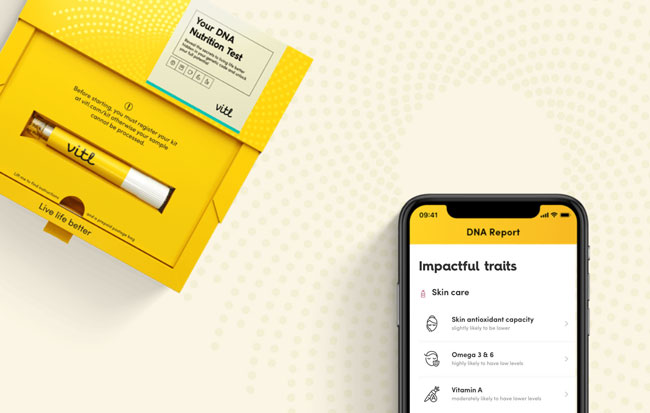 Why Choose Vitl
Vitl offers a unique combination of DNA testing mixed with bloodwork and wellness. With that in mind, here are its most prominent features:
At-home DNA screening paired with blood and cholesterol tests
Personalized health recommendations
Quick turnaround times
Impressive team of experts
Comprehensive test reports
High-tech processing lab
Numerous certificates and accreditations
International shipping
Budget-friendly prices
Tests
As already mentioned in this Vitl review, the company's test was designed to combine DNA results with bloodwork and lifestyle and dietary information. This allows the company to offer personalized supplement recommendations on top of exhaustive DNA-related reports.
Vitl DNA nutrition test costs 69.00€ and includes the following reports:
Diet – Appetite & binge eating, sweet tooth tendency, use of dietary saturated fats, colon transfer, alcohol flush, IBS and GERD, fructosuria, gluten intolerance, caffeine-induced anxiety, sweet tooth dental decay.
Beauty – Skin antioxidant capacity, acne, premature greying (men), eczema.
Fitness – Glycolic capacity in strength training, lipid & glucose metabolism in speed sports, fat vs muscle composition.
Pregnancy – Omega 3 & 6 during pregnancy, pregnancy weight, vitamin B12 in pregnancy, folate during pregnancy.
Sleep – Caffeine metabolism, sleep behavior, sleep bruxism, sleep movements.
Health – Vitamin A, vitamin E, omega 3 & 6, vitamin C, vitamin B12, iron folate, vitamin D, vitamin B6.
As you can see, Vitl's DNA test is primarily focused on your health and wellness. It does not cover ancestry, predisposition for certain genetic diseases, carrier status for hereditary illnesses, and current vitamin levels. Your report will only show your genetic capacity for absorbing certain vitamins efficiently, not their current levels in your blood, This, however, can be measured using another Vitl test dedicated to vitamin levels and cholesterol.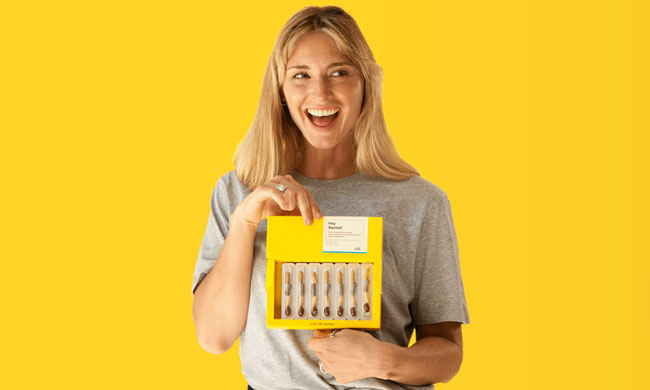 Your results should be ready in about 2-3 weeks and the company will send you an email when you can inspect them. Apart from the report dealing with the aforementioned genetic traits, you will receive a personalized health plan developed by leading experts in the field.
The Blood & Cholesterol at-home test costs 55.95€ and requires a blood sample from your finger. After receiving your results and personal recommendations, you can purchase a supplement subscription based on your genetic needs. All supplements sold by Vitl are made using non-GMO ingredients and there are no harmful bulking agents, anti-caking agents, artificial colors and preservatives, and sugar or gluten. Some of the products are also vegan-friendly.
Privacy And Security
Vitl collects your personal information when you:
Visit the official website
Buy or register products
Send samples
Contact the company
Take part in competitions, promotions, surveys
The company will collect your:
Name
Email address
Delivery address
Payment details
IP address
The last 4 digits of your credit card number
As a result of Vitl's service, the company will also obtain information regarding your:
Race or ethnic origin
Physical or mental health and condition
Biometric data
Vitl's official website uses cookies to collect information regarding your site usage and shopping behavior. The company uses both persistent and session cookies.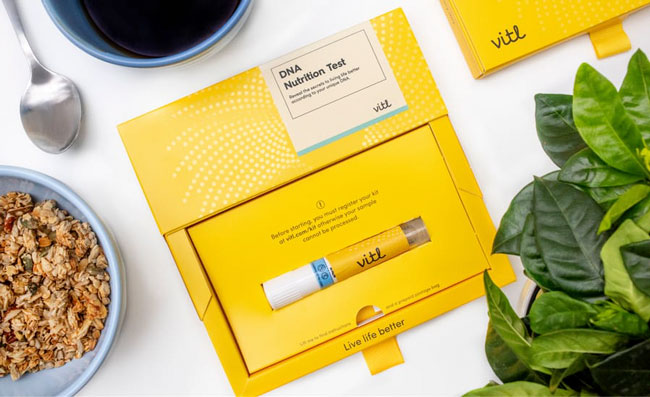 Apart from this, Vitl collects your browser type, ISP, operating system, referring/exit pages, clickstream data, and date-time stamps. These logs contain some serious data that can be used to mount a cyber-attack against you and we cannot find any reasons to justify collecting and logging so much personal information.
When it comes to your rights, you can always request a data update, a copy of your information, and permanent deletion of your account and related data.
Shipping And Handling
Vitl delivers its at-home test within the UK as well as internationally. UK orders usually arrive within 3-5 business days and within 1 and 2 days if you opt for first-class delivery. Orders shipped to other European countries, the US, and Australia take between 7 and 10 business days to arrive.
Bottom Line
Vitl is a rather unique at-home testing provider that allows you to combine DNA screening with blood and cholesterol tests to properly gauge your current health and learn how to improve your overall wellness based on your unique genetic signature and inherited traits.
The DNA test utilizes a simple saliva collection kit and the final report is generated 2-3 weeks after the processing lab receives your sample. The company does collect some unnecessary personal information, but you can request complete deletion at any given moment.
We can conclude that Vitl offers an excellent DNA solution for people who want to find out more about their health, form healthier habits, improve their wellness through personalized diet and exercise regimens, and learn how to work with their genetic requirements for optimal results.