SneakPeek Review
The Most Affordable Prenatal Gender Test

Advertiser Disclosure
This website features affiliate links. For purchases made via these links, we earn commissions that allow us to keep producing helpful content. To find out more
click here
.
Close
SneakPeek is an at-home genetic test designed to determine the gender of your baby as early as 8 weeks into pregnancy with a 99.1% accuracy rate. It was launched back in 2015 by Gateway Genomics LLC. after the company revealed the science behind it in a validation study showcased at the American Society of Human Genetics Conference. Read all about the test in this detailed SneakPeek review and learn how it transformed NIPT (non-invasive prenatal test) from an expensive procedure performed in futuristic labs to a budget-friendly testing option you can perform in the privacy of your own home.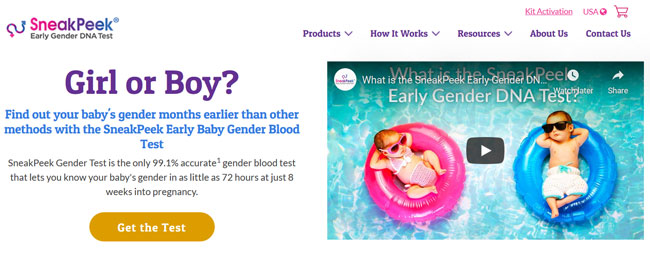 How SneakPeek Works
SneakPeek is a direct-to-customer DNA test, which means the testing process includes the following steps: 
Placing an order – Once you place your order on SneakPeek's official website, the company will ship your personal at-home testing kit, which should arrive at the specified address within a couple of business days, depending on your location. When it comes to payment methods, the company accepts VISA, MasterCard, American Express, and Discover. 
Collecting the sample – SneakPeek uses a small blood sample collected with the provided finger stick. After collecting the relevant specimen, you can store it in the provided sample tube that will guard it against biological degradation during shipping. Make sure you follow the provided instructions to the letter in order to avoid contaminating the sample. Before taking the sample, sanitize the collection surface and your hands and nails. Allow them to air dry after rinsing and do not let any males touch your test box or any of its contents.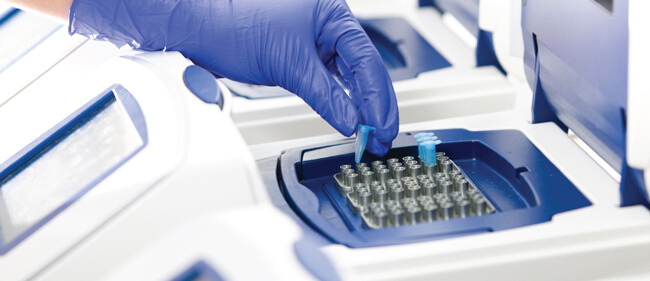 Sending the sample back – Once you have your DNA specimen, you should mail it back to the processing lab in the pre-paid package provided with the kit. You will be able to track your shipment both ways. Note that you should photograph the return label since the customer support staff does not track individual samples arriving at the facility.  
Receiving the results – Depending on the chosen testing option, your results will be available within 5-7 business days or just 72 hours from check-in. You will receive your results by email.  
Note that the company's customer support is not available by phone, so if you have any questions, make sure to contact the support staff at SneakPeek@SneakPeekTest.com.  
Why Choose SneakPeek
SneakPeek is one of the most affordable services of its kind that goes above and beyond to accurately predict the gender of your baby without endangering the health of the mother or the fetus. Here are some other advantages of using this service: 
Validation study

 proved the accuracy of the test

Top-tier processing facilities

 

Convenient and simple testing procedure

 

Results available just 8 weeks into pregnancy

 

FastTrack testing option with the final report generated in just 72 hours or less

 

Full refund if the test fails to make an accurate prediction

 

Overnight shipping for the FastTrack test

 

Most budget-friendly service of its kind

 

Both testing options include tracking with return shipping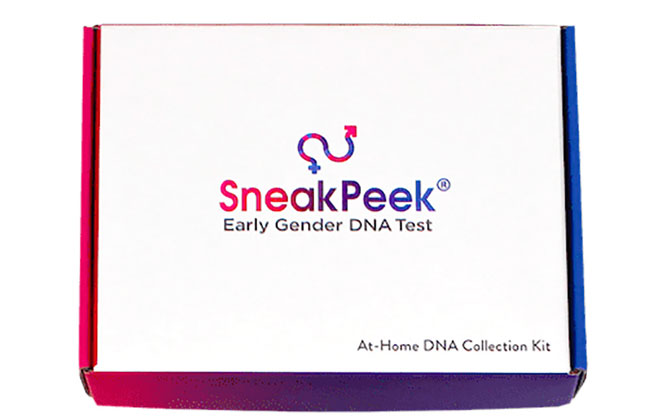 Tests
SneakPeek is an at-home NIPT that utilizes the natural process of shared fetal DNA circulating in the mother's bloodstream. It bases its prediction on an advanced technology that enables it to isolate and analyze fetal DNA in maternal capillary blood. The proprietary testing algorithm guarantees 99.1% accuracy. Simply put, the company's PCR technology can detect the presence (or absence) of male Y chromosomes in the provided blood sample. This can be done as early as 8 weeks into pregnancy. If the test detects Y chromosomes, the baby's gender is male; otherwise, it is female. In case you are carrying twins, if Y chromosomes are detected, at least one of the babies are male. If there are none, both of the babies are female. When it comes to the actual testing options, they include:
SneakPeek (79.00$) – As we already mentioned in this SneakPeek review, this test allows you to discover the gender of your baby as early as 8 weeks into pregnancy. It guarantees 99.1% accuracy and the company offers a full refund if the test fails to make an accurate prediction. The results are usually generated within 7 business days.

 

SneakPeek FastTrack (149.00$) – This testing option features proprietary streamlined FastTrack processing, which allows it to generate the final report in just 72 hours or less.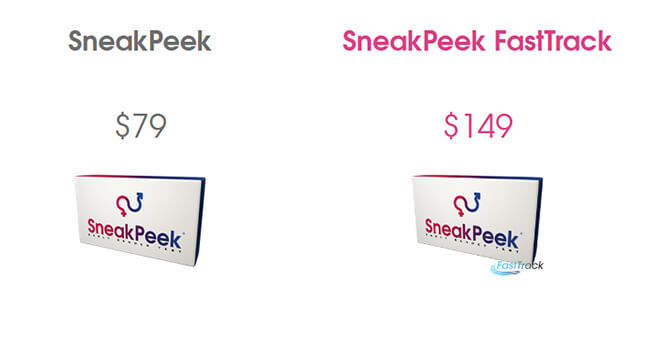 Privacy And Security
Gateway Genomics collects and stores your personal information when you create an account on the official website (first/last name, email address, and password), sign up for the company's newsletter, and make a payment (bank account and payment card numbers). The company collects some information automatically when you browse the website, including usage info (interaction with the site, what pages you visit…) and your device info (timestamps, IP address, other websites you engaged with, the frequency of your visits…).
We definitely do not like the fact Gateway Genomics logs other websites you visited. There is no plausible justification for this except collecting data for targeted advertising. The company will protect the collected data from any unauthorized access but cannot guarantee 100% security. It also uses cookies and does not say anything about the potential sharing of your information with third parties.  
Shipping And Handling
Depending on your chosen testing option, your personal at-home SneakPeek kit will be shipped using USPS First Class or overnight shipping. The kit is sent back via USPS prepaid priority or overnight prepaid return. Orders received Monday-Friday after 3 PM (PT) / 6MP (ET) are shipped the next day. Orders received on Saturdays after 2 PM (PT / 5 PM (ET) are shipped the next business day. The company does not ship its testing kits on Sundays or US Postal Holidays.  
Bottom Line
Gateway Gemonic's SneakPeek test is a veritable breakthrough in the field of prenatal gender prediction based on the fetal DNA found in the mother's capillary blood. The procedure is quite simple, but the company elevated the processing technology to a whole new level that guarantees 99.1% testing accuracy.  
This SneakPeek review revealed a solid provider of a unique non-invasive prenatal procedure that will inform you of your baby's gender without any visits to the doctor or astronomical fees that usually follow this type of service.