Muhdo Review
Learn how to control your genes

Advertiser Disclosure
This website features affiliate links. For purchases made via these links, we earn commissions that allow us to keep producing helpful content. To find out more
click here
.
Close
Muhdo Health Ltd is a DNA profiling company founded in 2016 in Ipswich, Suffolk. It was built around the idea of mass personalization of curative and preventive healthcare through epigenetics. In other words, its testing solutions allow you to determine the influence of regular life circumstances (stress, exercise, diet, smoking…) on the overall behavior of your genes. 
Keep reading this comprehensive Muhdo review to learn all about the company's testing solutions and how silencing or expressing certain genes affects your health and fitness and influences illness and disease prevention.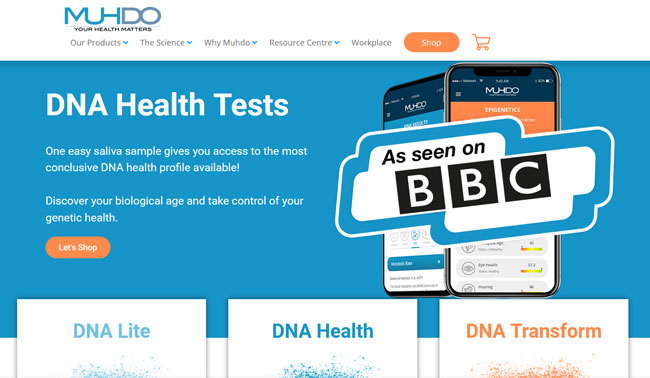 How Muhdo Works
The testing process with Muhdo includes the following steps: 
Placing an order – When you identify the best testing solution for your needs and personal goals, you can place your order on the official website. In order to complete your purchase, you have to provide your first/last name, country, street address, town/city, zip code, phone number, and email address. The company accepts PayPal as well as all major credit cards. If you cannot afford to cover the price of the test all at once, Muhdo also provides its users with budget-friendly installment plans. 
Collecting the sample – After the company receives your order, your personal DNA testing kit will be shipped to the provided address. The kit uses cotton swabs to collect buccal cells from the inner sides of your cheeks. Note that you should not smoke, eat or drink anything but water for at least 30 minutes (ideally 2 hours) before swabbing. Make sure to fill out your unique personal ID sticker (date of birth and gender) and place it on the sample tube. 

Sending the sample back – Once your DNA sample is secured within the tube, you should place it inside the provided prepaid envelope and simply mail it back to the lab for further processing.  
Inspecting your results – Once the lab techs extract and process your DNA sample, you will receive an email notification (with a link to your account) telling you that your personal report has been generated. The average turnaround time for this test is between 4 and 6 weeks. Every report delivered by Muhdo is fully personalized and includes recommendations on everything from diet and training to micronutrients and supplementation. 
Every Muhdo personal sample collection kit contains: 
1 x buccal swab

 

1 x sample tube

 

1 x stabilizing pill that preserves your sample during shipping

 

1 x easy-to-follow instructions

 

1 x prepaid return envelope

 
Why Choose Muhdo
Muhdo is a modern DNA profiling company dedicated to figuring out how your everyday actions affect your genes. Here are some other advantages of opting for its testing solutions: 
Modern DNA testing solutions

 

Epigenetics-based results

 

Experienced team of professionals 

 

State-of-the-art processing facilities

 

Simple testing procedure

 

Quick turnaround times

 

Personal dashboard

 

4 different health modes

 

Additional mode unlocked each month

 

Celebrity clientele 

 

GDPR-compliant privacy policy

 

Separate data retention policy

 

Budget-friendly prices with installment plans

 
Tests
As we already mentioned in this Muhdo review, the company utilizes modern epigenetics to tell you how your lifestyle choices affect your genes. In short, your epigenetics determines the behavior patterns of your genes. You cannot alter your genetic makeup, but you can definitely affect your epigenetics with your lifestyle choices. With that in mind, Muhdo offers the following testing solutions: 
DNA Profiling Kit (155.99$ or 38.99$ now + 9 monthly payments of 12.99$)
Muhdo DNA profiling test analyzes 78 genetic markers and screens for 181 genetic variants, which helps you achieve your health and fitness goals more efficiently and sustainably.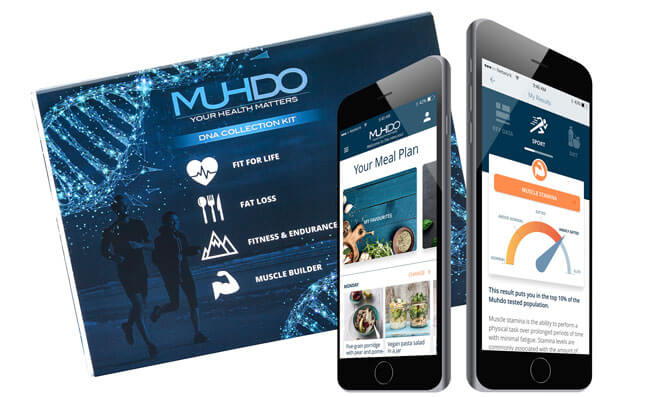 Depending on your personal goals, you can switch to one of 4 different modes in your personal Muhdo dashboard: 
Fit For Life – This mode revolves around nutritional and health recommendations for people who just want to stay fit and healthy without actually going to the gym. 

 

Fat Loss – The Fat Loss mode provides you with a wide variety of recommendations (health, nutrition, and fitness) in accordance with your unique genetic profile.

 

Fitness & Endurance – This mode will help you build speed and endurance by giving you a wide variety of personalized recommendations aimed at increasing your overall performance.

 

Muscle Building – This option will help you get leaner, improve strength, and build muscle. It offers recommendations on workout adjustments as well as micro/macro changes that will align your workouts with your genetic profile. 

 
Your final report will contain free meal and workout planners with personalized diet and exercise regimens designed to correspond to your personal goals, eating preferences, and unique genetic profile.
Apart from this, you can also unlock new health aspects each month, including anti-aging, addiction, injury prevention, sleep management, heart health, skin health, gut health, stress management, mental health, and eye health.  
DNA Profiling + Epigenetic Tracking (79.99$ now + 11 monthly payments of 25.99$)
This option provides you with everything included in the previous test and adds crucial information about your biological age, tracks your internal health (inflammation, stress, and hypertension) twice a year, and informs you about the effects of pollution on your health.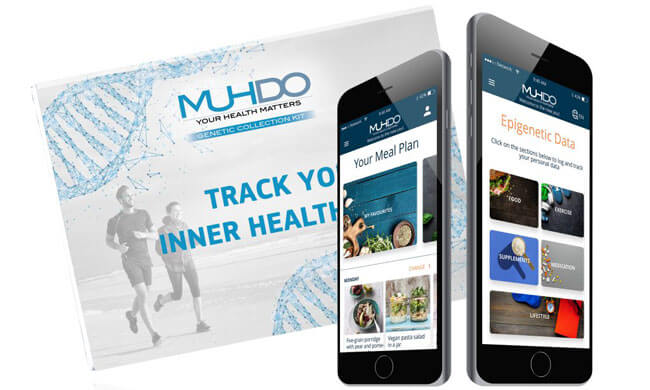 Privacy And Security
Muhdo is a GDPR-compliant company that follows all the rules of general data protection prescribed by this act. Its privacy policy is basically just a collection of GDPR quotes, which is not overly helpful in our opinion.  
The company will collect your first/last name, phone number, email/postal address, age, and sex. Naturally, its lab technicians will also have access to your DNA sample and genetic signature once the sample has been processed. Any communication containing your personal information must be done over secure networks and emails containing this data must be encrypted (Office 365) and marked "confidential."
Muhdo takes all the necessary precautions and implements numerous measures to store your personally identifiable information as securely as possible. The company will never share your data with any third parties without your explicit consent unless required to do so by law.  
Muhdo features a separate data retention policy that defines your rights to have your data rectified or permanently deleted. Unless you order the company to delete your information from its database, the following retention periods will apply: 
5 years – Name, address, email, phone number, gender, height, weight, date of birth, and payment information.

 

Anonymized

, encrypted, and used for research purposes – Your DNA and epigenetic profile, lifestyle and demographic data, medical information, and more.
Shipping And Handling
Muhdo does not provide a lot of information regarding its official shipping & handling policy. The personal testing kits are prepped and shipped within 24 hours of receiving an order and the average time of arrival depends on your location. However, we cannot say whether or not the company ships internationally. Its official shop page, which also holds the FAQ section, does not appear to be functional anymore and we did not receive any response from the support team while writing this Muhdo review.   
Bottom Line
Muhdo can improve your overall health and fitness by allowing you to work with your unique genetic makeup instead of against it. You will receive your DNA analysis with all the results packed into your personal dashboard. Based on your report, the company will generate personalized diet and exercise plans and also determine how everyday pollution and other important factors influence your genes and personal goals.  
Apart from providing its users with high-quality service, Muhdo also allows them to opt for some of the available installment plans in case they cannot afford to pay the whole sum right away. This makes it one of the rare DNA profiling companies to implement such a feature. Bottom line, Muhdo is a niche company with a decent money-to-value ratio and great commitment to helping its users become the best versions of themselves.