20DNA Review
Unique Blend Of Genetics & Meal Prep

Advertiser Disclosure
This website features affiliate links. For purchases made via these links, we earn commissions that allow us to keep producing helpful content. To find out more
click here
.
Close
Important Update: As of early 2019 20DNA site is no longer accessable. We suspect that the company went under and there are no further informantions about this availbale at this time. We recommend you take a look at our review of Living DNA.
20DNA is an affiliate of 20Dishes, a company founded in 2015 by Orleatha Smith, M.Ed. and Kelly Bejelly, an expert recipe developer. 20Dishes is a subsidiary of Vibrant Living Media LLC and is incorporated in Oregon as a single location business.  
Our 20DNA review will explore this unique combination of DNA testing and meal preparation, go over its most important features, and give you a definitive answer whether the end result is worth your time and money.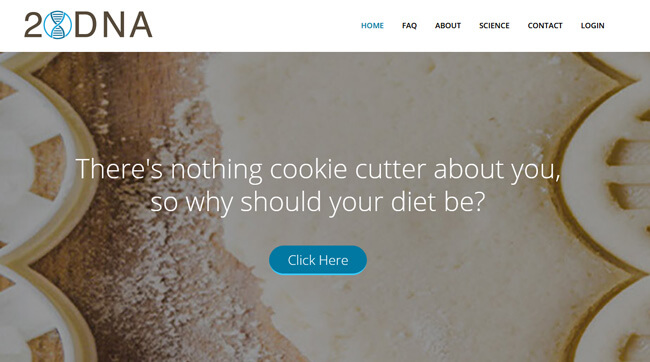 How 20DNA Works
20DNA provides its customers with online genetic testing, as it still does not have the capacity to process DNA samples. Therefore, you can only use its services if you already tested with MyHeritage, Ancestry or 23andMe. You can always download your raw DNA data from the aforementioned companies and transfer it to 20DNA for further processing. Your results will be generated in mere minutes and accessible through your personal account.  
In other words, 20DNA simply reads your pre-generated DNA sequence and uncovers how to achieve sustainable weight loss based on genetic factors and predispositions. The tests can be ordered on the official website and paid for with MasterCard, VISA, Discover, American Express, and PayPal.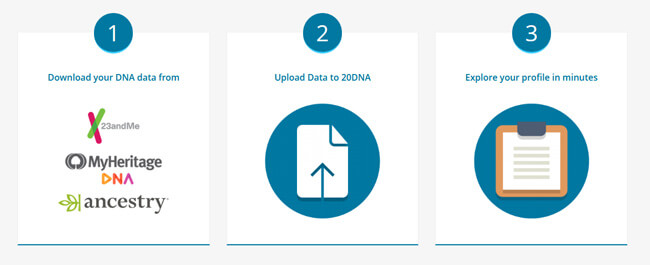 Why Choose 20DNA
Apart from offering a unique mix of DNA-based dietary recommendations, 20DNA also features the following benefits: 
Simple testing procedure

 

Raw data upload from MyHeritage, Ancestry, and 23andMe

 

Final report generated in minutes

 

Free lifetime membership for (patent-pending) 20Dishes Meal Plan 

 

Access to an online support community

 

Consultations with nutritional therapy practitioners

 
Tests
20DNA currently offers two different reports: 
Basic (199.00$) – This option includes your personal 20DNA Diet and Nutrition Profile with a lifetime membership for 20Dishes Digital Meal Planner and access to an online support community. 

 

Plus (249.00$) – This option is also referred to as "premium" on the official website, so keep in mind that they are the same thing. Apart from the benefits offered by the basic plan, this option also gives you access to a 30-minute consultation with a nutritional therapy practitioner or function diagnostic nutritionist to review your personal diet profile and discuss your health goals.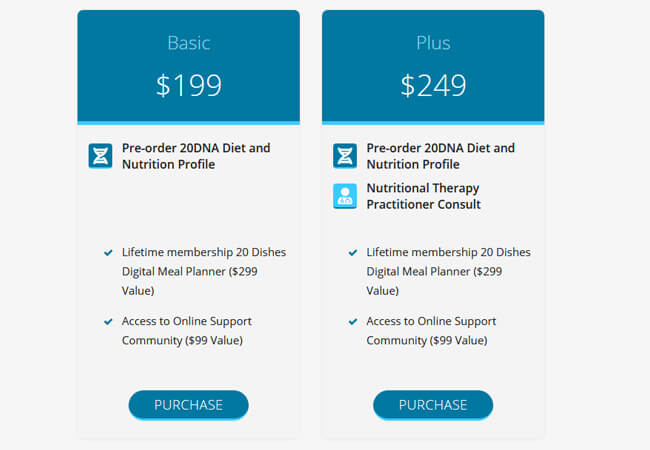 Extracting dietary tips and tactics from your unique genetic signature is nothing new, but this is the first time it is paired with a meal prep company that can create everything from meal plans and shopping lists to daily macro reports and delicious recipes. Having said that, we would definitely appreciate a bit more information about the health-related and dietary factors covered by the reports. As things stand right now, we do not know anything about them before ordering the products.
We have a pretty good idea what the reports might look like since they simply have to address your fat & carb response and food sensitivities & genetic intolerances and provide you with personalized nutritive recommendations. However, we would prefer to be able to read all about the reports on the official website instead of going through vague general statements about how awesome DNA testing is.  
Finally, the 20Dishes YouTube channel also mentions a dedicated 20DNA app, which is to be launched at a later date.  
Privacy And Security
20Dishes' privacy policy also extends to 20DNA. However, apart from the fact that the company collects your email address when you make a comment on the site and uses DoubleClick DART Cookies to serve targeted ads, the privacy policy does not say much.  
We would also be interested in learning what other types of personal data the company collects and stores when you interact with its website, whether it stores your DNA data and for how long, whether it shares this info with third parties, and many other important things a privacy policy should contain.  
Admittedly, you can contact the company at info@20dishes.com for additional information about the privacy policy, but we would prefer having it publicly available on the site.  
Bottom Line
20DNA is definitely a unique blend of genetic exploration and nutritional science. Paired with the service offered by 20Dishes, it is a valuable source of information, meal planning, professional support, and motivation to get your nutrition where it needs to be. However, even though the company has a very interesting and impressive idea behind it, it definitely lacks proper execution. We are given little to no information we need to decide whether or not this service is worth our time. Additionally, the privacy policy looks shaky at best.  
With that in mind, we cannot recommend this service until more information becomes publicly available, but we definitely like the idea and will keep a close eye on its future development.