Family Tree DNA is one of the pioneers of at-home DNA testing with more than 2 million satisfied customers. Apart from screening your paternal, maternal, and autosomal DNA for information about your genetic code and ancestral lines up to 500 years back, you can now compare your DNA with remains found at archeological dig sites.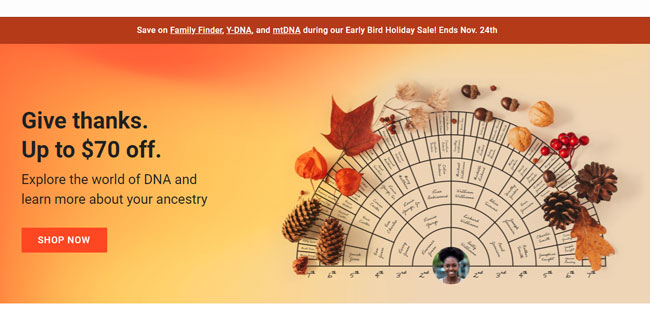 If you want to explore your genetic heritage without breaking the bank, you should seize this opportunity and get your chosen at-home DNA kit at a greatly reduced price during the Black Friday sales.
Family Tree DNA is starting its discount season early with an exclusive Thanksgiving sale that allows you to save up to $70 on its Family Finder, Y-DNA, and mtDNA tests. Family Finder is the company's trademark autosomal test that comes with a 20$ discount this year. Y-DNA allows you to explore your paternal ancestral lines through your Y chromosome and its price has been reduced by 70$. Finally, the mitochondrial DNA test comes with a 60$ discount.
Looking for more DNA Black Friday discounts? Check our Best DNA Black Friday Deals For 2020.