With a very scientific and committed approach to dog DNA testing, Embark quickly became one of the leading companies in this area. They really care about your dogs well-being and health giving you more than other dog DNA test providers. Embark is on the forefront of dog DNA research so it's no wondered they've partnered up with Cornell university. We think that their detailed DNA test with 256 quadrillion genetic combinations tested says a lot about their approach.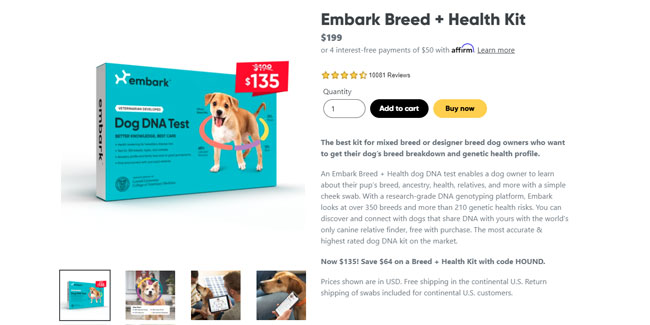 This Embark DNA Black Friday 2021 deal is one of the best deals of this year for dog DNA tests! You can get $64 off Embark Breed + Health Kit with code HOUND! Embark looks at over 350 breeds and more than 190 genetic health conditions and traits. Make sure your dog lives a happy and healthy life with this test and grab this amazing deal while it lasts! That's just $135!
If you want to check out more DNA tests, including human and cat DNA tests check out our Best DNA Test Black Friday Deals For 2021.