23andMe's Ancestry Composition report is constantly evolving to provide as precise an analysis as possible. Thanks to the company's own African Genetics Project, new databases of publicly available information, such as the 1,000 Genomes Project, and contributions of its customers, 23andMe was able to add more diverse reference populations, which translates to more precise Ancestry Composition breakdowns for customers with East Asian or African ancestry. 
The company's researchers added 4 new ancestral regions to East Asia and 9 to Africa, which creates one of the most detailed views for customers with genetic roots in those regions. The most significant part of the update is the added granularity for Sub-Saharan Africa, which now covers 13 distinct ancestral populations. 
"Prior to this update, our Sub-Saharan Africa region had just three subgroups, belying the tremendous genetic diversity within the continent," said David Poznik, a senior scientist and population geneticist at 23andMe. He also added, "Humans were diversifying in Africa for hundreds of thousands of years before anyone left to colonize other parts of the world." 
Note that these changes are currently available only for customers on the latest version of 23andMe's genotyping chip, but the team is working to make the update available for all customers in the near future. 
According to 23andMe representatives, this is just the first in a long line of planned updates designed to increase the number of reference populations covered by the Ancestry Composition. All future updates will be fueled by the company's ambitious initiative called the Global Genetics Project. 
David Poznik also stated, "We have a list of around 60 countries that we've identified as top priorities. These are countries with fairly large populations but that aren't well-represented in our database. We're giving away kits to people with ancestries from these countries because we're eager to collect data that will enable us to improve our product for other people from these regions."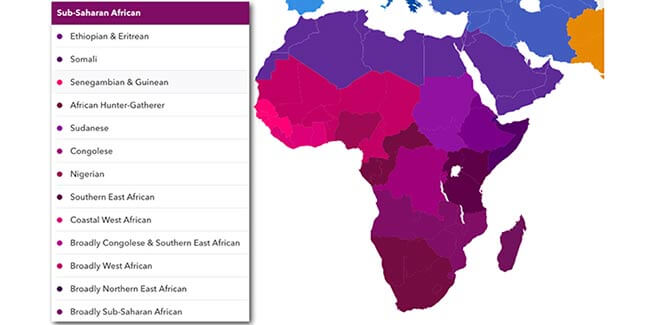 Examining The Latest Update More Closely
23andMe's Ancestry Composition feature enables you to explore the genetic origins of your ancestors and learn from the DNA that makes you who you are. 23andMe offers insights that allow you to delve into two different time periods. These include your ancestry composition percentages and recent ancestry locations. Together, these insights give you a complete overview of your ancestry. 
Thanks to its customers who joined the African Genetics Project, 23andMe was able to start breaking down African ancestry in greater detail. It can now estimate your genetic percentages from 13 populations across the African continent. The company also increased granularity for regions in southeast Asia. 
When Will Your Report Be Updated?
Starting in July, the company will start making this update available to its customers who were genotyped on the version 5 of its genotyping chip. If you have an older version of the chip, the company is actively working on implementing support for this update on older chips. You will receive a personal notification the moment your results have been recalculated.