23andMe just implemented a family tree feature based on DNA and genetic relatives found in the company's database. Even though the name of the feature is "the first-ever DNA-based family tree," many DNA testing companies implemented family trees a long time ago.
Once you perform the 23andMe at-home test and receive the report, your family tree will auto-populate based on your DNA relatives and connections. You will also be able to edit and update your family tree manually in order to fill in the gaps with the information you have but 23andMe does not.
This new feature will only be available to customers who opted into DNA relatives or with established one-to-one connections with close family members. The tree will only use your living relatives who gave their consent to be viewed by 23andMe.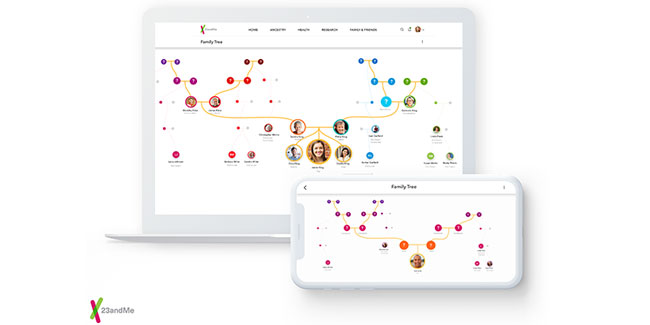 Regional Changes
Apart from introducing family trees, 23andMe updated its region count to include hundreds of new populations in the Western Asian, South Asian, and North African regions. This was done as a part of 23andMe's Global Genetic Project launched to improve its reference data panel and expand studies in underrepresented populations.
The new Ancestry Composition report for Central & South Asia now features 7 populations:
Central Asian (Afghan, Kyrgyz, Kazakh, Pashtun, Tajik, Uzbek, Turkmen, Pakistani from the Federally Administered Tribal Areas)
Bangladeshi and Northeast Indian (Bangladeshi, Assamese)
Central and Southern Indian
Gujarati Patel
Malayali
Kannadiga, Telugu, Tamil, and Sri Lankan
North Indian and South Pakistani (Bihari, Chhattisgarhi, Burusho, Gujarati, Kashmiri, Goan, Madhya Pradeshi, Haryanvi, Maharashtrian, Punjabi, Odia, Sindhi, Rajasthani, Uttar Pradeshi, Uttarakhandi)
The more granular approach should provide users with a more detailed overview of their ancestral origins. This update will bring the total number of regions covered by 23andMe to 1,500, which is beyond impressive.
As a part of the update, all customers with 23andMe ancestry kits will also receive 30+ trait reports completely free of charge. These include the genetics behind your appearance, senses, and many other aspects of your personality.
The family tree update should roll out in the upcoming weeks.