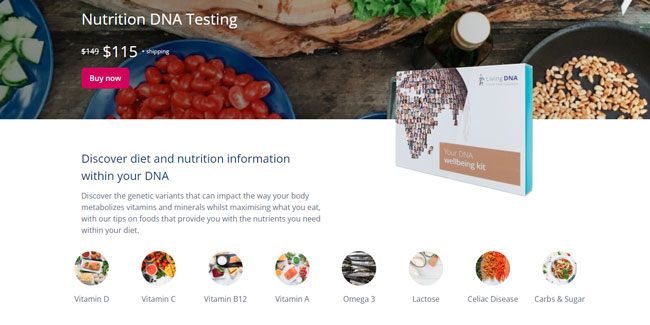 While Nutrition DNA testing might not be the first thing that pops into your mind when you think of DNA testing, it should be. We are used to this idea of DNA testing telling us more about our ancestry but that's not all it can tell us. You might even argue that it's more important to get this type of test because it directly impacts your health. And health is the most important thing in our lives.
Living DNA is one of the worlds leading DNA testing companies constantly working on new tests. One of them is their brand new Nutrition DNA test that will help you eat and live better. You will discover diet and nutrition information hiding within your DNA. And your DNA doesn't lie. The results will tell you how your body metabolizes certain minerals and vitamins. However, that's not all it will tell you.
It will also provide you with advice on what type of food is best suited for you. Living DNA Nutrition DNA testing is very simple and easy to do. One mouth swab and the secrets hiding inside your DNA will be revealed. In six to eight weeks and the reason for this, a bit longer, waiting time is the complexity of the process. You will be one of the few people who are taking advantage of this cutting-edge technology.

The test looks at eight different characteristics that impact your health the most. They are Vitamins D, C, B12, A then Omega 3, Lactose, Celiac Disease, and finally Carbs and Sugar. We are sure you're already familiar with some of them as your doctor might have already talked to you about just how important they are. Especially the vitamins and how your body processes them. These last few years have shown just how important they are.
You might have been struggling to lose or gain weight all the while not knowing that your body is different. And that with a simple change in diet or supplements, you might achieve your goals with ease. We don't want to overwhelm you with information as you can read all about this on the Living DNA Nutrition DNA testing page. What we want to tell you is that we have a special discount for all our Top 10 DNA Tests readers.
You should also know that this discount is valid for not just the DNA Nutrition test. You will get 25% off all of the Living DNA tests! So, all you have to do now is take advantage of this special offer and get healthier. Get healthier with the help of your own DNA for just $115! And if you want to know more about Living DNA you can read our comprehensive review.