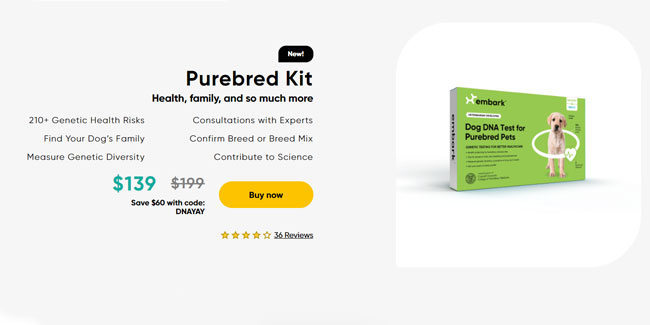 If you have a purebred dog, you need to make sure that he's as healthy as he can be. This is why you should learn more about the new Embark DNA test for purebred dogs. This is the latest addition to their selection of various DNA tests for dogs. They are both the highest-rated dog DNA test on the market as well as the most scientifically advanced. While other tests look at about 20.000 genetic markers, Embark looks at around 200.000! This is why they partnered with Cornell University, College of Veterinary Medicine to end all preventable diseases in dogs. 
Today we're going to take a look at their DNA Test for Purebred Dogs. It screens for more than 210 genetic health risks and also measures genetic diversity. You can easily track down a dog's breed and ancestry going back several generations. It also screens for 35+ physical traits. If you decide to go for it, you will receive a box with a Swab, Instructions, and a Return Envelope. You just register online, swab, and send and you're done. This brings us to the most important aspect of this test.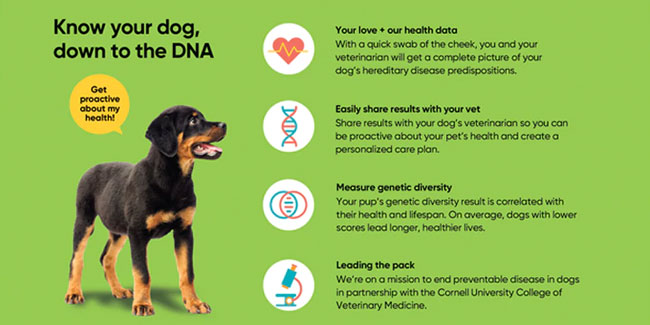 All the information you're going to be receiving is actionable. And what's best of all, you can easily share it with your veterinarian. That way, you can prevent any future harm and keep your dog as healthy for a long, long time. Additionally, Embark's veterinary geneticists are available for consultations, making sure you're doing everything the right way. Also, you will be contributing to science, helping us understand what are the best options and how to prevent diseases. You don't have to brag about it but if someone asks…
Considering all of this, you're probably wondering how much this Embark DNA Test for Purebred Dogs costs. Well, Top 10 DNA Tests and Embark have a special discount for everyone who's reading this article. You will get $60 off if you use the following code: DNAYAY. That will bring down the price from $199 to just $139. If you want to know more about this company and its research, you can read our comprehensive Embark review.