If you're looking for a stable and dependable company for your feline DNA testing needs, look no further than Basepaws. They are committed to helping pets live the longest, happiest, and healthiest lives possible and for that purpose, they have gathered a highly-skilled team of scientists. Following extremely simple instructions you can help your feline friend live a better life and learn more about it.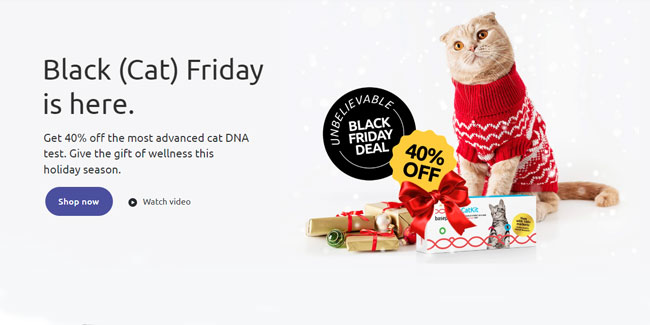 This year you can get an amazing 40% off their Basepaws Breed + Health DNA Test! Just use code DNAFRIDAY and learn more about your cat's breed, health, traits and habits! With this one-time, $79 purchase you will get so much data and get to know your cat much better. Hurry up because the offer ends 11/27!
For just $79 you will get both Basepaws Breed + Health Cat DNA Test. This is one of the most advanced cat DNA tests on the market. It's got whopping 70 health markers and tests for 40 diseases. Plus you will get full Dental Health Report including Periodontal Disease, Tooth Resorption and Bad Breath. And finally, you will also get personalized recommendations on home care. All this for just $79!!! Take advantage of this special BasePaws Black Friday 2021 offer now!
If you want more discounts check out our Best DNA Test Black Friday Deals For 2021!